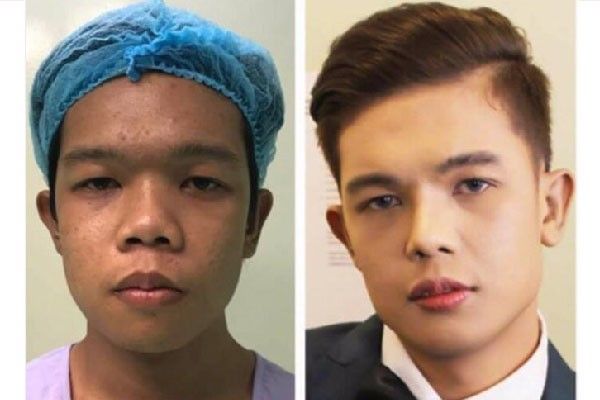 Before and after shots of Marlou Arizala as Xander Ford circulating on social media.
Screenshot from Twitter/TheNelsonRemo
Search on for next 'much deserving' Xander Ford
MANILA, Philippines — Star Image Artist Management has announced that they are stripping the name Xander Ford from Marlou Arizala and the search for the "rightful person" begins.
In their Facebook page, the artist management said they are looking for Marlou's replacement because the "Project: Xander Ford" has been a "successful failure."
"Today, April 22, 2019, STAR IMAGE Artist Management has decided to get back the name XANDER FORD from Marlou Arizala and to give to the Rightful Person bearing the good qualities that we are looking for an upcoming Idol and to become a good role model to all," the artist management said.
The agency explained that as of July 2018, Marlou was given the highest disciplinary action, which is "indefinite suspension" due to breach of contract, violating the signed Memorandum of Agreement under Section 3 (Confidentiality and Non-disclosure), Section 4 (Exclusivity) and Section 5 (Performance and Attitude).
"Which means, we cannot allow him to participate any events or engagements without our consent and approval, until we waive the suspension. This is also to give him a lesson. But Marlou is a hopeless case. He can't follow even a simple direction. Such a stubborn unprofessional individual," the agency said.
"Nevertheless, Marlou Arizala is still under Star Image Artist Management under and by the virtue of the Philippine law effective from May 5, 2017 to May 4, 2022. All unauthorized bookings and engagements made without the management consent or approval will be recorded as illegitimate and will be used to file a legal case against parties involved," it added.
The artist management also recalled how the project started when Marlou came to their office and asked them to help his career.
"Month after, Star Image immediately started the planning for a transformation to boost his career. This was a big challenge and gamble for Star Image, since Marlou is widely known with his bad image and dubbed by most netizens as 'CANCER' in social media," the management said.
"The name XANDER FORD has been given to Marlou by his managers Sir David and Sir Vince, owners of Star Image, to introduce his new character / Alter Ego as a Kind, Well-mannered, humble and Responsible Artist, and mainly to set a good example and inspire people especially the Filipino youth," it added.
After the physical transformation became a phenomenon, the management said Marlou was slowly consumed by his temporary fame and his attitude toward work and colleagues became worse.
In the same Facebook post, the artist management listed down the "truth" behind Marlou's controversies as Xander Ford, which included yelling at ABS-CBN marshals; a "Gandang Gabi Vice" taping that did not air because of his unprofessionalism toward the production staff; his bashing of actress Kathryn Bernardo; and going missing and hiding from his managers due to pieces of advice "from his friends, peer Pressure and allegedly under influence of Marijuana and alcohol."