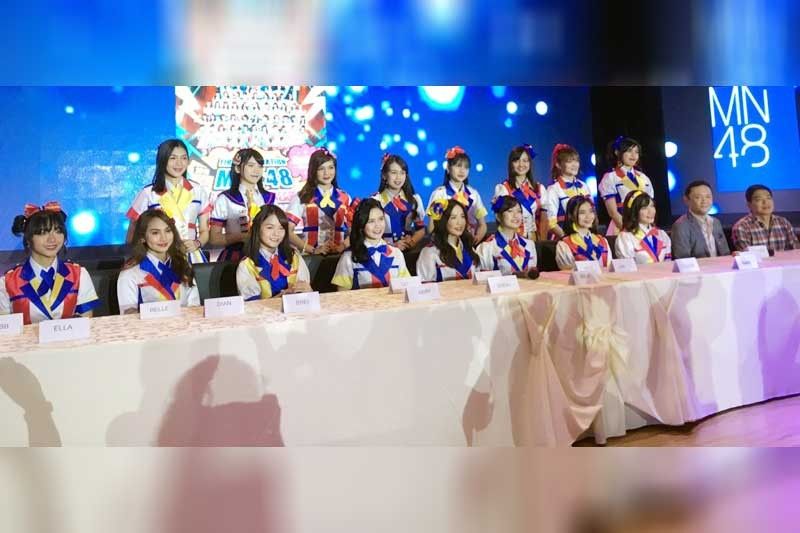 The 16 frontliners of MNL48 with Hallohallo Entertainment, Inc. president Paulo Kurosawa (seated, second from right) and director GB Sampedro during the media gathering to announce their concert, Living the Dream: The Concert, on April 6 at the New Frontier Theater.
What sets MNL48 apart from other girl groups
Do not fret if it's a real struggle for you to memorize all the names of MNL48 members. Their charming looks, synchronized dance moves, colorful costumes akin to that of the teenaged Japanese school girls you see on animé shows and their Tagalog yet J-Pop sounding songs can easily capture your attention and, therefore, the all-teen girl group practically gets an instant recall.
MNL48 is quickly gaining a lot of music fans here and abroad just a year after the group was formed through a nationwide search televised on ABS-CBN noontime show It's Showtime. In fact, MNL48 has supporters — majority of them are millennials — known as the MNLoves. No wonder, its debut single Aitakatta (Gustong Makita) under Star Music landed on the No. 1 spot on iTunes Top Albums upon its release and made it to the MYX Daily Top 10 Pinoy, Pop Charts PH and Pinoy MYX Countdown as well. The sophomore single titled Pag-Ibig Fortune Cookie earned for MNL48 its first Gold and Platinum awards from Star Music and the Philippine Association of Record Industries (PARI).
Last year, MNL48 received Pinoy POP Awards for young artists' year-end special award, Youth Model of the Year — Huwaran ng Kabataan Award, for being a good role model to the young generation in uplifting the Filipino talents and showcasing Filipino culture through music and performance.
What certainly is the best validation of the girl group's rise to fame is going on stage for its first major concert titled Living the Dream: The Concert on April 6 at the New Frontier Theater. Hallohallo Entertainment, Inc. is the producer while GB Sampedro is the musical director.
GB revealed that the concert is far different from his past concert projects given the fact that Living the Dream: The Concert has a concept that strictly follows the standards and procedure of MNL48's sister group in Japan called the AKB48.
Despite concert protocols, GB can guarantee that Pinoy music fans can still very well enjoy what the girls of MNL48 will present in its debut concert. In case you do not know, the girls performed at the AKB48 Group Asia Festival 2019 held last January at the Impact Arena in Bangkok with their sister groups AKB48, SGO48, BNK48, JKT48 Team TP and AKB48 Team SH.
MNL Mari shared that they never tire about attending dance rehearsals and vocal trainings, never mind if they often last for hours.
MNL Sheki agreed and said, "We will show that MNL48 is truly deserving of a spot in the music industry."
MNL Jem, on the other hand, cannot be thankful enough for all the wonderful things that she has been blessed with since she became part of the group. "First, I get to enjoy what I truly love to do which is singing and aside from it, I also get to hone my talent through everyday trainings, so being an MNL member is more of an advantage for me."
The girls have also learned to deal with other people other than their family and friends. MNL Lei, who is from Davao, didn't deny about her longing to spend time with her family but being away from them has taught her to be independent.
MNL48 is composed of 48 talented young girls led by Senbatsu members (Top 16) Center girl Sheki, Abby, Sela, Brei, Belle, Rans, Coleen, Gabb, Jem, Lei, Mari, Jan, Kay, Alyssa, Faith and Ella.
(Tickets to Living the Dream: The Concert, available at TicketNet, are priced at P5,300 for SVIP; P4,240, VIP; P2,120, Loge; and P1,060, Balcony.)