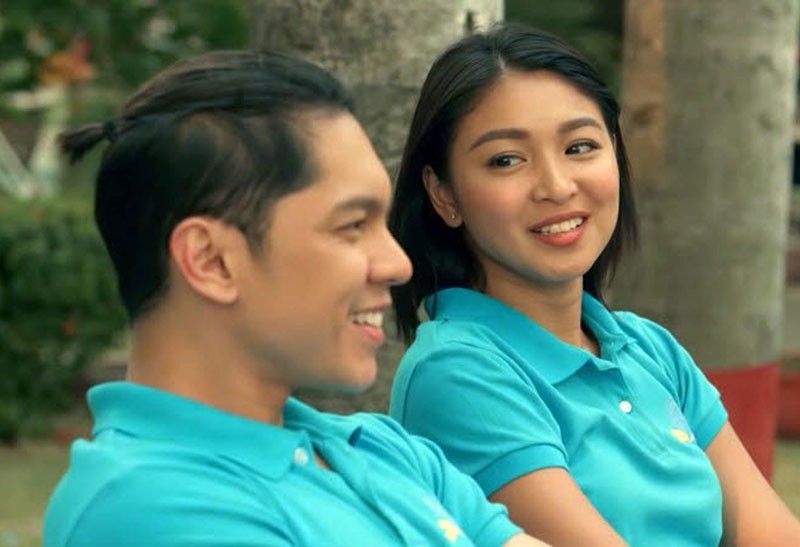 Nadine Lustre and Carlo Aquino in a scene from film, where love vanishes even before it can begin
Film review: Ulan
MANILA, Philippines — Irene Villamor's Rain opened on a week Metro Manila is thriving on water rationing.
Whether the timing is good or bad, rain is what everybody needs literally to survive city life.
Note that it is a constant struggle to grace premiere nights and another to get to the venue on time. By the time you get to the appointed time on the dot, advance screening is three hours late with all that pre-screening reception and tête-à-tête.
By the time the theater darkens at 9 p.m. to signal the screening, you are tired and sleepy and hoping you don't fall asleep before you even see the opening title.
But to one's relief, Ulan turns out to be an utterly refreshing film which is a good reflection on the rare sensibility of the writer-director. Direk Irene's latest output has snatches of beautiful love at first encounter between Maya (Nadine Lustre) and Andrew (Marco Gumabao) and then just as the leading character is ready to call it quits, another call of romance beckons — this time with Carlo Aquino.
Just as Maya thought the love is for keeps, she discovers the young man is destined for another calling. Imagine competing with God for the love of this amiable man about to don the holy cloth!
But the film is not about unrequited love.
The sad episodes are only background to a story that probes deeper into man's existence and his eternal search for happiness. For all that she has been through, Maya reflects on her childhood and sees the world through her innocent eyes. It was that time of her life when she could walk and play in the rain and listen to folklores in between.
It is this sudden journey into another world that makes the film utterly ethereal and yet magically appealing. She journeys into the world of the tikbalang and eggs with human faces and then finding herself wrapped in the arms of another creature from another world. And always those reflections of her young life are always connected with the coming of rain.
To one's relief, the film is not talky and the visuals do the storytelling.
You sympathize with Maya but it is her sojourn to her inner self that makes the film a beautiful journey into self-awareness. And where she learns to discover loving oneself for a change.
Alas, the top attraction of Ulan is the storyteller with the actors coming in only as creative instruments of the medium.
From beginning to end, you see a director completely in control of her material. The way she weaves her story leaves nothing to be desired. The story is not new but the way she finds a way to bring audiences into another realm of consciousness makes one conclude she has other ways of looking at life.
But to be sure, direk Irene has competent actors. Carlo as the prospective lover with a burden finds a way to define his role with more than a touch of pathos.
You can see when love is all about lust and physical endowments in the roles played by Marco and Kylie Verzosa. Their bodies tell a lot and love, so to speak, can wait till they get to the bottom of that mutual attraction. They literally moan as they play tennis while a helpless Maya plays the not-so-innocent bystander.
And the work-a-day world is epitomized by Leo Martinez always waiting for that magic story that will bring in more corporate accounts and more clients.
As for Nadine as Maya, she reveals another level of sensitivity that makes her part quite memorable. But one thought the young Maya played by Elia Ilano was a total standout.
Obviously, a film like Ulan can only come about after years of difficult creative process.
But the result is a beautiful story told in many revealing layers.
A co-production venture of Viva Films and HOOQ, Ulan also stars Perla Bautista, AJ Muhlach, William Martinez, Angeli Bayani and Andrea del Rosario, among others.
Graded A by the Cinema Evaluation Board, Ulan is now showing in cinemas.