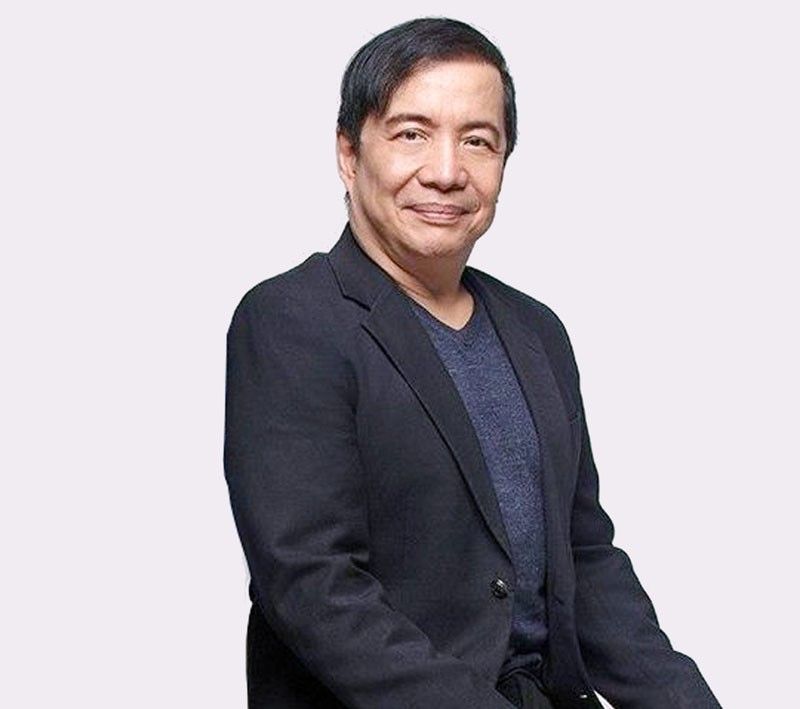 During his Through The Years concert tomorrow (March 13) at the Resorts World Manila, Nonoy will regale the audience with his well-loved songs and recollection of his early years
5 songs that mean so much to Nonoy Zuñiga
FUNFARE
-
Ricky Lo
(The Philippine Star) - March 12, 2019 - 12:00am
Tomorrow (March 13) as he regales the audience with throwbacks during his Through The Years major solo concert at Resorts World Manila's Newport Performing Arts Theater, Nonoy Zuñiga will perhaps choke at the memory of how he grew up in Kamuning, Quezon City, with the likes of rocker Pepe Smith and painter Danny Dalena; how he lost a leg during the 1980 explosion at a hotel where he and his band were performing regularly; and how he tucked up a degree in Medicine from UST even while doing shows (plus a movie, Never Say Goodbye, inspired by his hit song) and recordings.
"Many know me as a balladeer but not the fact that I can also sing folk songs and pop-rock and play the guitar. I actually started as a folk singer, then got into a showband, and then went solo with romantic songs. So, I want to share and bare more of myself during my concert," promised Nonoy who is happily married with five children in that marriage. (He stayed single, though, throughout medical school because he was also busy doing gigs several times a week.)
"Although I am talkative, wacky and jolly offstage, I tend to be serious and economical in my spiels onstage," he added. "I think it used to be considered cool to be less talkative when you entertain with romantic and sentimental songs. Well, I wanna change that image now."
Over the years, Nonoy has advocated causes such as environment protection, zero garbage management, healthy drinking water, helping the handicapped. He even worked as a government official under Pres. Cory Aquino administration. He also got in and out of recreation activities, though he is now into archery, prompting him to call a segment of his concert "hit list."
The concert is directed by Andrew "Mamu" de Real who was behind the most triumphant comedy concerts and gag shows of Allan K and Leonard Oval, Ai Ai de las Alas, John Lapus, and Candy Pangilinan. Overseas, Mamu has also stage directed a concert of Martin Nievera.
"Mamu can even enumerate the songs practically in all my albums. He admitted to me that he used to join sing-along bar contests performing my songs-- and won most of the time! How can someone like him let me down in a major major solo concert!" quipped Nonoy (who is managed by Nelia Lim).
Nonoy's guests include South Border, Nyoy Volante and Mitch Valdez. He'll also sing with a young talent who's getting an "introducing" billing in the show: Jeselle Kempis. Among Nonoy's personal goals now is to support upcoming talents, his way of paying forward the 45 years that that he has been with the music and entertainment profession. The concert's musical director is Bobby Gomez whose Brothers Unlimited band will accompany everyone (except for the South Border band, of course).
The concert is produced by OGK Entertainment Production for the benefit of Calamba Doctors Medical Educational & Science Foundation, Inc. and the Manila East Medical Educational & Science Foundation, Inc. (For tickets, call TicketWorld at 891-9999.)
Meanwhile, here are the five songs that mean so much to Nonoy:
• Ako Ay Ikaw Rin
"Not only is it a significant song for the PWD, it also marked the beginning of my singing career. I sang it as a guest performer during the fourth Metropop and right after my performance I was offered a recording contract by ace composer/arranger Willy Cruz. The rest is history."
• Doon Lang
"Willy asked me what I would be doing if I was not in school. I said I would just be dreaming of so many things and thinking of how to get a job so I could start earning for my schooling. That started the song."
• Kumusta Ka
"Willy asked me again, 'What if you had your own family already and in one of your travels you met your ex-girlfriend whom you had loved so much? What would be your first reaction?' I said, 'I would ask her, kumusta ka?' That's the story of the song." (It was Baby Gil, this paper's Sounds Familiar columnist, who wrote the lyrics. ­–– RFL.)
• Never, Ever Say Goodbye
"Willy told me that he had an unfinished song based on his experience with a girlfriend whom he loved so much when he was abroad but they had to part ways because of his pressing commitments in Manila. He asked me if I could relate to the song because I was still young then. All I could say was, 'Yeah, a little.'
"So, during the recording, I put myself in a trance and sang my heart out. By the way, Willy said that he dreamed of the prelude and melody. As soon as he woke up, he wrote the lyrics and taped the melody before he forgot about it."
• Love Without Time
"This is the follow-up to Never, Ever Say Goodbye. Willy asked me, 'Between becoming a doctor and performing as a musician, what would you choose?' I said, 'I would choose both and make adjustments.' Then, he asked again, 'How about between having a girlfriend or having work?' I gave him the same answer. So he said, 'That will be our next song.' It's about conflicts and struggles of having a girlfriend while working, only to give in to the latter."
(E-mail reactions at entphilstar@yahoo.com. You may also send your questions to askrickylo@gmail.com. For more updates, photos and videos visit www.philstar.com/funfare or follow me on www.twitter/therealrickylo.)