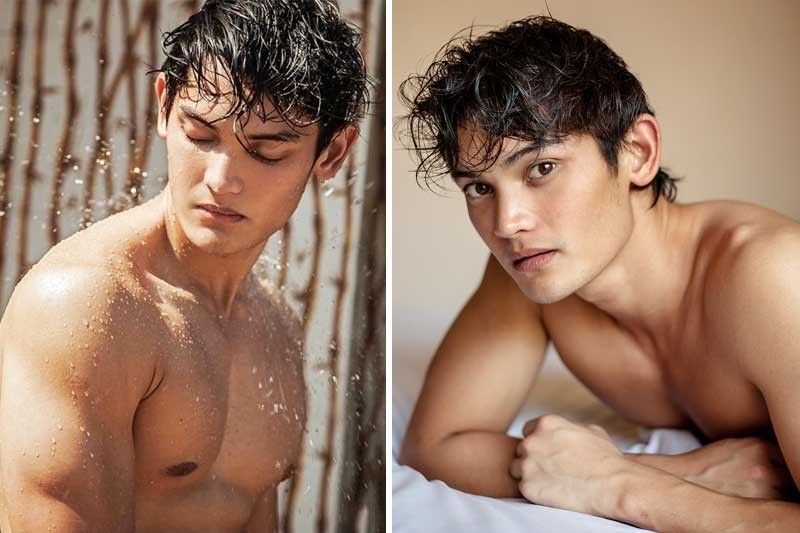 Body Talk with Javier 'Javi' Benitez who quit showbiz to focus on multi other pursuits but still dreams of one day starring in a movie with Maja Salvador
'Having a beautiful body is not showing off; it's a lifestyle.'
FUNFARE
-
Ricky Lo
(The Philippine Star) - February 23, 2019 - 12:00am
If Javier "Javi" Benitez looks like a showbiz materyales fuertes it's because he used to be an actor under Star Magic. But he bade showbiz a hasty goodbye to devote more time to non-showbiz pursuits.
Javi studied elementary and high school in Xavier School, Class of 2008 and 2012 respectively. He had his first taste of histrionics in college as lead actor of a school play for the Filipino Club. From 2006 to 2008, he hosted the TV show Sports Kidz and in 2016, he co-hosted Gamechanger with his dad, Congressman Albee Benitez.
"In elementary school," added Javi, an honor student, "I was part of the badminton and football varsity team. In high school, I stopped playing badminton but continued to be part of the football varsity and debate team. I was the class president of my junior year high school Section A. I was also part of the first class of International Baccalaureate (IB) in XS. Did higher level physics, chemistry, and business management and standard level Chinese, English and Math."
Likewise, he was an active go-kart racer from fourth grade to senior year high school, and played in the 2008 and 2009 Asian Karting Open Championships (AKOC).
He also studied in Santa Clara University (California) where he majored in Political Science and Computer Science, but had to drop the latter. He did summer internships at IdeaSpace Philippines, the local start-up incubator by PLDT.
"My first boss and mentor was Earl Valencia. I did another internship at a coding boot camp. I was learning software engineering and web development and did projects for PayPal and an NGO of North Korea refugees. My work visa was approved but my dad convinced me to come back home in 2017. I worked in LRWC, initially, as a corporate planning executive, then moved to LR Data as a product manager of a crypto-currency project called EOS Philippines. I left and pursued a career in acting with Star Magic."
You have done TV. Why haven't you tried acting in movies?
"Acting requires more time than hosting, and I couldn't take that much off from school. My parents had a strict rule of graduating before getting into show business."
If ever, what kind of role would you play and who would you pick as a leading lady?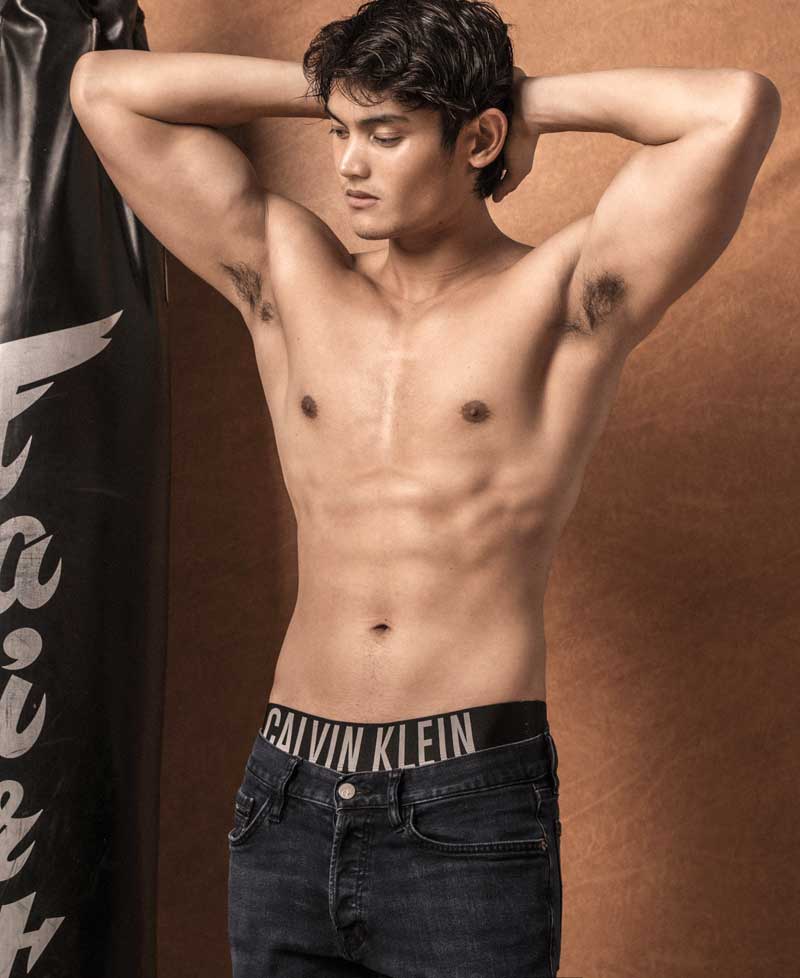 'How is my love life? 2019 is about self love. But who knows, right? And how is my sex life? Have you seen Fast & Furious? Hahaha!!!!'.
"Uhm...I'd want to be in an action-romance film, something like Mr. and Mrs. Smith. My dream leading lady is Maja Salvador because she's sexy, smart, and sweet yet badass."
How did you develop such a beautiful body?
"It's all in the mindset. I'm six flat and lean and I want to be in good shape, so I had to work hard, be disciplined, and make a lot of sacrifices. It's not about showing off but more about being health-conscious. It's a lifestyle."
What kind of diet do you follow?
"I tried doing keto but realized that intermittent fasting works much better for me. I'm currently doing the warrior diet which means I only eat in a four-hour window and fast for 20 hours. It may sound crazy, but I get to eat anything and everything within my feeding period. I love steak and eat mangoes almost every day."
What's usually for breakfast, lunch and dinner?
"I only eat in a four-hour period and usually have it from 12 noon to 4 p.m. So I eat two large meals a day.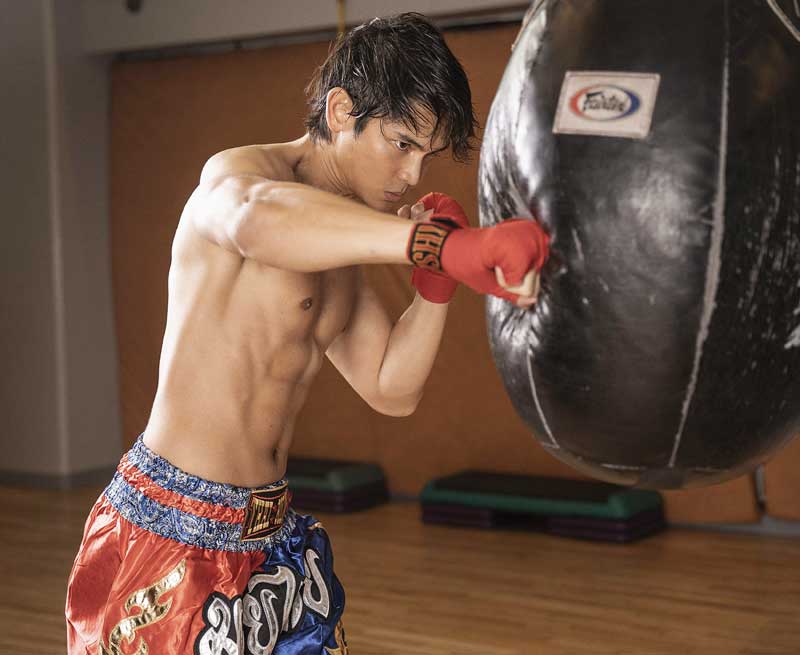 How much water do you take per day?
"It's important to drink about two to four liters of water a day. Oh and just a tip I got from my trainer is to not drink water during shoot days and to drink coffee to remove water retention in the body. It works!"
What vitamins do you take?
"My mom is always insisting that I take Rogin-e multi-vitamins."
What workout do you do and how often do you do it?
"When I started to get into the mindset of wanting to be healthy and get into good shape, I worked out five to six times a week with the help of my trainer Marla from Kerry Sports. Aside from that, I box three times a week as a hobby and I do yoga or Pilates once a week for flexibility."
What part of your body needs improvement?
"My abs, specifically my obliques. It seems that others get it more naturally, but I have to spend more time doing oblique or side ab workouts to get the coveted 'V' shape in the mid-section of the body."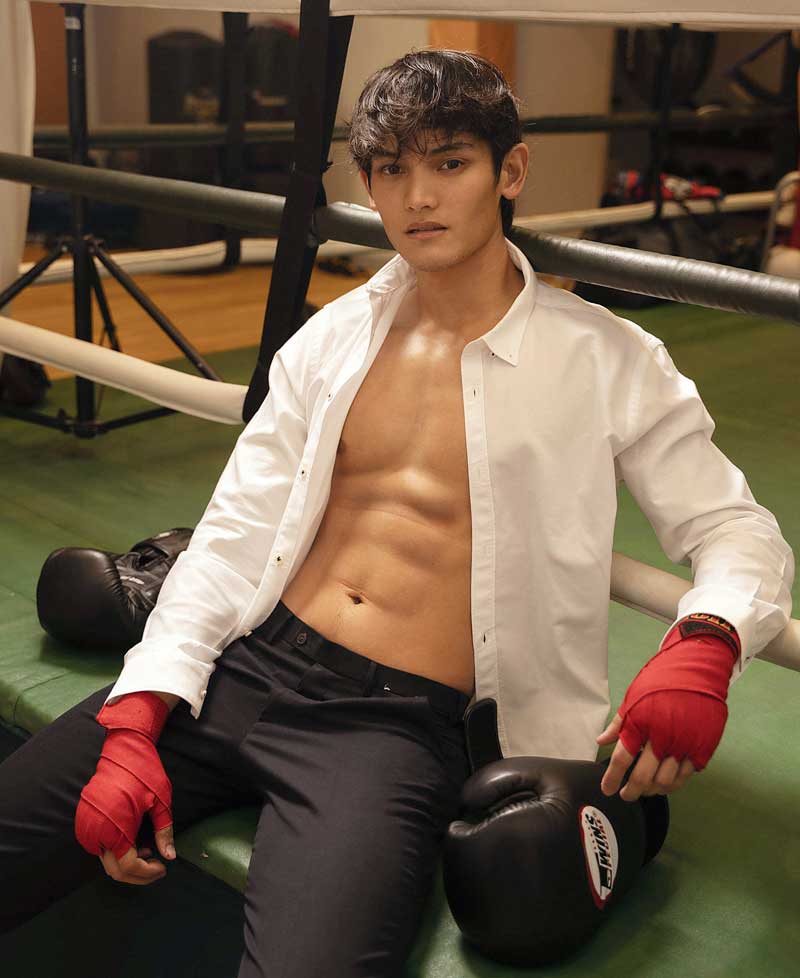 What part of your body is most vulnerable?
"My hair is the most vulnerable part. It connects to my heart, soul and mind. Whenever I think deeply about something I play with my hair. And sometimes when I mess it up, it makes me feel much better."
What part of your body is your favorite?
"My bellybutton because it's close to my abs."
What part of a girl's body do you notice first?
"Hands down, her eyes."
What's in a girl that turns you on and turns you off?
"A girl who does a lot of squats turns me on and a girl with bad breath turns me off. I had a crush before and I wanted to kiss her but I had to stop because..."
How's your love life (may girlfriend)?
"2019 is all about self love. But who knows, right?"
How's your sex life?
"Have you seen Fast & Furious? Hahaha!!!"
Lights on or lights off?
"Lights off."
How do you cope with stress? How do you unwind?
"Whether it's 2 a.m. or 4 p.m. if I'm having a bad day, I go to the gym and box my heart out and release all the stress. After that, I feel good."
Favorite hideaway?
"Our resthouse in Victorias City, Negros Occidental. The food is just amazing. Inasal, batchoy, fresh vegetables. There's a pond where we can fish. It's got this rustic charm that I often miss."
Three women that you find sexy?
"Maja Salvador, Kelsey Merritt and Lovi Poe."
Using only body language, how would you make a woman know that you admire her?
"I'd smoothen or mess up my hair...pa-cute ba? Lol!"
(E-mail reactions at rickylophilstar@gmail.com. For more updates, photos and videos, visit www.philstar.com/funfare or follow me on Instagram @therealrickylo.)