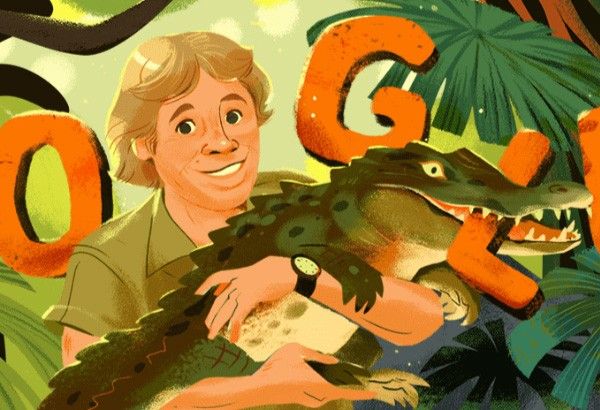 Google Doodle of Steve Irwin
Screenshot from Google's homepage
Google honors 'Crocodile Hunter' Steve Irwin
MANILA, Philippines — Google celebrates the life of Australian legendary zookeeper Steve Irwin by honoring him with an animated Google Doodle on Friday.
In a Google blog, Steve's wife Terri Irwin wrote that she is thankful to Google for acknowledging the life and achievements of her husband through a Google Doodle uploaded on February 22, Steve's 57th birthday.
"Today's Google Doodle acknowledges the life and achievements of my husband Steve Irwin, whose efforts to protect wildlife and wild places have been recognised as the most extensive of any conservationist," Terri wrote.
"We are so proud that his legacy lives on, as that was his greatest wish. He once said, 'I don't care if I'm remembered, as long as my message is remembered'," she added.
Known for his wild antics and love for crocodiles, Terri shared her husband Steve rescued a crocodile after their wedding ceremony.
"Steve and I married in June 1992 in my grandmother's church in Eugene, Oregon. Afterward, we received a phone call about a poacher trying to kill a large crocodile in North Queensland, so instead of a honeymoon, Steve and I went to Australia to save the croc before the bad guys got him," Terri said.
That, said Terri, was the start of their 14-year adventure in the show "The Crocodile Hunter," which filmed in locations across Australia and around the world.
Google Doodle also honored Steve not only as a zookeeper and a conservationist, but also as a great father. One of the doodle's illustrations shows Steve with his wife Terri and kids Bindi and Robert.
Steve died on September 2006 after being stabbed in the heart by a stingray barb while filming an underwater documentary "Ocean's Deadliest."