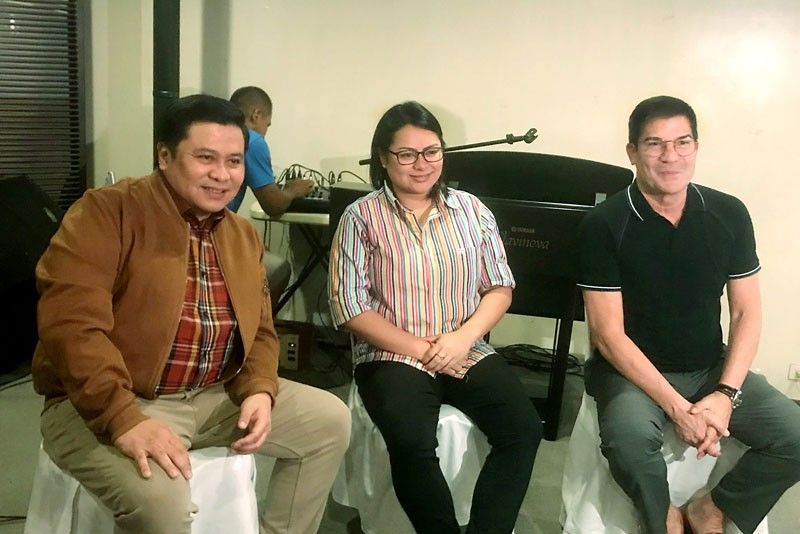 Former Sen. Jinggoy Estrada (running for senator in May's mid-term elections) recently met the movie press with his daughter Janella Estrada (incumbent San Juan City Vice Mayor, running for mayor) and Edu Manzano (running for San Juan representative).
What's Jinggoy Estrada's wish on his 56th birthday?
FUNFARE
-
Ricky Lo
(The Philippine Star) - February 13, 2019 - 12:00am
On Sunday, Feb. 17, former Sen. Jinggoy Estrada is celebrating his 56th birthday.
Asked by Funfare what his birthday wish is when he met with movie writers last week, Jinggoy said, "That all three of us will win," referring to himself (running for senator in May's mid-term elections), his daughter San Juan City Vice Mayor Janella Estrada (running for mayor) and dad Manila Mayor Joseph "Erap" Estrada (running for reelection).
Two other members of the family are running, Jinggoy's half-siblings Sen. JV Ejercito (for reelection) and Jerika Ejercito (for councilor in Manila's 4th District).
"Only the three of you?" Funfare asked again to be very sure.
"Yes," repeated Jinggoy, "the three of us."
Although he's running under Pwersa ng Masang Pilipino (PMP), the party put up by Mayor Erap, Jinggoy is endorsed by Hugpong ng Pagbabago, the regional party organized by Davao City Mayor Sara Duterte. There's a possibility that he and JV will cross paths during the campaign (that officially started yesterday), how will Jinggoy react? "I've always said that I'd love to share the same stage with him. Maybe I'll shake hands with him and just say 'Hi!'"
There will be no confusion during the elections since voters are not required to write the names of the candidates but to only "shade" a spot before the names of their choices. Asked who between him and JV their dad Erap favored, Jinggoy said, without batting an eyelash, "Siempre ako."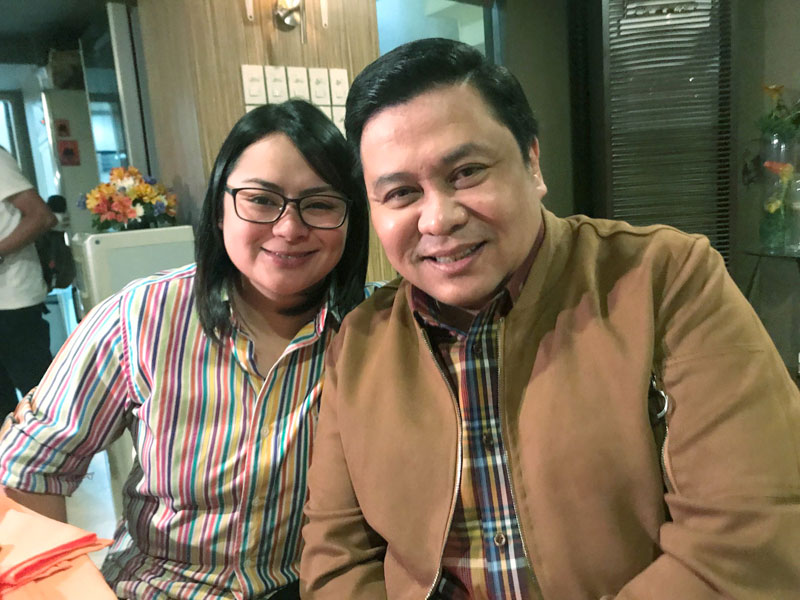 Janella says that she's learning campaign techniques from her dad
Meanwhile, unlike Bong Revilla (also running for senator), his former "classmate" at Camp Crame who is preparing an entry in this year's Metro Manila Film Festival (MMFF), Jinggoy is begging off for an obvious reason, "I'm overweight. I gained more than 20 pounds at Crame because I practically did nothing, except eat, sleep and watch TV," unlike Bong who has remained fit and fabulous because he exercised regularly.
Taking a glance at Janella who was seated to his right during the open forum, Jinggoy noted that she is following in his footsteps. "I started as vice mayor of San Juan before I became a mayor and then senator." A Political Science graduate from La Salle, Janella has served one term as councilor before she was elected vice mayor.
"I am familiar with the city's geography," said Janella, "because I visited all the 21 barangays during my dad's and my own campaigns. There are around 80,000 voters in the city."
Also present at the presscon was Edu Manzano who is running for representative of San Juan. His role as President Lucas Cabrera in FPJ's Ang Probinsyano is popular among the San Juan residents (as well as the series' legion of followers both here and abroad reached by The Filipino Channel).
"My peg is PGMA (Pres. Gloria Macapagal-Arroyo)," said Edu half-joking. "From being President, she's now a Congresswoman."
Edu narrated that he made sure that when he met San Juan residents, it's either before or after the airing of Probinsyano. "Otherwise," he added, "I would excuse myself and say that I still have to shoot for Probinsyano."
Incidentally, Probinsyano actors running in the elections are being killed one by one…in case you haven't noticed. Among the "casualties" were Lito Lapid (running for senator), Mark Lapid (for mayor of Porac, Pampanga), Roderick Paulate (for vice mayor of Quezon City) and, soon, Jhong Hilario (Makati Councilor for reelection) and Edu who, if you recall, has served as vice mayor of Makati and ran as Gibo Teodoro's running mate in the 2010 presidential election.
If elected, would Edu give up showbiz?
"Yes," Edu said, "I would."
On the 'beauty' front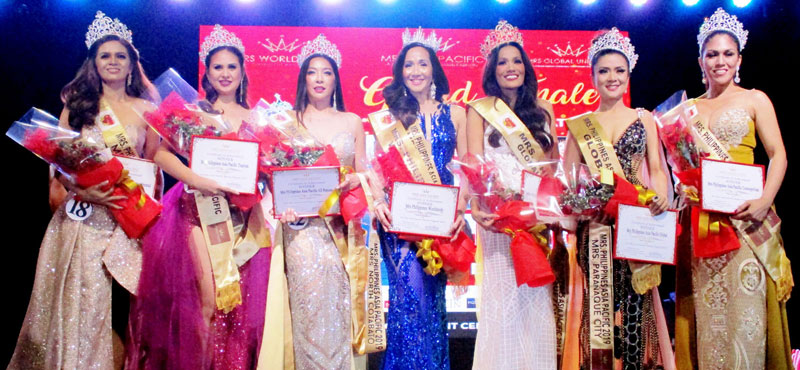 • 2019 Mrs. Philippines Asia Pacific queen crowned
The inaugural Mrs. Philippines Asia Pacific pageant crowned seven queens on Feb. 2 at Treston International Event Center, BGC, Taguig City. They will compete in their respective international pageants within this year.
They are (photo at right, from left: Glynes Evangelista-Olbes (Intercontinental), Marjorie Orito (Tourism), Jennifer Pia Sibug-Las (All Nations), Llena Tan-Arcenas (Asia Pacific), Irene Bigornia-Montemayor (Global Universe), Avon Viray-Morales (Global) and Mary Chris Abacahin-Camacho (Cosmopolitan).
• 2019 World's Best Models Philippines proclaimed
The 2019 World's Best Models Philippines winners were proclaimed on Saturday evening, Feb. 9 at the Green Sun Hotel, Makati City. They are (photo at left, from left) Shine Rose Solis (second runner-up), Wilson Yalung and Yumie Fernandez (World's Best Models Philippines), Mark Valencia and Jana Rystella Riva (World's Best Model Travel Ambassadors), Zandra Nicole Liwanag and Majed Saleh (first runners-up). Not in photo is Vic Alvaran (second runner-up). Yalung and Fernandez will compete in the forthcoming international competition. The pageant was staged by Prowess Supremacy Productions spearheaded by Edwin Uy, president; Jinky Baldoza, finance officer; and Jas Baldoza, creative director. – Text & photos by Celso de Guzman Caparas