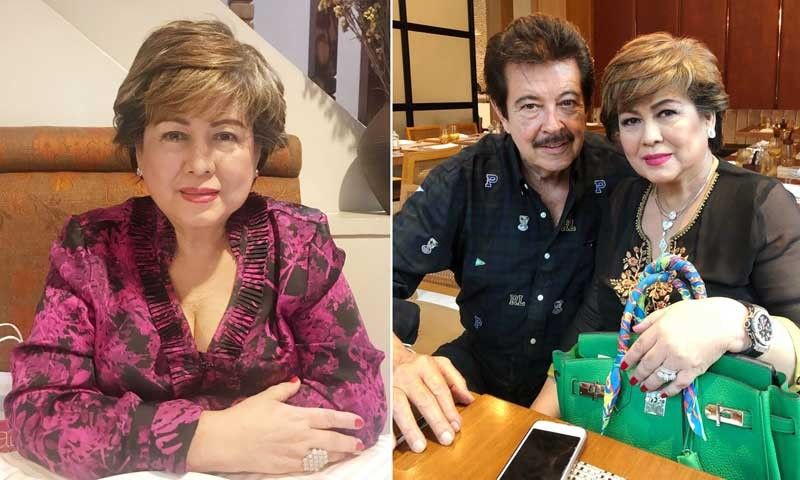 Annabelle Rama (with husband Eddie Gutierrez, right): Back (with a vengeance) on the concert scene as producer of Valentine Extravaganza after almost 10 years
Why Annabelle misses Rico J
FUNFARE
-
Ricky Lo
(The Philippine Star) - February 2, 2019 - 12:00am
In this season of hearts, sorely missed by most everybody, especially concert producers, is Rico J. Puno not only because he happened to be a Love Baby (born on Feb. 14 like Sen. Juan Ponce Enrile, Heart Evangelista, Donna Cruz and John Prats) but because he was a top favorite for Valentine shows.
"I will miss Rico," said Annabelle Rama who is producing Valentine Extravaganza on Feb. 12 (Tuesday) at the Marriott Grand Ballrooms A & B under the family-owned Royale Artist Management, Inc. (RAAI). "I always include him in the line-up not only of my Valentine shows but in my other shows."
Annabelle told Funfare that when she drew the guest list for her birthday on Oct. 31 last year, she made sure that, as usual, Rico was included.
"I even called him to follow up. He said that he would go and greeted me an advance 'Happy Birthday.' I didn't know that he was recovering from a heart surgery. Hindi naman halata sa boses niya. He was jolly, 'yung dating Rico na kilala ko."
Barely a month later, Annabelle was shocked to learn that Rico had died.
"The concert scene is not the same without Rico," noted Annabelle.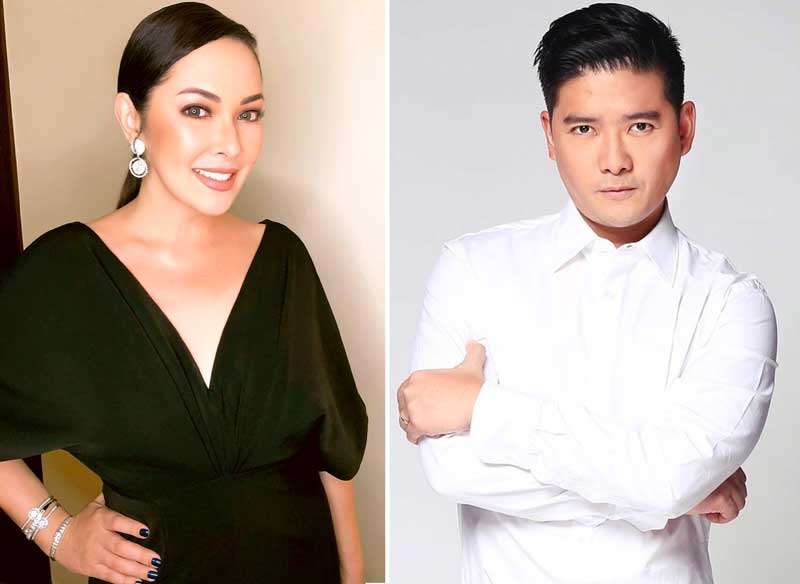 The concert will be hosted by Ruffa Gutierrez and Tim Yap (and possibly Raymond Gutierrez)
But Rico would have applauded Annabelle for choosing a line-up of artists calculated to please people of all ages, including (at random) Pilita Corrales, Mitch Valdez, Sunshine Cruz, Sarah Lahbati, Mitoy Yonting, Presidential Spokesman Sal Panelo and Eddie Mesa. To be directed by Alco Guerrero (son of Chit Guerrero) with Gerry Matias as musical director, the dinner concert features as guest performers Eddie Gutierrez and L.A. Santos. Hosts are Ruffa Gutierrez and Tim Yap, plus possibly Raymond Gutierrez if he can take the time out from his tight calendar as international events host.
If you think that producing a Valentine concert is a piece of cake, you have to think again. Like producing a movie, there's some kind of an "art" to it, a personal touch.
"Its starts with the conceptualizing," explained Annabelle. "Then, the choice of venue and the menu, and the performers. Pagkatapos, ang pagbebenta ng tickets. I sell by the table. For Valentine Extravaganza, I booked two ballrooms to accommodate my suki in 80 tables, each good for 10. I see to it that the show and the food are good…masaya ang show at masarap ang pagkain. I have already done the food tasting. Hindi magsisisi ang mga suki ko."
Pilita has always been Annabelle's favorite.
"Tiwalang-tiwala ako sa kanya," said Annabelle of Asia's Queen of Song who shared a "past" with husband Eddie. "We are good friends. Pilita is a crowd-drawer because of her unique style of singing in four languages (Spanish, English, Tagalog and Cebuano)."
Mitch will provide the comedy portions and also sings, while Sunshine (singing), Sarah (dancing) and Mitoy (singing) will delight the millennial crowd, while Panelo and Mesa will render more romantic songs and Elvis Presley numbers respectively. Eddie G. will do two Presley numbers (his favorites, Blue Suede Shoes and Teddy Bear which Eddie M. won't be doing).

And they are the heavyweight performers: Pilita Corrales (left), clockwise from upper left: Eddie Mesa, Sarah Lahbati, Sunshine Cruz, Mitch Valdez, Presidential Spokesman lawyer Sal Panelo and Mitoy
Yonting
"I watched Eddie (Mesa) in his show with his family at the Meralco Theater last year and I was impressed," said Annabelle. "He was given a standing ovation."
Valentine Extravaganza marks Annabelle's return to the concert scene after almost 10 years (the last one she produced starred Pops Fernandez and Rico J., and Ogie Alcasid and Regine Velasquez when they were just going steady). Annabelle's attention was diverted to managing her then more than two dozen talents, a movie (My Monster Mom with Ruffa among her co-stars) and the family E! series It Takes Gutz To Be A Gutierrez (ITGTBAG).
"Hindi na ako ganoon ka-busy, I'm more relaxed now. Ruffa is now with Cornerstone, Richard with Star Magic, Sarah with Viva and Raymond is doing projects abroad most of the time. I manage Eddie who has a show on GMA (Cain at Abel). He shoots every other day and goes home at 5 a.m. kaya peaceful ang bahay namin. Walang away, hahaha!!!"
As she always does, Annabelle prefers to produce shows (being planned is another one in June presumably with Martin Nievera as headliner) solo, that is, no co-producer. "Pag kumita, magulo ang hatian," adding as a reminder to ticket-holders, "they should be at Marriott on time…7 p.m. for dinner na may front act na and show at 8:30 p.m. No gatecrashers. I know who bought tickets and I have called them to follow up. I'm happy that my suki in the past nine years are still around at nadagdagan pa ng bagong supporters."
Incidentally, for the past nearly 40 years, Annabelle and Eddie usually spent Valentine's Day right on Feb. 14 except this time when they'll do it during the Feb. 12 Valentine Extravaganza concert.
"Alam mo naman na ang Feb. 12 ay para sa mga kabit," she quipped, "o kaya Feb. 15."
Oh, really? Asked to name some, Annabelle begged off.
"Ayoko magbanggit, hahaha!!!"
(Valentine Extravaganza is sponsored by Tapa King; Aiwa Technologies Philippines, Inc.; MC Geometric Proportions, Inc.; Ms. Divine Austria; aivee; Bench; Mother Lily of Regal Entertainment, Inc.; Phoenix Pulse Technology; Premium Megastructures, Inc.; and First Image. It's for the benefit of Mga Batang Biktima ng Marawi. For tickets, call Christelle Tolisora at 0917-8800720 or Ms. Ilyn at 0918-8073340.)
Boots is 74 and proud of it!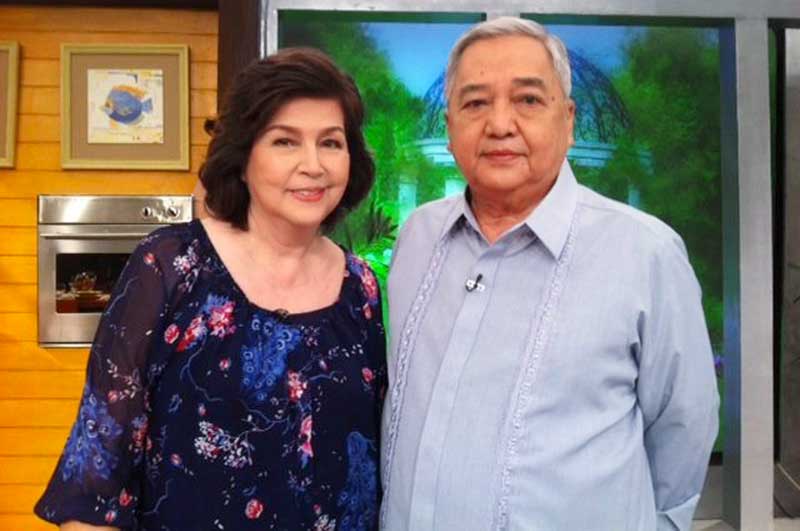 Boots Anson Roa-Rodrigo, 74, and husband lawyer King Rodrigo, soon-to-be 80: May forever!
Boots Anson Roa-Rodrigo turned 74 on Wednesday, Jan. 30, and she doesn't look it, does she?
Here's an invitation letter she sent to your Funfarer:
Dear Ricky,
They say that for a woman to live a full life, she has to give birth, plant a tree and write a book.
Thanks to my late husband Pete, I have four children. Thanks to my husband Atty. King Rodrigo, I just planted an atis tree last week on our little patch garden in Tagaytay. Thanks again to King, I can now write a book for publication on my 75th birthday on Jan. 30, 2020.
Significantly, King is turning 80 this June 14, 2019, simultaneously with our fifth wedding anniversary.
I wish we could give you a sensational headliner like "We are having a baby," but that would warrant a miracle and that would be the ultimate "fake news."
But we have blessings enough that we would like to share with you and our closest in media: our joyful union, our family, our work, endeavors and advocacies, senior moments as well as plans for the years ahead that God will grant us.
I shall turn 74 on Jan. 30, 2019. King would like to host a belated birthday celebration for me on Feb. 4 at 12 noon at the Pavillion by the pool of Club Filipino in Greenhills.
It is not often that we personally host gatherings like this to thank our friends in media. Please honor us with your presence. We promise you a meaningful and enjoyable afternoon.
In grateful appreciation,
Boots Anson Roa-Rodrigo
(E-mail reactions at rickylophilstar@gmail.com. For more updates, photos and videos, visit www.philstar.com/funfare or follow me on Instagram @therealrickylo.)