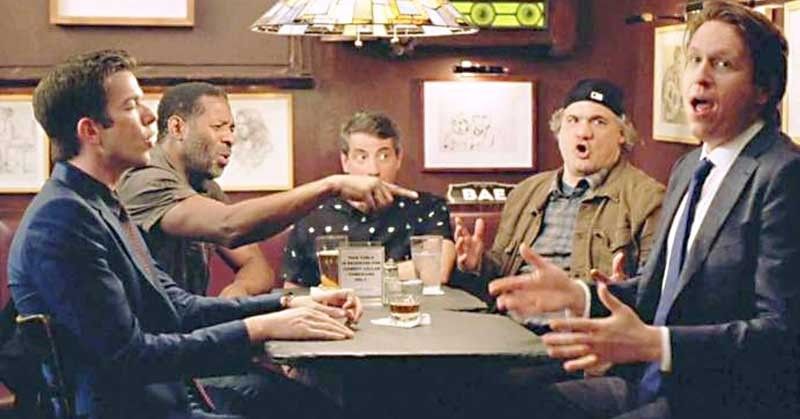 Pete Holmes (extreme right) with fellow stand-up comedians
Crashing's Season 3 back on HBO January 21
The who's who of comedy like Amy Schumer, Ray Romano, Colin Quinn, Jamie Lee, John Mulaney, Dave Attell, Chris Gethard, Dave Schumer, Jaboukie Young-White and Artie Lange join lead star Pete Holmes for an eight-episode laugh fest season.
NEW YORK — HBO's critically-acclaimed comedy series Crashing, which offers a behind-the-scenes peek into the world of stand-up comedy, is set to premiere its third season on Jan. 21 (Manila time). The who's-who of comedy like Amy Schumer, Ray Romano, Colin Quinn, Jamie Lee, John Mulaney, Dave Attell, Chris Gethard, Dave Schumer, Jaboukie Young-White and Artie Lange join lead star Pete Holmes for an eight-episode laugh fest season.
Pete, who is also the show's creator, writer and co-executive producer (along with Judd Apatow, Judah Miller and Igor Srubschcik) draws on his own experiences as a comedian and gives viewers thought-provoking "real and raw" humor that worked well during the first two seasons.
"I look at my problems and my life at different angles and perspectives and I think of how might that problem be funny to someone else," Pete told The Philippine STAR in between takes during the filming at the Comedy Cellar, a Manhattan club that is the epicenter of stand-up comedy in America.
"That's a good exercise," he said. "That's what therapists do. They try to have you look at your life from someone else's perspective. And that's what you do when you're writing a story."
"There's nothing more cathartic than reliving my divorce and weird moments in my relationships," Pete added with a laugh.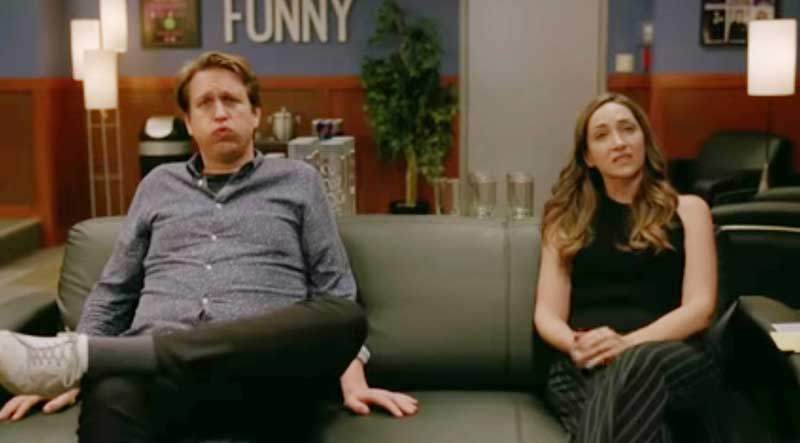 Pete in an awkward scene with his reel- and real-life ex-girlfriend Jamie Lee, who plays his former love interest and fellow comic in Crashing Season 3
The new season finds Pete reinvigorated with newfound confidence in his stand-up skills. While he's no longer crashing on other people's couches, he continues to struggle to find true happiness as a comedian and as a lover. With his wife's infidelity all water under the bridge now, he starts dating a new girl, Kat (Madeline Wise).
Emmy Award winner Judd, the comedic genius who megged the blockbuster flicks Trainwreck, Knocked Up and The 40-Year-Old Virgin, told The STAR that Crashing provides the rest of the world a window into the American culture as well as lessons in today's comedy.
"Do you watch Crashing in the Philippines? How do you do stand-up comedy there?" Judd asked curiously. "We don't know how much of the world is watching us or if they understand our comedy. We just try to stay true to the character and try to be as accurate as we can be."
The HBO show works because Judd's approach is "very raw and very real," according to cast members, and people can relate well.
"Judd has a really good grasp on the human condition and he really is able to show all sides of character," said actress and writer Jamie Lee. "Even if they're the main character, they're not always this rosy, perfect person. They're flawed and you're able to relate what the character is going through."
Jamie, a writer for the show's first two seasons, is joining the third as Pete's fellow comic and ex-love interest. She didn't have to audition for the coveted role, shared Jamie, who, incidentally, once dated Pete in real life.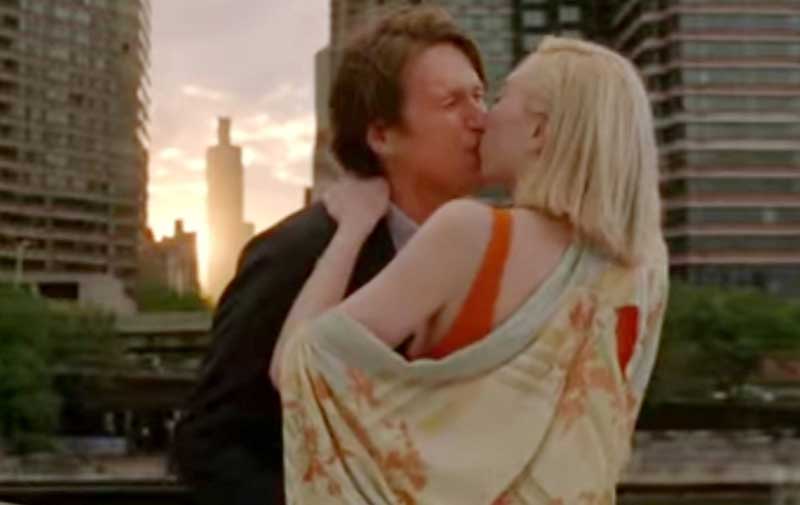 In a romantic scene with his character's new love interest, Ali (played by Madeline Wise)
"I feel excited to be a part of the show because I feel like my role as a writer and actor showcases what it's like to be a woman in a male-dominated field," she told The STAR, adding that she's not intimidated at all.
The STAR was given a tour of the Comedy Cellar by Estee Adoram, the influential and revered talent booker who gave the biggest stand-up entertainers their starts there. Their framed headshots adorned the walls of the iconic club on Greenwich Village — from Jerry Seinfeld and the late Robin Williams to Sarah Silverman and Russel Peters.
"Anybody that's worthwhile in comedy works here," said Adoram, who also appears in Crashing. "When they become famous, they jump into movies and television like Saturday Night Live, but they keep coming back to Comedy Cellar to perform or just hang out."
One star veteran who often visits in between film and TV jobs is Collin Quinn, who gave The STAR a crash course on stand-up.
His main goal, he stressed, is to draw guffaws, not applause.
"Comedy is about the ugly side of us all and somebody's gotta get hurt and insulted," declared Quinn, who is a Saturday Night Live alum with Will Farrell, Molly Shannon and Tina Fey, among his batchmates.
"If people think they're gonna do comedy and people are not gonna get offended or insulted, they're living in fake utopian world," he said.
"When I do (Donald) Trump jokes, I wanna make sure people are laughing," he pointed out. "Nobody wants you lecturing them or scolding them. The reason people come and pay is not to hear your opinion or outrage, but for you to make them laugh… so you better be funny."
Crashing is also available on HBO NOW, HBO GO, HBO On Demand and affiliate portals.