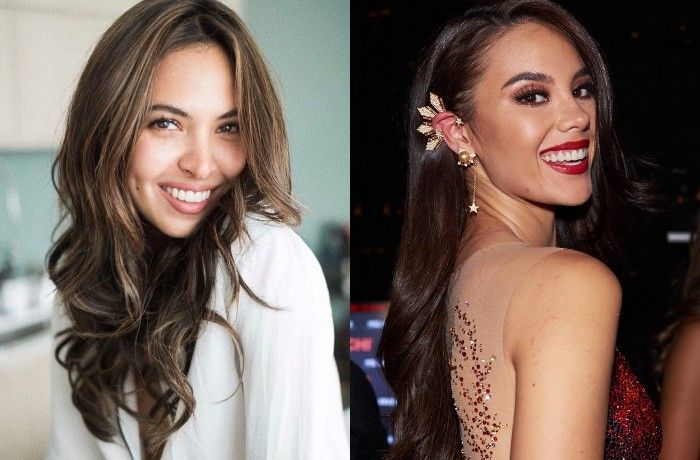 "I've learnt and have chosen to be more understanding of the world around me," says TV personality Maggie Wilson (left), who has received criticized for things she said about now-Miss Universe Catriona Gray (right) years ago.
@wilsonmaggie on Instagram | MOU
Maggie Wilson admits backlash after Catriona Gray's win affected her
MANILA, Philippines — Former beauty queen Maggie Wilson aired her frustration amid criticisms for what she said about then Miss Universe Philippines Catriona Gray months ago.
After Catriona was crowned as the country's fourth Miss Universe, Maggie received backlash from online Filipinos who recalled what she said about Catriona not deserving to win the best swimsuit award nine months ago.
In her Instagram account, the model said she's receiving "immense backlash" from Catriona's supporters that made her cry.
"Today, I kept changing my settings here on IG because of the immense backlash I've been getting over something I said 9 months ago," she wrote.
"I have made mistakes but have learnt and made peace with them and I refuse to be vilified by them. Your mistakes aren't what defines you but it is how you behave and learn from them after you've committed one," she added.
Maggie believed that change is one thing constant in life and she said she found comfort in that.
"I've learnt and have chosen to be more understanding of the world around me. To be more sensitive towards people and my surroundings," she added.
Apart from Maggie, Miss International 2013 Bea Rose Santiago was also getting her wrist slapped over what she told Catriona months ago.
In their own respective Instagram stories, Maggie and Bea already congratulated Catriona for winning the title.
"Congratulations to Catriona Gray, Miss Universe 2018!" Maggie wrote while Bea wrote, "Sssoooo beautiful @catriona_gray Congratulations."