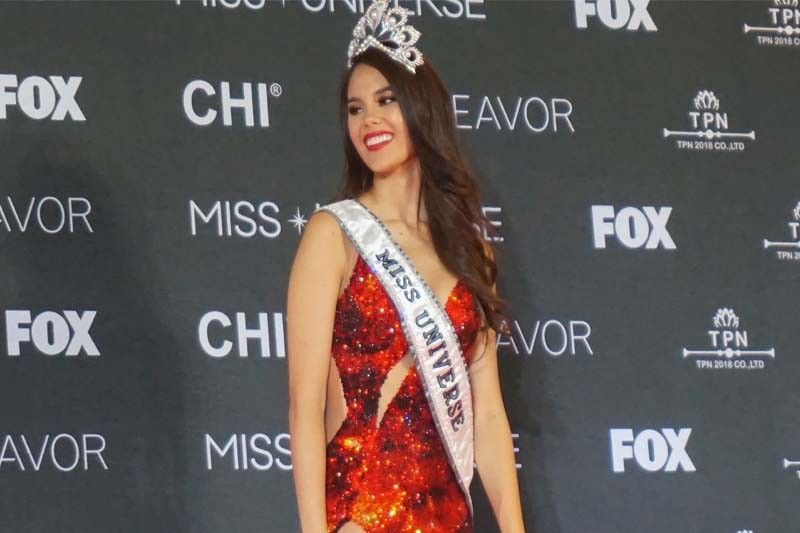 In this Dec. 17, 2018 photo, 67th Miss Universe Catriona Gray takes questions from the members of the press at the Impact Arena, Bangkok, Thailand.
Philstar.com/Rosette Adel
WATCH: Catriona Gray apologizes to Thai interpreter for 'speaking too much'
BANGKOK, Thailand — Newly crowned Miss Universe 2018 Catriona Gray shared light moments with the international media during the press conference held after the final competition on Monday.
Gray was asked about beauty and women empowerment initiatives of the Miss Universe Organization.
She then answered with a lengthy explanation of the subject until she realized her answer was already too long for the interpreter.
The Filipina beauty apologized to the Thai interpreter who translates her every answer during the press conference. She also laughed off her lengthy answer.
"I think Miss Universe is wonderful platform that we promote diversity and women empowerment," Gray answered.
"Why? Because we are achieved women who have stories, who have passions, who have careers. We're congregated together–have represented our countries and are given this platform to voice out what we love, what we're passionate about and walk talks our heart," she added.
"So to think that you can have those many countries coming together in a collaborative effort...Oh, I'm speaking too much. I'm sorry," Gray continued laughing.
The press briefing was held at the Impact Arena in Bangkok, Thailand.