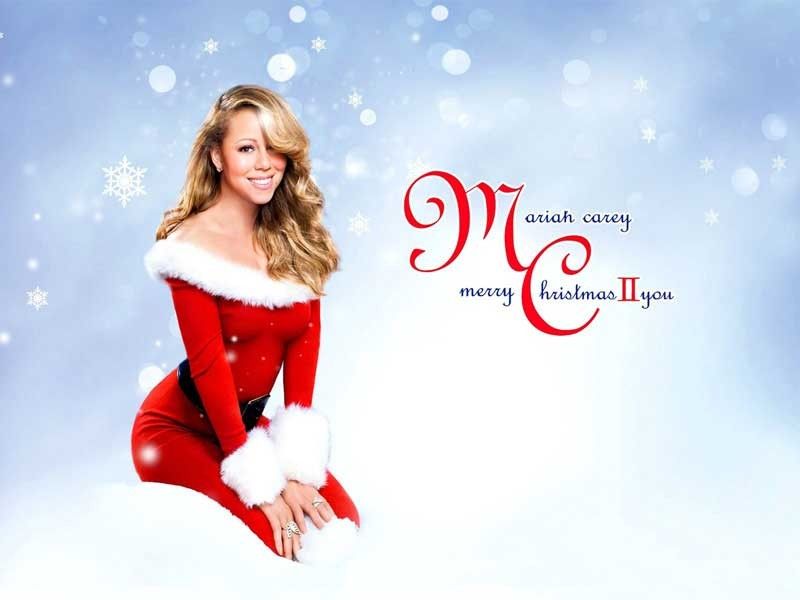 All I Want For Christmas Is You, composed by Mariah Carey and Walter Afanasieff, enters the hit charts every year and is considered one of the biggest selling songs of all time.
Mariah, Queen of Christmas
Mariah Carey has a new record out released last Nov. 15. Titled Caution, it is her 15th studio album and a very good follow-up to I Am Mariah…The Elusive Chanteuse. I do not know if Caution will be another phenomenal seller but it is certainly one of her best and is the kind one can listen to all day and night and still love. But what is really most impressive is that she is back to writing songs and as proven by Caution, it is in a really big way.
Mariah co-wrote all of the gorgeous R&B tunes in Caution and you know how Mimi is when she decides to do some songwriting. I mean like she did with Vision Of Love and Emotions. She makes hits. As for her vocals, all the whistles, melismas and other trademark Mariah stylings are present in fine form. These make for a most potent combination.
So I say that whether she floating on the sweet melody of Portrait or trading sugary hip-hop barbs in The Distance with Ty Dolla $ign, Giving Me Life with Slick Rick & Blood Orange and Stay Long Love You with Gunna, she has never sounded better in years than she does in Caution. First single out is With You. The other cuts are GTFO, A No No; One Mo' Gen; 8th Grade; and the title track, Caution.
Unfortunately though, I think that Caution is not getting all the listening and attention it deserves. Not in any way the album's or Mariah's fault. This is because, whenever this time of the year rolls in, you know the 'ber months leading to the end of the year, everybody joyfully tunes in to another Mariah. And she is no other than the $60M Mariah Carey, Queen of Christmas. And this is all because of one song, All I Want For Christmas Is You.
One of the most difficult things to do in the field of music is for a new composition to break into the very elite Christmas songs catalogue. I tell you that thousands have made the attempt and fallen by the wayside. After all, how can you top or let us just say, equal Silent Night or Jingle Bells. Simple tunes really but gilded with the patina of memories from hundreds of years.
There are a few though do make it. White Christmas, The Christmas Song (Chestnuts Roasting On An Open Fire), Give Love On Christmas Day, Silver Bells and Santa Claus Is Coming To Town are among these. Along with the traditional carols, they are now among those lovingly dusted off for listening enjoyment come Christmastime every year.
And the latest to make the grade from out of the pop era is All I Want For Christmas Is You that was composed by Mariah and Walter Afanasieff. It is one of the cuts in her first Christmas album, Merry Christmas, that came out in 1994 when Mariah was literally at the peak of her career. A bouncy love song, a-tinkling with bell chimes, it has just the right amount of romantic sentiment and Yuletide sparkle to put listeners in a joyous Christmas mood.
All I Want For Christmas Is You enters the hit charts every year and is considered one of the biggest selling songs of all time. It is No. 11 in that hit list. That means all songs, not just Christmas songs. It has already earned over $60M in royalties and has been covered by many other artists. Mariah herself has two solo versions and a duet with Justin Bieber for his Under The Mistletoe album.
The other artists who have recorded All I Want For Christmas Is You for their own albums are Shania Twain, My Chemical Romance, Miley Cyrus, John Mayer, Lady Antebellum, Bowling for Soup, Jim Brickman, Hanson, Fifth Harmony, Idinah Menzel, Kelly Clarkson, Michael Bublé, Demi Lovato, Ariana Grande and Lindsey Stirling.
Merry Christmas by Mariah is a very good collection. It also includes beautiful renditions of Silent Night, O Holy Night, Christmas Baby (Please Come Home), Joy To The World, Santa Claus Is Coming To Town, Hark The Herald Angel Sing and Jesus Oh What A Wonderful Child. There are two more originals that she co-wrote Miss You Most (At Christmastime) and Jesus Born On This Day. But of course, they all pale in comparison to All I Want For Christmas Is You.