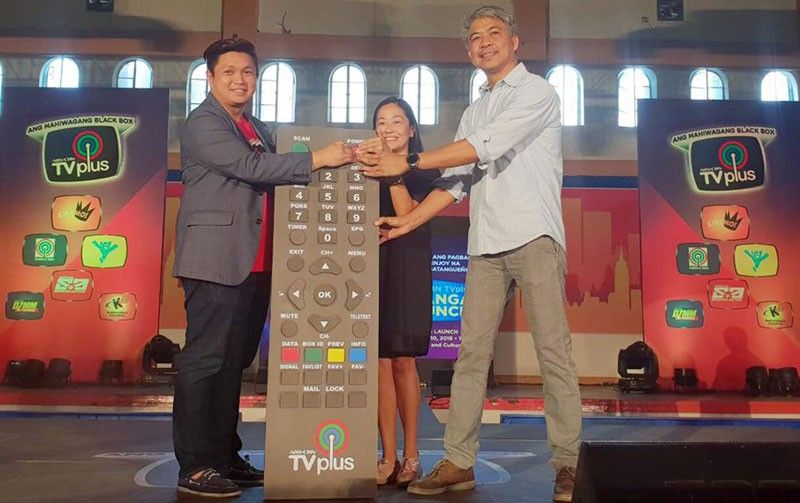 From left: Cinemo Channel head Mark Awiten, Yey and Knowledge Channel head Danie Sedilla-Cruz and ABS-CBN Southern Tagalog area head Woodrow Francia during the ABS-CBN Tvplus ceremonial switch-on event held at the Lipa City Youth and Cultural Center in Batangas
Pinoy movies on ABS-CBN TVplus
Bot Glorioso
(The Philippine Star) - November 22, 2018 - 12:00am
MANILA, Philippines — Every Filipino family that owns an ABS-CBN TVplus box can now watch at home five Pinoy movies from Star Cinema and other local movie producers through its Kapamilya Box Office (KBO) channel with just a minimal fee of P30 (good for two days). Is there a possibility that going to movie houses may soon become a thing of the past? Or, will the success of the movies in the box-office be put at stake?
Cinemo Channel head Mark Awiten thought otherwise and stressed that bringing blockbuster flicks to the small screens does not, in any way, affect the box-office returns of any locally-produced films.
"Actually, in the two years that the KBO has been in existence, I could say that the box-office returns of Star Cinema remain in good standing," said Mark, aware that the Kapamilya network has sold 6.2 million mahiwagang black boxes as of end of October. "In fact, The Hows of Us had earned an excellent box-office result. Same with Exes Baggage and other films produced by Star Cinema.
Besides, Star Cinema and KBO are catering to two different markets. The former is for the moviegoers while the latter is for home viewers "because there are families that can't afford a cinema ticket like if it costs P250 each or P280 and there are four members in the family, then that would cost too much. That's why we came up with (the idea of) offering them at only P30 so that even a family of 10 can enjoy the movies they want to see."
Apart from KBO, there are other exclusive channels carrying a variety of programs. It has an all-day movie channel called Cinemo that airs a mix of foreign and local classic and action movies. The kiddie entertainment channel Yey features popular cartoon shows like Spongebob Squarepants, Paw Patrol, Digimon and the local show Team Yey. Not to be missed is the Knowledge Channel, an educational channel airing curriculum-based programs for primary and secondary students, and DZMM Teleradyo which offers live broadcast of programs from DZMM Radyo Patrol 630.
Just recently, five new channels were added to the channel list, namely, Movie Central, O Shopping, Asianovela Channel, MYX and Jeepney TV. In 2019, new original shows are set to be part of the "must-watch" list.
Mark further shared that producing original films for Cinemo is also on the drawing board. "Sa ngayon, pinag-aaralan pa namin ang lahat for 2019 not just to produce films for Cinemo but also for Cinebro, ito 'yung arm ng Star Cinema intended for male audience. Although the initial plan was to produce films for theatrical release before (airing on) Cinemo or KBO, they might instead produce straight for Cinemo so nothing definite at the moment. Medyo malaki kasing investment to do original films than purchasing from Star Cinema, Regal or Viva Films."
What's certain is the network's continuous effort in expanding the ABS-CBN TVplus signal coverage areas. Last Nov. 10, it began its digital TV broadcast in Batangas City. The mahiwagang black box was officially introduced to the province in a ceremonial switch-on event held at Lipa City Youth and Cultural Center, accelerating ABS-CBN's commitment to migrate viewers from analog to digital TV-viewing experience before 2023.
Present with Mark during the event were ABS-CBN TVplus product manager Alvin Ebrada, Yey and Knowledge Channel head Danie Sedilla-Cruz, and ABS-CBN Southern Tagalog area head Woodrow Francia.
Batangueños also enjoyed the performances of such Kapamilya stars as Richard Gutierrez, Hashtags Mccoy de Leon, CK Kieron and Maru Delgado, TNT singers Rachel Gabreza and Aila Santos.