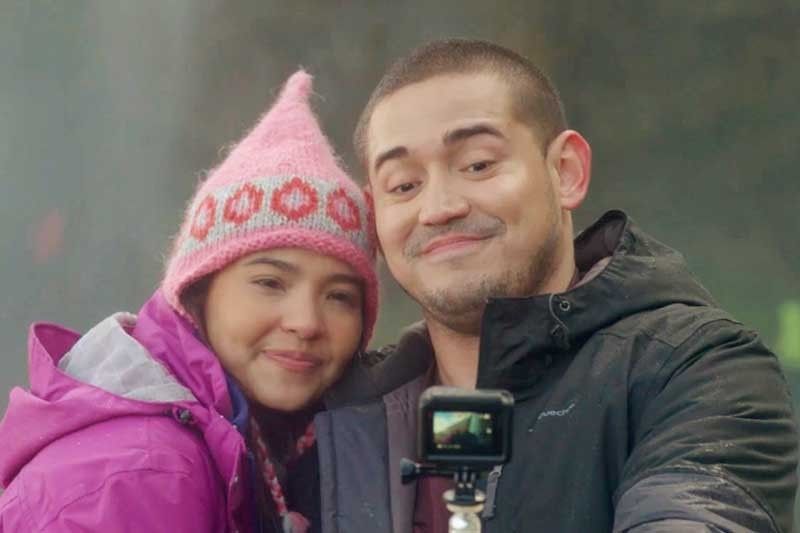 Alessandra de Rossi and Paolo Contis in Through Night and Day, co-produced by Viva Films and OctoArts Films, opening today nationwide
What Alessandra finds so special about Iceland
FUNFARE
-
Ricky Lo
(The Philippine Star) - November 14, 2018 - 12:00am
As its name indicates, Iceland is a cold, cold country but it warms the heart of Alessandra "Alex" de Rossi no end. Visiting the country has long been on Alex's bucket list and she has just put a "check" on it after she and Paolo Contis were there to shoot several scenes for Through Night and Day, co-produced by Viva Films and OctoArts Films.
Directed by Veronica Velasco, the movie is about an engaged couple (Jen and Ben) who takes a trip to Iceland for a prenup shoot, only to discover that they have a lot of differences. It was Alex who wrote the story (with Noreen Capili as screenplay writer), her second work to be filmed after 12 in which she stars with Fil-Am Ivan Padilla.
Asked if Iceland symbolizes the feelings of her character, Alex said, "The weather changes in Iceland are very erratic. My character, Jen, is like that…now hot and then cold. So you should be prepared. You don't say, 'Akala ko hindi babagyo today.' No such thing in Iceland. Walang ganun kay Jen. Another thing that I love about Iceland is that I identify with Bjork, Iceland's contribution to the world music industry."
It was her dream of visiting Iceland that inspired Alex to write the story.
"But I thought, ang mahal to go there (as a tourist)," said Alex (whose starrer with Empoy Marquez, Kita-Kita, made box-office history by grossing P320M-plus and set a trend casting "unlikely" loveteams). "Gawa na lang ako movie. So I divided the project into two sets, half in Iceland and half in Baguio. Kasi if we shot the whole movie there, masyadong mahal," adding with a laugh, "baka hindi makabawi. The story came from my heart and soul, from stories that I heard and experienced starting when I was a kid. Halo-halo na."
What Alex also found interesting about the character is Jen's fairy-tale like story.
"It's a different kind of love," added Alex, "one great love talaga. She loves only one person her whole life, isang tao lang ang inalagaan at inintindi niya. Fairy tale, di ba?"
Alex and Paolo have done some projects before (Spirit of the Glass and One Night Only, among them) but it's the first time that they are paired as a loveteam. Do they jibe because they are both half-Italian?
"I thought it would be like that, pero hindi pala," noted Alex. "Paolo doesn't eat tomatoes. Ha? May Italiano bang hindi kumakain ng kamatis? How did it happen? Hahaha!!! But the sarcasm is very Italian. Not everybody can take the Italian sarcasm."
* * *
Ahtisa: Almost but not quite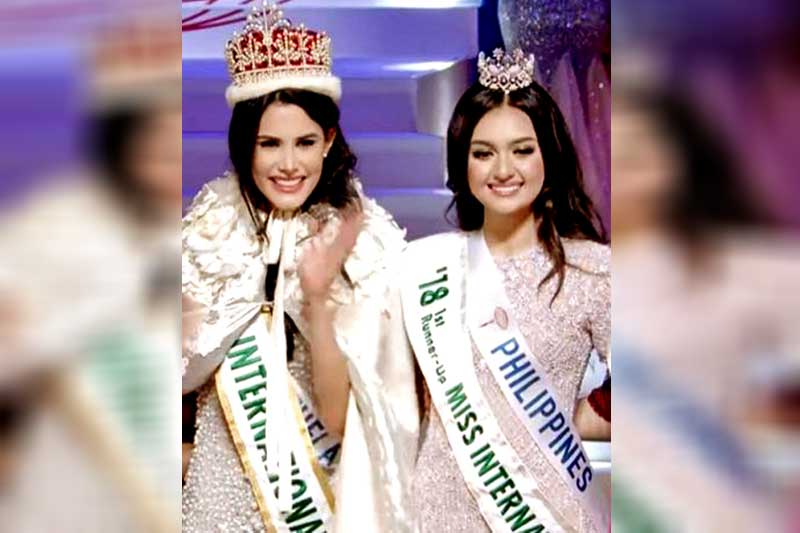 The Philippines' Ahtisa Manalo (left) is second-placer to Venezuela's Mariem Velazco in the 2018 Miss International pageant in Japan.
Bb. Pilipinas-International Ahtisa Manalo was just a breath away from being the country's seventh Miss International, after Gemma Cruz (1964), Aurora Pijuan (1970), Melanie Marquez (1979), Precious Lara Quigaman (2005), Bea Rose Santiago (2013) and Kylie Verzosa (2016).
Although a pre-pageant favorite, Ahtisa finished second to Venezuela's Mariem Velazco in the recent (58th) Miss International pageant in Japan. Other runners-up were South Africa's Reabetswe Sechaoro (second), Romania's Bianca Tirsin (third) and Colombia's Anabella Castro (fourth). Velazco, 20, is the eighth title-holder from her country, after Nina Sicilia (1985), Consuelo Adler (1997), Vivian Urdaneta (2000), Goizeder Azua (2003), Daniela Di Giacomo (2006), Ana Mosquera (2010) and Edymar Martinez (2015). Sechaoro and Tirsin are pageant veterans, the former was Supermodel International 2012 (held in Thailand) and the latter second runner-up in the 2017 Miss Supranational (held in Poland).
Ahtisa, 20, is from Candelaria, Quezon, and a B.S. Accountancy graduate from Manuel S. Enverga University Foundation. She was 2016 Bb. Niyogyugan and second runner-up in the 2015 Reyna ng Aliwan contest.
During The STAR's post-pageant interview with the six 2018 Binibini batch, Ahtisa said that she was "NBSB" (No Boyfriend Since Birth) and, if ever she ventured into showbiz, she would like to play a spy ("Something like Charlie's Angels") because she wanted to be a police officer, and have Jericho Rosales as leading man.
Asked what she would choose if given a government position, Ahtisa replied, "I would be a part of the Philippine National Police (PNP), or the head of the PNP, why not? Since I was a kid, my dream has been to be a policewoman. In fact, I have applied for the PNP Academy." ­—With a report from Celso de Guzman Caparas
Mike Magat on the right track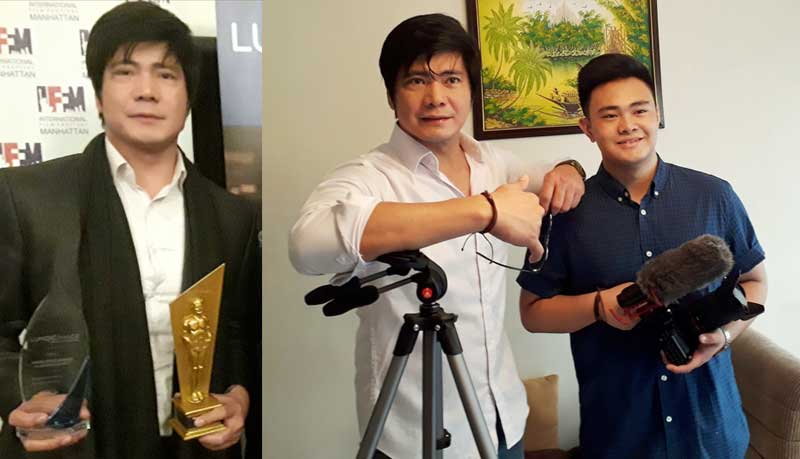 Actor-director-producer Mike Magat with the Best Film (for Disiotso) trophy he won at the recent IFFMNYC (International Film Festival Manhattan New York City) and with his filmmaker son Miguel Antonio Sonza.
Congratulations to Mike Magat who is still basking in his Best Film win at the recent IFFMNYC (International Film Festival Manhattan, New York City) for Disiotso, a film that he produced, wrote, directed and starred in.
"At the same time," said Mike, "I was also awarded an NYC-Manila ticket by Philippine Airlines (PAL) and LumoXchange because I mentioned PAL in my film."
Disiotso is about a father (Mike) and daughter (an 18-year-old newcomer) separated for 18 years, until the father takes a leave from his work in The Big Apple and flies by PAL direct to Manila.
It's Mike's second win in the same festival. Last year, Sikreto sa Dilim (of which he was co-producer) was given an Independent Achievement Award. All these awards have convinced Mike that he's on the right track, now writing, producing and starring in his own films under his own Sonza Entertainment Production in which his son Miguel Antonio is his partner.
"He's my own DOP (Director of Photography)," shared Mike. "May talent sa filmmaking. He sometimes does the editing."
Since 1993 as an actor, Mike has done around 100 films. It was in 2014 when he decided to shift into producing and directing his own films, starting with Isang Hakbang (with Snooky Serna and Miguel Antonio as stars). He's now working on Turista in which he plays an undercover agent tracking down the woman drug-syndicate head who turns out to be his adoptive sister. Shot in New York, Washington D.C., Korea, Hong Kong and Japan, Turista is intended for another international filmfest.
Soon, Mike is putting up his own talent agency to train acting and directing aspirants.