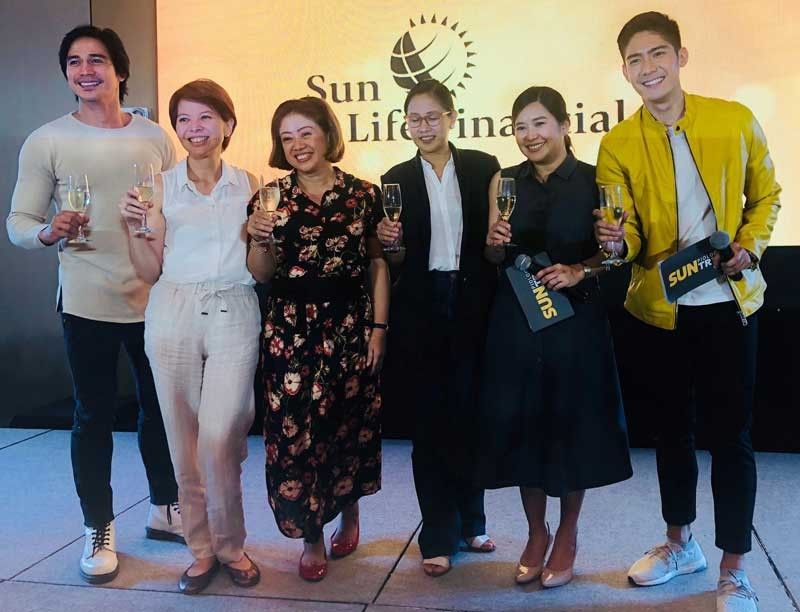 At the Sun Life event, Piolo Pascual with (from left) Sun Life Philippines chief marketing officer Mylene Lopa; Sunrise Event, Inc. general manager Princess Galura; Metroad Sports' Kathy Sarmiento; Sun Life Corpcomm manager Len Arboleda; and Robi Domingo.
Piolo: Love can (still?) wait
FUNFARE
-
Ricky Lo
(The Philippine Star) - October 9, 2018 - 12:00am
Because his much-talked-about love life has been rehashed to an irritating level, with Piolo Pascual giving the same ho-hum answers (love can wait, etc.), Funfare decided to simply focus on what he was promoting at a recent fishy presscon for Mega Sardines! Piolo is now concededly the new King of Commercials, bravo!!!
When did you start loving sardines as ulam?
"It's a staple in every Filipino home so I guess as kid, you grow up having that on your table. It's a common food in a Filipino household."
Is rice with sardines better with the brand?
"Of course, naturally. It's the Filipino way, since you also get to enjoy the sauce as much as the fish."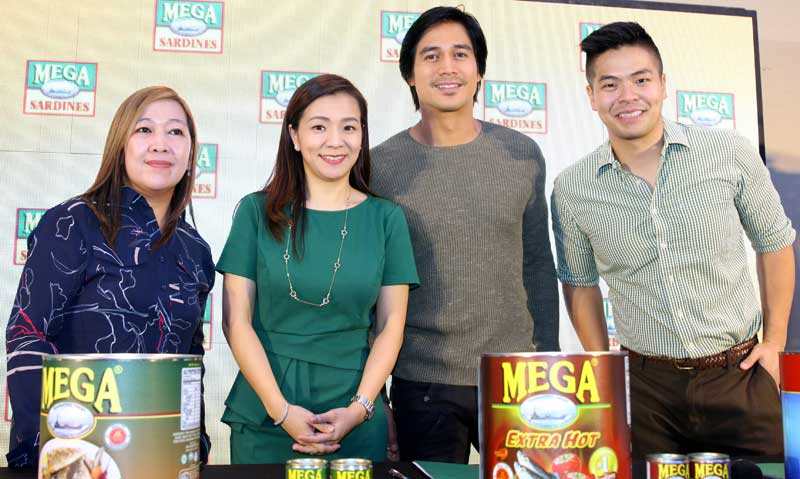 At the Mega Sardines event with (from left) Rizza Alfonso, marketing manager; Michelle Tiu-Lim Chan, VP for finance; and Marvin Tiu-Lim, VP for sales and marketing.
What are your criteria in accepting an endorsement?
"You have to believe in the product. If you don't walk the talk, then what's the use of being an ambassador or being the face of the brand? You have to know what the product stands for, what it talks about, what it believes in, and of course you have to patronize the product. If you don't believe in the product, then I don't think there's a use of you being an ambassador of the brand because you have to speak about it, so you have to know the brand as well."
What sets Mega Sardines apart from the rest?
"A lot. First of all, I appreciate the fact that it's Filipino-made and has been around for 40 years already. I also appreciate the way they treat their employees, customers, as well as what they offer such as state-of-the-art equipment––which I was able to experience when I was in Zamboanga––and the cleanliness of the product, the quality, and how they are with people. I'm very big on communication and relationships, and I've seen how compassionate they are and how they care for the brand, the growth of the brand, and their employees' as well."
If you were to court a girl with sardines, anong klaseng luto ng Mega Sardines do you think will make her say yes?
"Extra hot, para mainitan siya."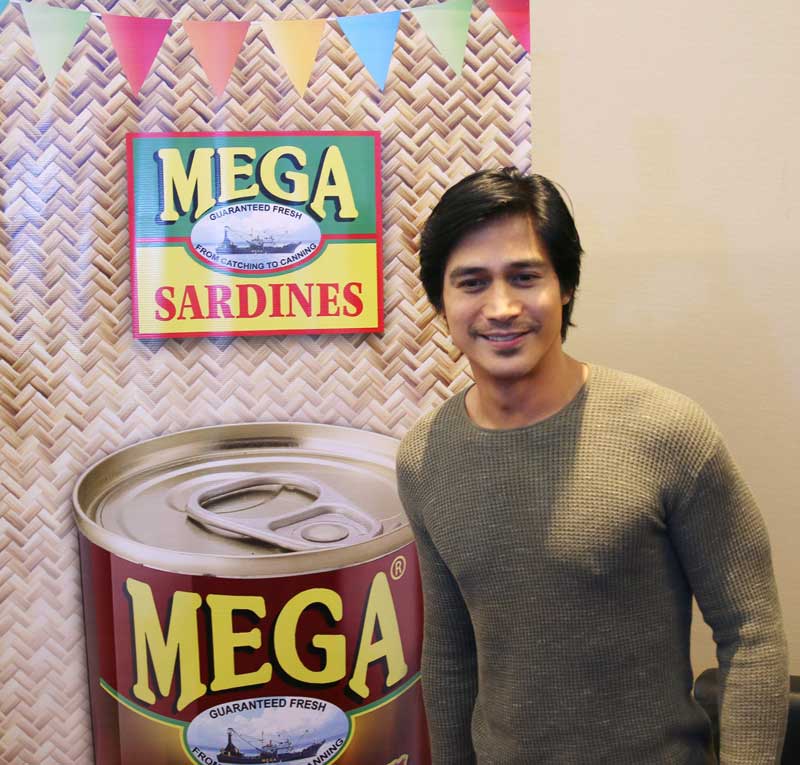 Piolo's got too much on his plate
Aside from Mega Sardines, Piolo has got too much on his plate.
Here's an accompanying piece by Bot Glorioso:
As Spring Films co-producer of Children of the Lake, he admitted that there was a delay in shoot of the movie about the Marawi siege "not because our director, Seron Dayoc, has quit but we were told not to shoot at the ground zero because there were still IEDs (improvised explosive devices) there so it's not safe. Good thing for us because we're still working on the script."
As an actor, Piolo is set to do three movies: one for Lav Diaz and another one in celebration of the 100th anniversary of Philippine Cinema and the third which he can't disclose yet. He has just come back from the Busan International Film Festival as a guest. He performs in ASAP every Sunday and will join the ASAP show in Australia soon. He will also go to Canada with son Iñigo.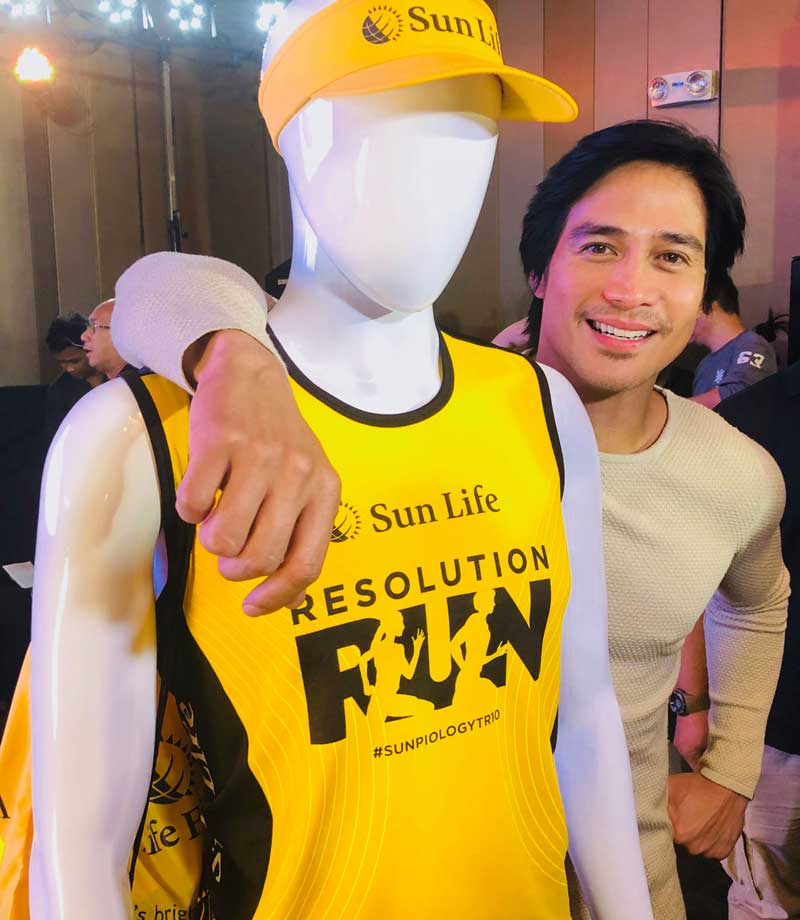 But what he couldn't afford to miss is attending the launch of the annual sporting event called SunPIOLOgy. The brainchild of the Kapamilya star with Sun Life Financial Philippines (of which he's a long-time endorser) is marking its 10th year. And to celebrate the milestone, there are now three events that will all the more inspire supporters to raise funds for the education of less fortunate but deserving kids. This year, it also aims for more people to win the fight against diabetes.
Dubbed as SunPIOLOgy TR10, there are three ways to be part of the event: Sun Life Cycle Ph on Nov. 17 at the Bonifacio Global City, Sun Life Resolution Run and Sun vs. Stars with Star Magic, both set to take place on Jan. 26, 2019 at the Camp Aguinaldo.
With the growing interest in biking and its health benefits, Sun Life Cycle Ph once again takes riders to Taguig, Makati, Manila and Pasay with routes fit for beginners and seasoned bikers. There will be a Family Ride (30 minutes duration), Tricycle Ride (100m and 500m), Short Ride (20km.) and Long Ride (40km.). Aside from Piolo, Matteo Guidicelli will lead the race.
Sun Life Resolution Run, on the other hand, has evolved internationally as it will also happen in Malaysia (Jan. 13), Indonesia (Jan. 20), Hong Kong (Jan. 27) and Vietnam (Jan. 27). In Manila, celebrities will join the race for beneficiaries Hebreo Foundation, Institute for Studies on Diabetes Foundation, Nordhoff Foundation and Star Magic scholars.
(Those who are interested to join, may register at www.sunpiology.com)
(E-mail reactions at rickylophilstar@gmail.com. For more updates, photos and videos, visit www.philstar.com/funfare or follow me on Instagram @therealrickylo.)