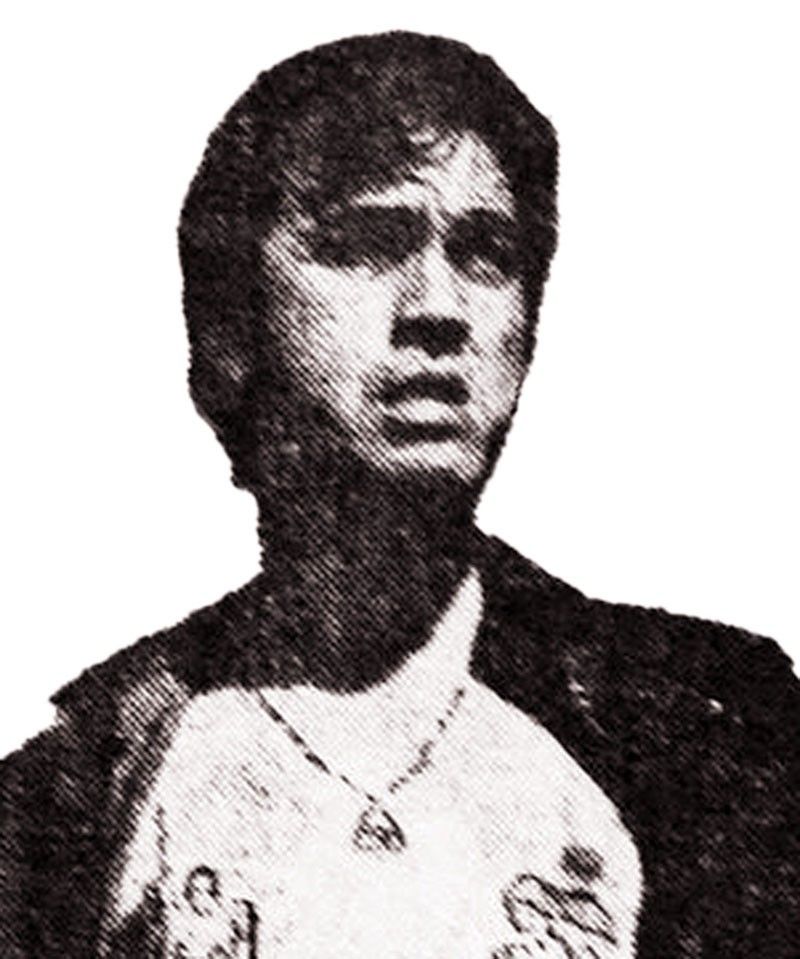 Will the agimat (amulet) of their grandfather, former Sen. Ramon Revilla Sr. , work wonders for Tres stars Jolo, Bryan and Luigi?
CONVERSATIONS
-
Ricky Lo
(The Philippine Star) - September 23, 2018 - 12:00am
When former Sen. Ramon Revilla Sr. saw the trailer of Tres, he couldn't hold back his tears.
"I asked him, 'Dad, do you want to see the trailer of the movie?' He smiled and nodded," recalled Andrea "Andeng" Bautista-Ynares, wife of Antipolo Mayor Junjun Ynares and one of Don Ramon's children (all in all, estimated number is 80-plus, beating the record of Lou Salvador Sr. as Philippine showbiz's most prolific and most productive patriarch). "As the trailer started, my dad's eyes turned misty. Then, after watching it, he smiled, obviously very happy."
Calculated to reactivate the dormant family company Imus Productions, Tres topbills the third-generations Revillas ­— Bryan, Jolo and Luigi — who are cast separately in three action-packed episodes that, judging from the trailer also shown at each of the three separate presscons for the brothers, just might usher back the action genre which is getting a big boost from the top-rating, widely-followed Coco Martin starrer Kapamilya action series FPJ's Ang Probinsyano which is marking its third anniversary this month and is on extended (again!) run until next year.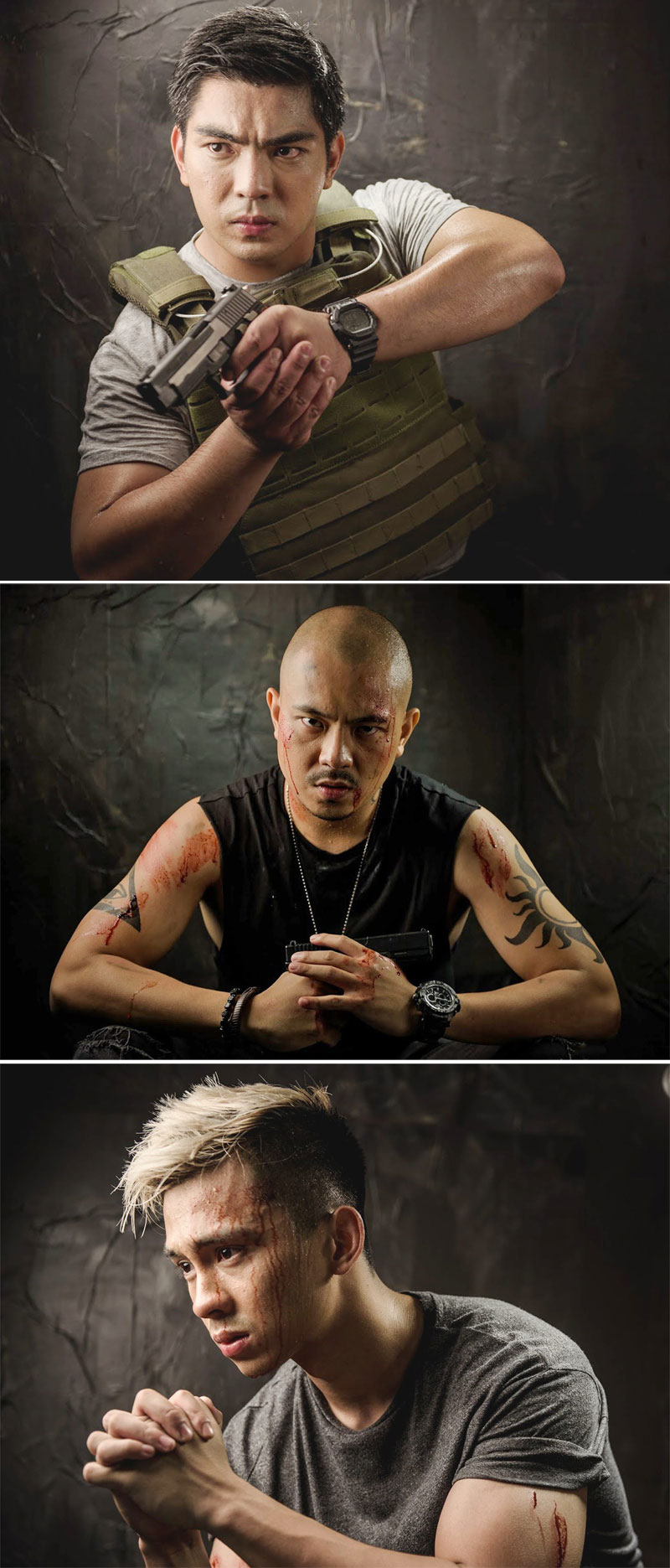 (top to bottom) Jolo, Bryan and Luigi Revilla
Asked what her dad's comment was, Andeng revealed, "His words to his grandsons were, 'Make sure that they bring back the glory of actions films."
In his heyday, Don Ramon reigned supreme as the agimat-bearing action superstar, believed to have drawn his box-office power from his legendary agimat (amulet) starting from Nardong Putik (about the life story of his fellow Caviteño) that marked his emergence as an action star after resuming his rudely-interrupted career (as one of Sampaguita's glamour boys) after he quit his job at the Bureau of Customs.
When Don Ramon retired from showbiz upon his election as senator, it was alleged that he bequeathed it to his son, former Sen. Ramon "Bong" Revilla who himself ruled the tills with films that showcased his mucho-macho persona. Asked in a STAR interview back then if it was true, former Bong joked, "Actually agimat sa babae ang ipinamana sa akin ng daddy ko." Oops! Freudian slip, that?
It is public knowledge that, like Don Ramon, Bong is also a lady killer although he can never perhaps hope to even achieve one-tenth of his dad's unchallenged record in that department. Happily married to Bacoor, Cavite Mayor Lani Mercado (the province's former congresswoman), with whom he has six children, Bong admittedly has had his "wild" days. Luigi is his love son with an "ex" (a non-showbiz Political Science graduate from UP).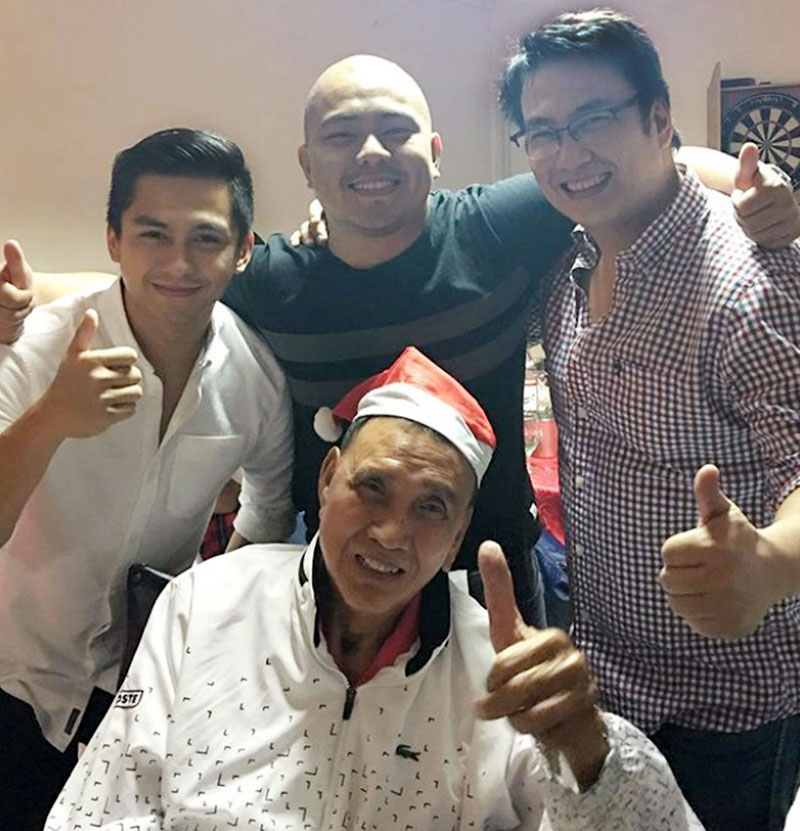 Former Sen. Ramon 'Bong' Revilla (with Don Ramon, Luigi and Bryan), has inherited the amulet from the clan's patriarch.
Asked who among the Tres stars will...should!...inherit the agimat, Bong was non-committal. "Each of them should prove who deserves it," he said. "I can't pick just one of them."
Maybe the public can help pick "who" based on the performance of the Revilla heirs in Tres which is showing nationwide starting next Wednesday, Oct. 3.
• Uno: Jolo in 72 Hours, directed by Dondon Santos, as PDEA agent Marius Reyes whose mission to catch a notorious Fil-Chinese drug lord fails because of a traitor in his task force. Also starring, among others, Rhian Ramos (as the rookie cop who turned traitor to save her sister) and Jolo's mom Lani Mercado as his mother.
• Dos: Bryan in Virgo, directed by Richard Somes, as hitman Virgilio "Virgo" Semanes who discovers that his boss is the same man who masterminded his family's massacre. Also starring Carla Humphries, Kiko Matos (with whom Bryan has a bloody fight scenes that left both of them bruised) and Joey Marquez as Bryan's father (Bryan chose him because Joey is his favorite actor).
• Tres: Luigi in Amats, also directed by Dondon Santos, as the son of a family that goes bankrupt, meets a loaded drug dealer (played by Assunta de Rossi) who becomes his shelter and provider. Also starring Sandino Martin and Myrtle Sarrosa.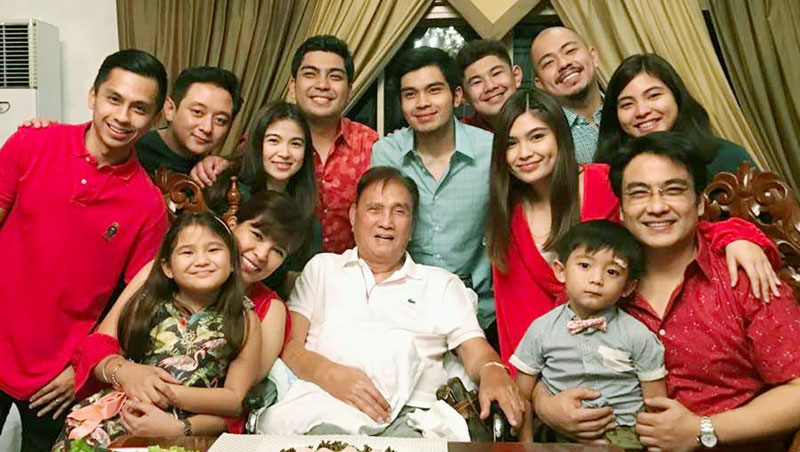 Don Ramon with his children and grandchildren during a family affair, including half-sibling Luigi (back row, leftmost) who said that the Revillas have never made him feel unwelcome but consider him a member of the family.
The three brothers are degree-holders: Jolo is an AB Legal Studies graduate from Lyceum through ETEEAP (Expanded Tertiary Education Equivalency and Accredited Program) and plans to take a Public Administration crash course at the Kennedy School of Government at Harvard; Bryan, a Consular & Diplomatic Affairs graduate from De La Salle St. Benilde; and Luigi, an Entrepreneurship graduate from Enderun College.
Unlike Jolo who is an incumbent Cavite vice governor, his brothers are not politically-inclined.
Acting is not new to them. Jolo has done other films and was last seen as PSG in Probinsyano. Bryan starred with Dad Bong in Resiklo 10 years ago and Luigi in a few TV shows (Koreana, etc.).
"In one fight scene," said Luigi who is into boxing and Muay Thai, "I accidentally kicked Markki (Stroem) in the face and he lost a tooth. Markki actually shot for only one day at 'yon pa ang nangyari."
"My episode has a lot of gun-shooting scenes," claimed Bryan, "and we used around 3,000 blank bullets."
It was director Marlon Bautista, Bong's brother, who supervised the shoot, summoned by Bong from the States (where he lives with his wife Gigi dela Riva and their children).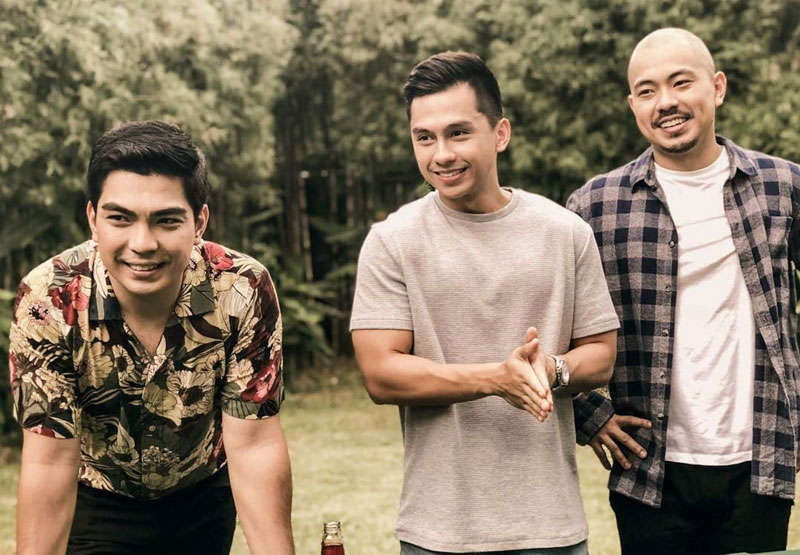 Light moment with Jolo, Luigi and Bryan. (Photo from Jolo Revilla's Instagram)
"Tres is a new kind of action film," said Marlon. "Millennials will enjoy it."
Half-sibling Luigi has never felt like "an outsider."
"From the start, since I was a kid, the Revillas accepted me as one of their own," confessed Luigi who is newly-married with a small kid. "I first met them at the wake of Lola Azucena (Don Ramon's wife) and we became closer through the years. Tita Lani has been good to me. They never made me feel unwelcome. In fact, they always include me in the family picture for calendars and Christmas cards."
On Tuesday, Sept. 25, Bong is marking his birthday.
Asked what their birthday wish for their dad is, all three said, "Freedom."
(E-mail reactions at rickylophilstar@gmail.com. For more updates, photos and videos, visit www.philstar.com/funfare or follow me on Instagram @therealrickylo.)