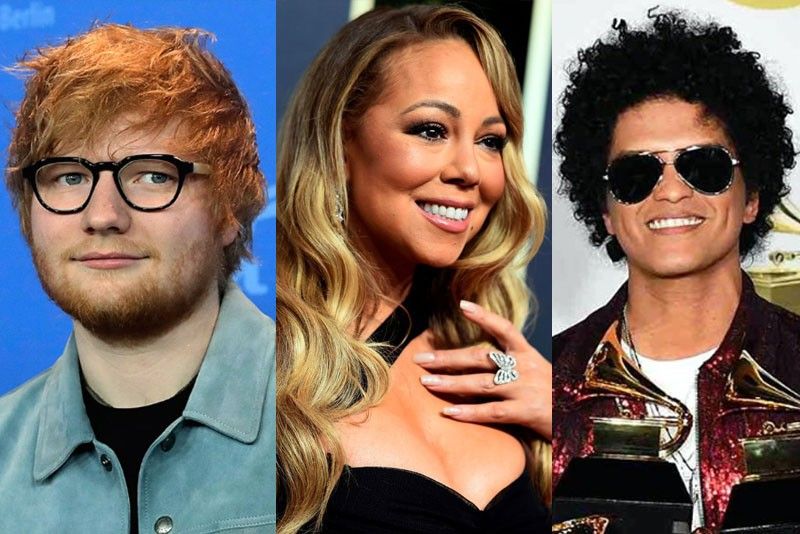 Ed Sheeran's Perfect and Shape of You, Mariah Carey's We Belong Together and One Sweet Day (feat. Boyz II Men), and Bruno Mars' Just The Way You Are made it to the Billboard list of top-selling songs of all time
Wire photos
The Hot 100's top-selling 100 songs
Do you want to listen to the soundtrack of your life? I came across a list of songs that will surely fill that requirement for almost everyone on this planet. This was put together by Billboard Magazine on the occasion of the 60th anniversary of the Hot 100 hit list. The first one came out on Aug. 4, 1958 and the first No. 1 song was Poor Little Fool by Ricky Nelson.
This means songs and artists that made it to the chart were ranked based on the weekly performances and which, of course, means that the list is made up of the biggest hits of the past 60 years. If you are less than 60 years, these songs definitely have a place in the soundtrack of your life. And if you are 60 years old or more, I say these songs make up the soundtrack of your entire life. Start that playlist now.
Nelson did not make this elite listing. Neither did Elvis Presley. But favorites still abound from The Beatles to Lionel Richie to Ed Sheeran. And so out of 27,000 songs that made the list and from the 1,077 that made No. 1, here they are, the songs that make up The Greatest of All Time 60th Anniversary Billboard Hot 100 Songs.
The Twist by Chubby Checker, 1960; Smooth by Santana feat. Rob Thomas 1999; Mack The Knife, Bobby Darin; Uptown Funk!, Mark Ronson feat. Bruno Mars 2015; How Do I Live, Leann Rimes, 1997; Party Rock Anthem, LMFAO feat. Lauren Bennett & GoonRock, 2011; I Gotta Feeling, The Black Eyed Peas, 2009; Macarena (Bayside Boys Mix), Los Del Rio, 1996; Shape Of You, Ed Sheeran, 2017; Physical, Olivia Newton John, 1981.
You Light Up My Life, Debby Boone, 1977; Hey Jude, The Beatles, 1968; Closer, The Chainsmokers feat. Halsey 2016; We Belong Together, Mariah Carey, 2005; Un-Break My Heart, Toni Braxton, 1996; Yeah!, Usher feat. Lil John & Ludacris, 2004; Bette Davis Eyes, Kim Carnes, 1981; Endless Love, Diana Ross & Lionel Richie, 1981; Tonight's The Night (Gonna Be Alright), Rod Stewart, 1976; You Were Meant For Me (Foolish Games), Jewel, 1997.
Everything I Do (I Do It For You), Bryan Adams 1991; I'll Make Love To You, Boyz II Men, 1994; The Theme From A Summer Place, Percy Faith & his Orchestra, 1960; Le Freak, Chic, 1978; How Deep Is Your Love, Bee Gees, 1977; Eye Of The Tiger, Survivor, 1982; We Found Love, Rihanna feat. Calvin Harris, 2011; Low, Flo Rida feat. T- Pain, 2008; Just Want To Be Your Everything, Andy Gibb, 1977; Too Close, Next, 1998.
Every Breath You Take, The Police, 1983; Somebody That I Used To Know, Gotye feat. Kimbra, 2012; Despacito, Luis Fonsi & Daddy Yankee feat. Justin Bieber, 2017; Flashdance… What A Feeling, Irene Cara, 1983; Rolling In The Deep, Adele, 2011; Tossin' And Turnin', Bobby Lewis, 1961; The Battle Of New Orleans, Johnny Horton, 1959; One Sweet Day, Mariah Carey & Boyz II Men, 1995; Truly Madly Deeply, Savage Garden, 1998; Silly Love Songs, Wings, 1976.
Let's Get It On, Marvin Gaye, 1973; Night Fever, Bee Gees, 1978; Another One Bites, The Dust, Queen, 1980; Say Say Say, Paul McCartney & Michael Jackson, 1983; How You Remind Me, Nickelback, 2001; Tie A Yellow Ribbon Round The Old Oak Tree, Dawn feat. Tony Orlando; It's All In The Game, Tommy Edwards, 1958; I Want To Hold Your Hand, The Beatles, 1964; Shadow Dancing, Andy Gibb, 1978; Call Me Maybe, Carly Rae Jepsen, 2012.
Blurred Lines, Robin Thicke feat. T.I. + Pharrell, 2013; Candle In The Wind, Elton John, 1997; No One, Alicia Keys, 2007; I Will Always Love You, Whitney Houston, 1992; End Of The Road, Boyz II Men, 1992; Boom Boom Pow, The Black Eyed Peas, 2009; Call Me, Blondie, 1980; Let Me Love You, Mario, 2005; Stayin' Alive, 1978; Lady, Kenny Rodgers, 1980.
TiK ToK, KeSha, 2010; I'm A Believer, The Monkees, 1966; Gold Digger, Kanye West feat. Jamie Foxx, 2005; Apologize, Timbaland feat. One Republic, 2007; The Sign, Ace of Base, 1994; Centerfold, The J. Geils Band, 1982; All About That Base, Meghan Trainor, 2014; Just Like Starting Over, John Lennon, 1980; Royals, Lorde, 2013; The Boy Is Mine, Brandy & Monica, 1998.
Because I Love You (The Postman Song), Stevie B, 1990; I Love Rock 'N Rollin', Joan Jett & the Blackhearts, 1982; Aquarius/ Let The Sunshine In, The 5th Dimension, 1969; Whoomph! There It Is, Tag Team, 1993; Moves Like Jagger, Maroon 5 feat. Christina Aguilera, 2011; Ebony & Ivory, Paul McCartney & Stevie Wonder, 1982; Rush Rush, Paula Abdul, 1991; That's What Friends Are For, Dionne Warwick & Friends, 1986; Happy, Pharrell Williams, 2014; Upside Down, Diana Ross, 1980.
Sugar, Sugar, The Archies, 1969; Just The Way You Are, Bruno Mars, 2010; Dilemma, Nelly feat. Kelly Rowland, 2002; I Heard It Through The Grapevine, Marvin Gaye, 1968; You're Still The One, Shania Twain, 1998; Billie Jean, Michael Jackson, 1983; Hot Stuff, Donna Summer, 1979; Rockstar, Post Malone feat. 21 Savage, 2017; Gangsta's Paradise, Coolio feat. L.V., 1995; Abracadabra, The Steve Miller Band, 1982.
Perfect, Ed Sheeran, 2017; You're So Vain, Carly Simon, 1973; Play That Funky Music, Wild Cherry, 1976; Say You Say Me, Lionel Richie, 1985; My Sharona, The Knack, 1979; All Night Long (All Night), Lionel Richie, 1983; Nothing Compares 2 U, Sinead O'Connor, 1990; I Swear, All-4-One, 1994; Family Affair, Mary J. Blige, 2001; and Waiting For A Girl Like You, Foreigner, 1981.