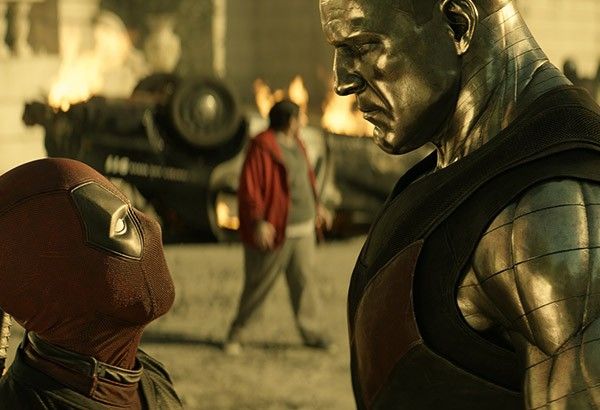 Scene from 'Deadpool 2'
20th Century Fox/Released
Review: 'Deadpool 2' is Ryan Reynolds' funniest movie to date
MANILA, Philippines — 20th Century Fox's R-rated "Deadpool 2" is one of the biggest superhero movies from the Marvel Cinematic Universe to hit this year and people are in agreement that it is by far Ryan Reynolds' funniest movie since the 2002 Van Wilder, "Party Liaison."
The much awaited sequel is packed with surprises: from Reynolds' perfectly timed humor to all the pop-culture references. Since the film's debut back in 2016, it already has the macabre Marvel super-antihero theme that everyone seemed to have enjoyed. Hardcore fans who knew the character from Marvel Comics did not think it is possible to capture the raunchy, irreverent essence of "Deadpool" on the screen; something that Reynolds was probably born to do.
If you can all clearly remember Reynolds' first superhero debut with his cameo in the 2009 "X-Men Origins: Wolverine," fans were not really too excited with the big-mouth character. Years have passed and everyone deserves to start with a clean slate, right? The first "Deadpool" movie was an instant hit and it surely did a 360-spin to Reynolds' acting career.
'Deadpool 2' surpasses 'Avengers: Infinity War'
Known as a mutant mercenary assassin with a foul mouth, hyperathletic combat skills and the ability to heal almost everything in his body except his poignantly disturbing disfigured face that he often conceals with his mask—not that he is embarrassed or anything—Deadpool is not your typical well-polished superhero.
With its undeniable success in the United States and overseas, "Deadpool 2" is one of the highest grossing movies of all time with an estimated 125 million USD opening weekend according to Fox, toppling Disney and Marvel studios' "Avengers: Infinity War" off the top spot that ran for three consecutive weeks.
Despite having an R rating, "Deadpool 2" has proven that when all the elements are aligned and properly applied, it can definitely work. Surprisingly, people—of all ages and social backgrounds—can very much relate to the perverseness and violence of the movie and it probably has something to do with having a lot of comic relief and at the same time, it offers a more honest approach to superheroes.
Since the very beginning, superheroes have been stereotyped as indestructible, honorable, good looking, incapable of doing mistakes—in other words, a gift to humanity. All of these things are the opposite of who Deadpool or Wade Wilson is, which makes him such an intriguing and relatable character.
Director David Leitch recreated the fictional character with one important note in mind: his typically fast and shallow-talking persona should match the pace of the humor and this is where Ryan's comedy-savvy talent is realized.
It is quite rare for an action-packed film to combine multiple elements such as emotional pain, fight scenes, and amusement. But this was all made possible by a script that is overloaded with witty references, within and outside of the Marvel universe. In fact, the movie had a singular formula all throughout: action scene, joke, action scene, joke, action scene, joke, all ending into a cheesy pop ballad by Celine Dion and honestly, everyone was laughing their hearts out to even notice its repetitive and simple formula. For the most part, the movie was able to pull through and get away with it (twice already).
Briana Hildebrand is a scene stealer
Reynolds' "Deadpool" co-star Brianna Hildebrand returns as Negasonic Teenage Warhead in the second installment and she is full of "badassery" that we feel she definitely needs her solo movie, maybe sometime in the near future?
This 21-year old actress has been around for quite a while and has done several movies to date, but undoubtedly her biggest break so far has been alongside Deadpool. Though, the sequel did not provide much heart-racing action scenes for Hildebrand, we can still all appreciate her cool tomboy character. And speaking of which, this is where the movie really draws the line as it openly pulled everyone back to an important facet of our society—inclusivity. And while we are at the topic, let us talk about Negasonic's character for a bit.
Also known as Ellie Phimister, Negasonic Teenage Warhead was a student in Emma Frost's telepathy class. With a natural Goth-vibe and long black hair, Phimister was often feared by her peers due to her morbid visions and unstable mutant powers. During an attack in her home town in Genosha, Phimister died and was later revived by a techno-organic transmode virus. This was how she succeeded the name Negasonic Teenage Warhead. Fast-forward to several comic book chapters, Phimister later on joined Deadpool and fought with him side by side ever since.
In the movie, Phimister's appearance was reinvented—and we can honestly say that this is way better that what we have expected. Sporting a boyish short-haired look with her signature depressed Goth-like aura, she brought another femme fatale character to life. The only difference is that she is not your typical seductress to the opposite sex. With an openly gay character in the Marvel cinematic universe, Brianna Hildebrand is one versatile actress that we should keep an eye for.
Catch "Deadpool 2" on its third week run in all major cinemas nationwide.