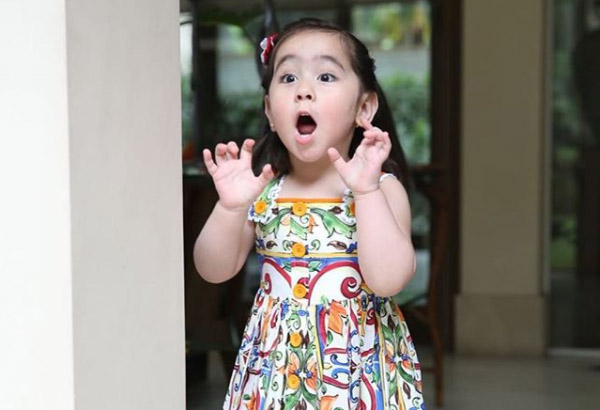 Internet sensation Scarlet Snow Belo
Screenshot from Instagram/Scarlet Snow Belo
WATCH: 5 things to know about Scarlet Snow
MANILA, Philippines — During a recent interview with Philstar.com for the launch of Gabbi Garcia's music video, cosmetic-doctor-to-the-stars Victoria "Vicki" Belo-Kho was surprised to know that her toddler daughter, Scarlet Snow, has become an inspiration to many.
"We never expected it to happen. Nacu-cutan lang kami sa baby namin, so we wanted to share and then it's kind of phenomenal that she's come this far," Belo-Kho said.
Besides Dr. Vicki, her husband, Dr. Hayden Kho, also shared some trivia about their daughter.
Here are five things you might want to know about the most followed baby in the Philippines, with two million Instagram followers and counting.
1. Scarlet Snow requests her own #OoTD costumes
According to Dr. Vicki, Scarlet comes up with her own outfits of the day or #OoTDs.
"Actually, it's partly her, it's partly Hayden. She says, 'Mommy, I wanna be a mermaid. Mommy, I wanna be a crayon.' So, that's why as much as possible, we find it (the costume)," Dr. Belo told Philstar.com.
One of Dr. Vicki's most favorite costumes of her daughter was as Audrey Hepburn in "Breakfast at Tiffany's."
"'Yung Audrey Hepburn costume, matagal na 'yun pinalano ni Hayden of course kasi I love Audrey Hepburn in 'Breakfast at Tiffany's'," Vicki shared. "Scarlet is lucky because Hayden's sister-in-law creates costumes."
Belo said, the Audrey Hepburn was ordered abroad. Normally, Scarlet does not want anything to be put into her head, except when she did the Audrey Hepburn look.
"I didn't expect her to wear the gloves, the shades. She was asking me, 'Mommy, why is it so dark?' I told her to take off her shades, but she said, 'No!'" Vicki giggled.
2. Scarlet Snow is a fast learner and is taking many lessons, including Mandarin
"We get so shocked sometimes on how smart she is," Dr. Vicki said.
"We want her to take Chinese. I gave up with Mandarin, but Scarlett was able to learn it fast!"
According to Belo, Scarlet asks questions that are unbelievable for her age. When these happen, Belo can only tell Scarlet: "Where in the world did you come from? You really are amazing!"
3. Scarlet also gets spanked when naughty
"We discipline her and don't spoil her as much as we can," Dr. Vicki assured.
"Now, we still discipline her like a normal girl. She got spanked. But now, not anymore. She does not cry anymore. She's more behaved now. She's a big girl now!"
4. She loves nature more than toys
The doctor said her daughter always looks for animals whenever they are on a trip.
"Luckily, for us, she's not at all materialistic," Dr. Vicki assured. "She's not all about toys and games. She loves nature. That's why we travel!"
5. Scarlet Snow gets paid as a Belo endorser
During an interview for the launch of Watsons' Beauty Transformation campaign, Kho told Philstar.com that as a Belo endorser, Scarlet gets paid a minimum fee, which the couple put into the child's trust fund.
"Ay, oo naman! Of course, the daddy will never agree (for her to work for free)," Dr. Vicki told Philstar.com in a separate interview.
"From the beginning, we really made the products for Scarlet talaga. We used to buy her all natural baby products from abroad. When we're looking for an endorser, our first choice turned us down kasi wala kaming budget masyado so sabi ko, 'Si Scarlet na lang!'" Vicki narrated how Scarlet became a Belo Medical Group endorser.
Now that Scarlet is an Internet star, is showbiz the next step for her"
"I only ask that she finishes college siguro," said Dr. Vicki. "She's got a lot of offers, but we don't think it's the right time for her. We'd rather have her stay in private."
For now, said the doctor, their daughter will stay as she is — entertaining netizens with "cuteness overload."
"We're inspired because many people say she's good vibes," said Dr. Vicki. "Many people say that when they're having a bad day, which also happens to me, I just watch her videos and I laugh na lang, so I get what they mean." — Video editing by Kat Leandicho