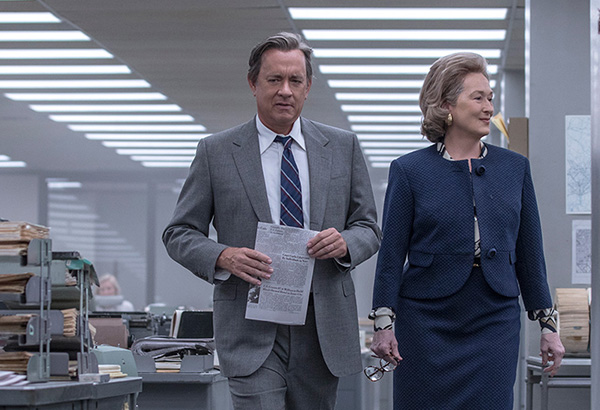 Review: Spielberg's 'The Post' a timely nod to press freedom
MANILA, Philippines — "If we don't hold them accountable, I mean, my God, who will?"
Oscar-nominated thrilling drama "The Post" could not be more timely as freedom of the press faces challenges, following US President Donald Trump's alleged launched attack against American journalists.
Academy-award winning filmmaker Steven Spielberg directs Meryl Streep and Tom Hanks in a drama about the "Pentagon Papers," a top-secret Department of Defense study of US political and military involvement in Vietnam from 1945 to 1967.
"The Post" tells the story of Katharine Graham (Streep), the first female publisher of The Washington Post, and editor Ben Bradlee (Hanks) as they face the consequences of exposing a massive cover-up of government secrets.
Despite the film being named after The Washington Post, it was actually The New York Times that first exposed the true nature of the Vietnam War. The attorney general of the United States, however, ordered The Times to stop publishing the Pentagon Papers, giving The Post an opportunity to run the story.
The film revolves around the debate whether to uphold freedom of the press or to protect national security as the US government prevents the media from exposing the Pentagon Papers.
Graham faces conflict as she takes The Post, originally a family business, to the stock market. For her part, it would be a question whether to protect business interests or hold the government accountable for its actions.
The rising power of women is also highlighted in the film, particularly in one scene where Graham enters the stock market dominated by men. The challenge for Graham, the first female publisher of a major American newspaper, would be to make her mark as she takes on the position previously held by held late husband Phil Graham and her late father Eugene Meyer.
"The Post" is nominated for Best Motion Picture of the Year in the Academy Awards, while Streep is nominated for Best Performance by an Actress in a Leading Role.
"The Post" is showing in the Philippine cinemas, by United International Pictures through Columbia Pictures, on February 21.