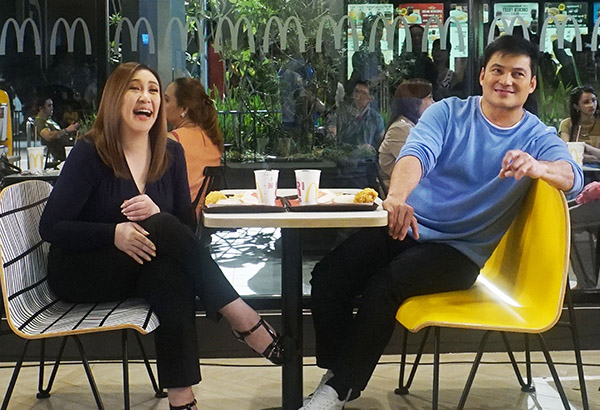 Sharon Cuneta and Gabby Concepcion's 2018 advertisement for a fast food chain marks their first project in 35 years. This is said to be followed up with a movie. Released
Is Sharon Cuneta's trending tell-all just a publicity stunt?
MANILA, Philippines — Singer-actress Sharon Cuneta was in the mood to answer questions from netizens on how her love life went these past few decades, hoping she could end speculations and set the record straight.
In a trending Facebook post by a netizen, the netizen wrote a theory wherein she said that Sharon "wanted the wedding (with Gabby) for respectability purposes because she was pregnant."
Sharon, commenting as April Mondragon, surprised netizens and joined the discussion: "I was not NOT pregnant when Gabby asked me to marry him. It was at the backstage of Araneta Coliseum in July 1984 at the dress rehearsals for my two-night concert… He already had the rings and I almost fell down the stage and sinalubong niya ako pababa ako."
The Megastar continued to reveal what happened that night. According to her, she and Gabby Concepcion first had a secret wedding a few days after the engagement.
"My only fear about being found out was that my Daddy might have a heart attack. He didn't but he did go on a hunger strike when I anonymously mailed him a copy of our civil wedding contract."
Sharon also recounted the other men in her life, beginning with Albert Martinez, who she described as
"her puppy love," followed by her first real love, Gabby.
"Then Rowell. Back to Gabby. After the marriage ended, someone nonshowbiz, J na lang I will call him. Then Richard. Robin. Richard. Nonshowbiz C., the Richard again. Kiko. And Robin in between all the Richard time frames and everyone else's somewhere too. Let's just say that great love begin with R."
Another netizen barged into the conversation, alleging that Kiko Pangilinan cheated on Sharon. "Nakaka WTF NANAMALIN KA BA bg very very strong. Wag kayong maniwala sa chismis na lapitin ng babae si Kiko," Sharon said on the thread as a defense.
The Megastar stressed that her husband has never cheated on her, adding that she is smart and she trusts her ever-reliable intuition.
"No one has ever come forward with solid proof even after my offer of 10 million pesos to anyone who could give me proof… Oh please. I'm too special for my husband to look elsewhere."
Again, the netizen attacked Kiko, saying he is the reason why Sharon freaked out on Twitter in 2012.
Sharon then replied: "Hindi po kasalanan ni Kiko. Kasalanan ng nagbreak ng heart ni KC."
"Di pa kasi ako sanay sa bashers noon na matapang lang nga naman kasi di mo sila kilala. In private to tell you the truth, I would beat up any basher na walang balak sa buhay kundi manira ng kapwa at puro pagsisinungaling lang."
Some netizens question the timing of this Facebook thread, making some speculate that it is just an extended attempt to hype up Sharon and Gabby's TV commercial for a fast food chain.
Others, meanwhile, think that it is a way for supporters of President Rodrigo Duterte to use the issue to attack the Liberal Party, to which Sharon's husband belongs to, and since the netizen who started the thread and others who commented there are die-hard Duterte supporters.