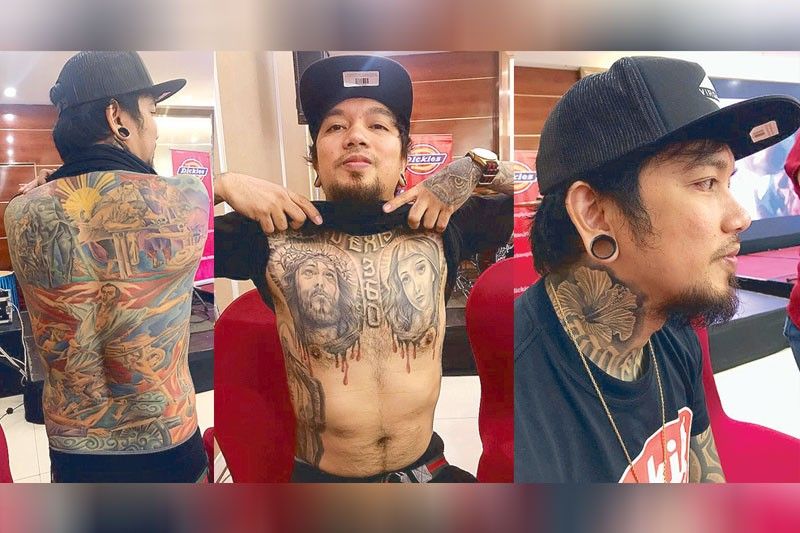 Maybe Slapshock frontman Jamir Garcia has more tattoos all over his body than any other rocker, with his right ear pierced as big as one-peso coin. What do all those tattoos stand for? Photos By Ricky Lo
The rocker with multi-imaged tattoos
FUNFARE
-
Ricky Lo
(The Philippine Star) - January 12, 2018 - 12:00am
All sorts of (especially young) people flaunt their tattoo-decorated bodies but perhaps nobody can match the number of tattoos that Slapshock frontman Jamir Garcia has — on his back, on his tummy, on his neck, on both arms…all over but none on his private part unlike a macho action star who is rumored to have a "worm" tattoo that grows into a cobra when he gets, uhm, excited. The address where Jamir stayed during his younger years is honored on his body: #66-B, Gumamela St., Roxas District, Quezon City.
Jamir was so proud of his tattoos (some kind of a "statement," you see) that when a group of entertainment editors asked him to show his tattoos, he readily lifted his Dickies T-shirt, showed his front, then his back and then his arms. We noticed that his right ear was pierced and the hole was as big as a one-peso coin. Jamir is proud of it, too.
Jamir credited his big brother Chris Garcia (a renowned tattoo artist who used to work as a researcher at NASA and now runs his tattooing business in Virginia Beach, USA) for the artwork inspired by the style of Botong Francisco. Because no tattoo artist would do it on him, Chris himself did the tattooing of his legs. Their New York-based brother Sonboy is just as heavily-tattooed.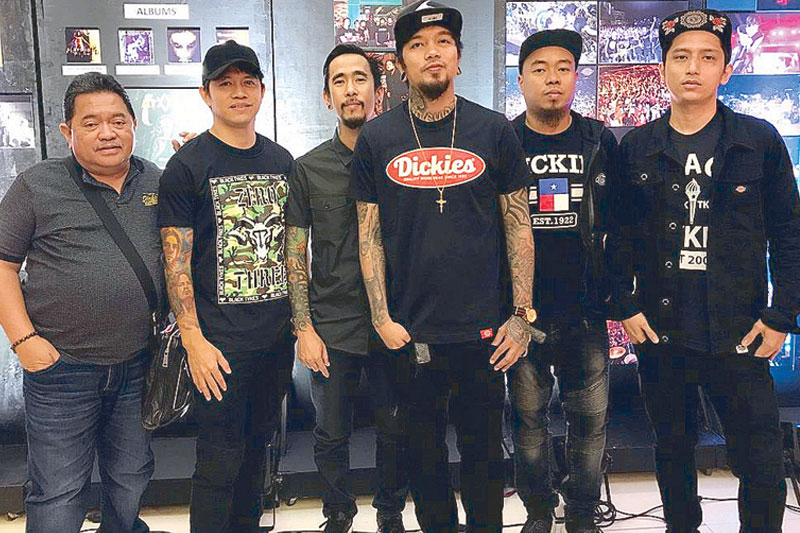 Jamir (center) with Dickies Philippines boss Dody Arcaya (leftmost) and fellow Slapshock members (from left) Jerry Basco (guitar), Lee Nadela (bass), Lean Ansing (guitar) and Chi Evora (drums) during the recent launch of their latest album, Atake.
"Tattooing is an art," said Jamir. "It would take six hours per session so for 10 tattoos, you have to sit for around 60 hours. But you would be happy with the result. It's worth it."
Early on, Jamir's father warned him, "Wala ka nang work kapag nagpa-tattoo ka. Hanggang banda ka na lang n'yan. I took it as a job-stopper. So when the going gets tough, I have to be in a band and work harder."
No regrets, according to Jamir during an interview at the launch of Slapshock's latest album, Atake, supported by Dody Arcaya of Dickies Philippines which has been the band's partner since 1997 when both of them were starting in the business.
"Even before we met Dody," said Jamir, "we were already wearing Dickies (from USA). The brand perfectly fits our kind of music. I still remember our first concert witnessed by Dody. There were so many fans and the makeshift stage gave way. I thought Dody would give up on us."
Big fans of Guns 'N Roses, Slapshock has gone through similar incidents like their idols but they are used to it, energized by the louder the screaming of their fans becomes. The band has over 500,000 followers on Facebook which it has been using to promote its albums, including Atake which is the group's first studio release of original songs since the 2014 EP Night Owls and its first full-length album since 2011's Kinse Kalibre.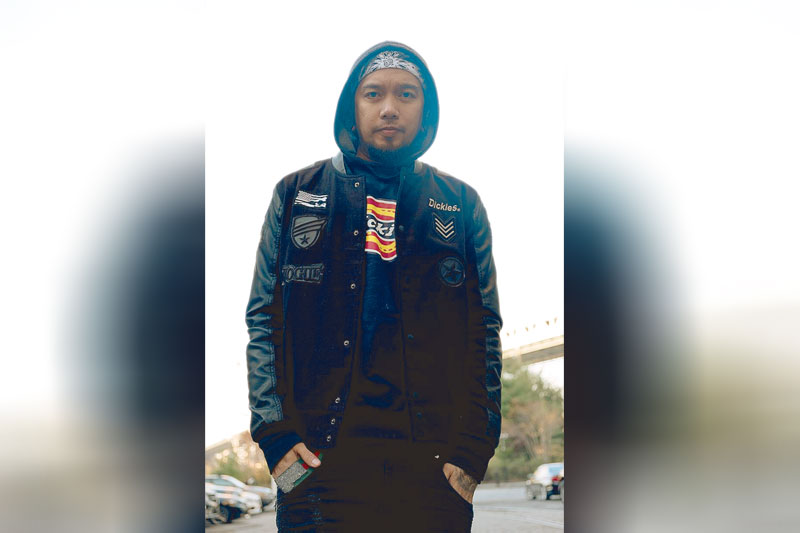 "We are happy to be free," noted Jamir. "We are happy with the freedom. Now we can do anything, everything.
After 20 years, Slapshock shows no signs of slowing down as Atake shows, described by Jamir as "about pushing forward no matter what happens in life," adding, "the album as a whole matches the aggression that we bring when we perform onstage. The title comes from the phrase, 'Atake na!,' which we use when we invited our fans to our shows. We call them Slap Armies. We are still very much in attack mode and not compromising our sound which is even heavier than before."
Although the band considers itself as "old school," the members didn't just want a fresh release, but rather an album on a different kind of media, something they haven't tried before. So instead of releasing Atake in CD, vinyl, cassette and digital form like they used to, Atake is marketed as a "USB-only release" accompanied by a free bandana (Jamir's trademark head gear, a popular item among Slap Armies).
Last year, the band performed around the world (Malaysia, Sarawak in Borneo, Dubai and several East Coast USA cities) as part of its 20th-anniversary tour, with Dickies as partner. Slapshock is also among the main bands of the 2017 Red Horse Beer Pambansang Muziklaban that culminates this month.
Although Slapshock feels like a new band, "still hungry and still ready to prove what we can do as a band," there have been some changes in the group members' lives.
"We did cut down on our partying," admitted Jamir, now a father of five. "And we now get to sleep a little more."
(E-mail reactions at entphilstar@yahoo.com. For more updates, photos and videos, visit www.philstar.com/funfare or follow me on Instagram @therealrickylo.)