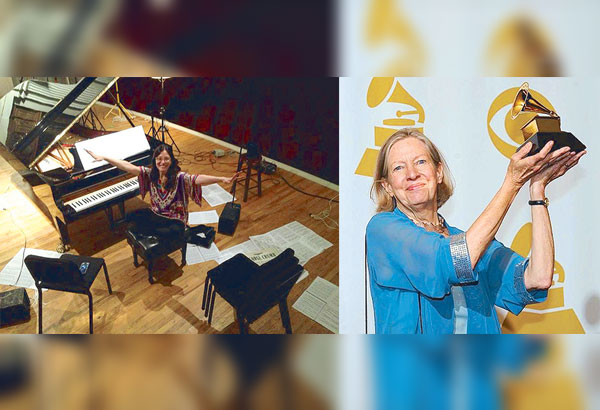 Far left: Cecile Licad at the auditorium of American Academy of Arts and Letters where the CD was recorded. All set for Jan. 18 recital at Carnegie Hall. Left: Producer Judith Sherman contributed a lot to the catalogue of classical music recordings.
Licad's CD earns Grammy nomination for producer Sherman
MANILA, Philippines — The second volume of pianist Cecile Licad's latest CD of American composers earned for Grammy awardee Judith Sherman another nomination as Producer of the Year in the 60th Grammy Awards to be held in New York on Jan. 28.
Apart from the latest Licad CD, the other recordings nominated under this category include The Birthday Party (Aki Takahashi),
Discovering Bach (Michelle Ross), Foss: Pieces of Genius (New York New Music Ensemble), Secret Alchemy- Chamber Works by Pierre Jalbert (Curtis Macomber & Michael Boriskin) and
Sevenfive-The John Corigliano Effect (Gaudette Brass), among others.
A 12-time Grammy Award nominee and the winner of the award for Classical Producer of the Year for 1993, 2007 and 2011, Sherman has contributed a lot to the catalogue of recorded classical music.
Volume 2 of the series on American composers guides the listeners to the rarely explored landscape of American classical music.
The latest recording under Danacord label features works by Aaron Copland, Samuel Barber, George Crumb, Amy Beach, Charles Griffes, Louis Moreau Gottschalk, Daniel Gregory Mason, Ernest Bloch and Leo Ornstein, among others.
After initial hearing of selected pieces on Spotify, praises have started coming out on Facebook (FB). One Licad fan named Hadeza Cabaddu singled out the rendition of Gottschalk's La chûte des feuilles as truly amazing it left her teary eyed over and over again.
"The rest of the pieces are exquisitely played like the works of George Crumb which I found very profound and nakakakilabot (hair-raising). Thank you Cecile Licad for the exalting and mystical experience," Cabaddu said on FB.
Gramophone reviews the latest Licad recording thus: "With all of my concentration on the music, I realize that I haven't mentioned Licad's performances. That's probably because her authoritative yet flexible pianism adapts to the various styles with idiomatic ease. She understands Crumb's textural fragility, she confidently sails through Mason's glittering runs, she parses Beach's stunning modulations with perfect timing, she minimizes Ornstein's tendency to ramble and she brings just the right lift to Lamb's gentle syncopations. In other words, you hear the music first, the pianism second, and that's a good sign, not to mention the excellent engineering and annotations."
The latest CD was recorded at the auditorium of the American Academy of Arts and Letters recognized in the classical music world as a hidden gem and the best place to record solo and chamber music.
Licad said that spending a day with American composer Crumb was fantastic and so inspiring. "I sure am proud to have done this recording project," she added.
The 60th Grammy Awards will take place at New York City's Madison Square Garden.
Meanwhile, Licad returns to the Carnegie Hall (Weill Hall) on Jan. 18, 8 p.m. for a solo recital.
Her program includes American Sonata by Ellie Siegmeister, Sonata in B Minor by Franz Liszt, Saint Francis Preaching to the Birds by Franz Liszt, Woodland Sketches, Op.51 by Edward MacDowell and Mephisto Waltz by Franz Liszt (based on the orchestral score and arranged by Ferrucio Busoni).
She will return to the Vallejo Symphony in California as soloist in Shostakovich Piano Concerto on Jan. 28 after which she returns to Elvis Presley country in Tupelo, North Mississippi as soloist of the North Mississippi Symphony Orchestra under Steven Byess on Feb. 24.