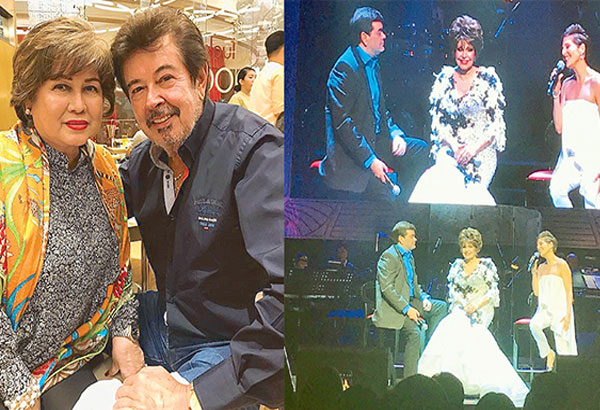 Pilita Corrales in a trio of Ugoy ng Duyan with Ramon Christopher Gutierrez (her son by Eddie Gutierrez, above, with wife Annabelle Rama) and Jackielou Blanco (her daughter by first husband Gonzalo Blanco)…

Laughter & tears at our evening with Pilita
FUNFARE
-
Ricky Lo
(The Philippine Star) - November 24, 2017 - 4:00pm
It felt like a long-overdue reunion of Class 19-Forgotten Friday night (Nov. 27) at The Theatre of Solaire with no less than the unsinkable Pilita Corrales, topbilled in a concert titled An Evening with Pilita, leading the audience (some in wheelchairs, some walked with a cane, some holding on to younger companions) down Memory Lane with songs that have colored our world and made Pilita, bar none, the country's most durable singer, challenged but unbowed on her throne as Asia's Queen of Song.
As a singer, Pilita is tri-lingual. The whole world (name the country and Pilita has performed there) is charmed whether Pilita is singing in Spanish, English or Cebuano (Matud Nila, etc.) Spotted applauding Pilita were Danny Dolor and friend Lody Tan, STAR contributor Edu Jarque, Dulce and husband Bernard Cruzata, Balikbayan Tim Evans with friend Jojo Gabinete and STAR contributor Edmund Silvestre, 1996 Bb. Pilipinas-Universe Aileen Damiles with Paul Cabral, Celeste Legaspi (who performed in the same venue a few weeks earlier) with husband Nonong Gallardo and friend Girlie Rodis (Celeste's co-producer of Larawan, an official entry in the 2017 Metro Manila Filmfest), and George Sison (who composed the song What Name Shall I Give You, My Love for Pilita).
With only a screen as backdrop on which were flashed pictures (collectors' items) of Pilita with world-famous singers (Jack Jones, Matt Monro, et al) she had performed with, all of whom had nothing but praises for the lady whose classic "bending backward" had become her trademark (that made it easier for her to hit the high notes). There was no elaborate (read: distracting) props on the huge stage that she ruled with regal familiarity, only Pilita standing there...singing with all her heart and soul which is how a real concert should be, backed up by the ABS-CBN Philharmonic Orchestra, and (for Despacito) swaying in a figure-hugging gown.
The repertoire included meaningful spiels (written by Pilita's cousin Conchita Razon, the mom of Martin Nievera) that retraced the path of Pilita from Cebu where she was born to her schooling in Spain ("Where I first fell in love...with the guitar") to the peaks and valleys and the ups and downs of falling in and out of love, surviving with her heart intact and self-esteem restored. One lover made Pilita choose between him and her then young children Jackielou Blanco and Ramon Christopher Gutierrez, and Pilita dismissed the possessive lover by saying, chin up, "The door is open. You can leave anytime but I will not leave my children." No, the lover was not the gentleman Eddie Gutierrez (Monching's dad) who was in the audience with wife Annabelle Rama, respectfully acknowledged by Pilita who segued into What I Did For Love, a song that eloquently expresses, yes, what Pilita did for love without neither regret nor remorse — you know, gone, love is never gone/as we travel on, love's what we'll remember…Been there, done that, and Pilita has happily settled down with husband ("Yes," she exclaimed, "may forever!") Carlos Lopez ("My greatest love!") who kept himself inconspicuous during the show.
What made us cry a bit was the trio of Ugoy ng Duyan with Pilita, Jackielou and Monching. I thought that the audience choked a bit with emotion as Pilita wiped a tear…gently now lest she ruined her make-up. "My mom is vain," said Jackielou in a video interview. "She never comes out of her room unmade-up. Once, she was confined at the ICU and guess what she kept beside her…her make-up kit!"
Earlier on the show, Pilita's granddaughter Janine (Monching's daughter) appeared onstage wearing a pink dress that made her look like a debutant and sang Ang Pipit with her Lola. "She's so pretty, isn't she?" gushed Pilita who, in her youth, was Janine's carbon copy.
The light (comic) relief was provided by the Wind Duo Nikki Ross, 85, and Angie dela Cruz, 86 (Katy dela Cruz's daughter, aided by a cane), who did with Pilita an age-defying rendition of Hernando's Hideaway, much to the delight of the audience who remembered the duo back then also as Lemons Three with the late director Mitos Villarreal.
For encore, Pilita sang Kapantay ay Langit, the George Canseco composition used as theme song of a movie. Then she capped our evening with A Million Thanks to You while audience rose to give her a standing ovation.
(E-mail reactions at entphilstar@yahoo.com. For more updates, photos and videos, visit www.philstar.com/funfare or follow me on Instagram @therealrickylo.)