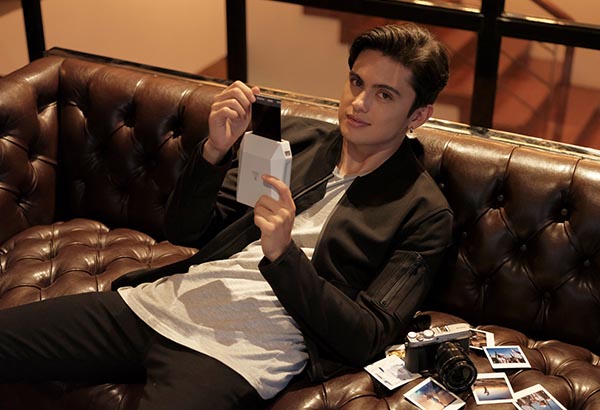 As a photography enthusiast, James Reid vouches for the new Fujifilm X-E3 camera for its touchscreen and less buttons that he said, make photography easier. Photo release
James Reid wins as Best Southeast Asia Act at MTV EMA 2017
MANILA, Philippines — In time for the Philippines' chairmanship of the 50th anniversary of the Association of Southeast Asian Nations (ASEAN), Filipino-Australian singer and actor James Reid brings honor to the country for winning as Best Southeast Asia Act at the 2017 MTV Europe Music Awards (EMA) held in London on November 12.
"It's such an honor to be representing the Philippines and with this recognition, I will keep on making music and bring the Philippines to the world stage," Reid said in his video message following his announcement as winner.
The win came as a surprise for Reid since in an interview with Philstar.com last week during the launch of Fujifilm X-E3 and Instax Share SP-3 Printer, he said he did not go to London to accept the award because he did not know if he won.
"I really think it's a good opportunity to gain recognition around the world, especially the Philippines because I just started my own label and I really wanna help progress local music," he said of his nomination.
Reid's fellow SEA nominees are Faizal Tahir (Malaysia), Dam Vinh Hung (Vietnam), Isyana Sarasvati (Indonesia), Slot Machine (Thailand), The Sam Willows (Singapore) and the social wildcard winner, Palitchoke Ayanaputra(Thailand).
This was not James's first nomination as he was a nominee for the similar category at the 2015 MTV EMA in Milan, Italy. His latest single, "Turning up," features his girlfriend and fellow 2015 MTV EMA Best SEA Act nominee Nadine Lustre. Lately, it has been reported that Nadine will direct James's latest music video.
MTV's website describes James as "not just an ordinary cutie."
"He's smart and talented too!," the music channel says of the Filipino singer-songwriter, actor, dancer, model, and now producer.
Since releasing his self-titled debut album in 2012, Reid has established his own music label, Careless Music Manila and has just dropped his new album, "Palm Dreams," featuring "bass-boosted club bangers that could easily induce eargasm," says MTV.
The music channel considers "Cool Down" (2017) as Reid's biggest hit yet.
"Music is the universal language of emotion," James said in his MTV profile. "Even if you can't understand it, you still feel it."
Other 2017 MTV EMA winners include Shawn Mendes for Best Artist, Eminem for Best Hip-Hop Artist and Camila Cabello for Best Pop Artist.