First-rate horror film of Chito Roño
Film review: The Ghost Bride
MANILA, Philippines — Chito Roño's The Ghost Bride is instantly appealing because of many things going for it.
For one, the production design dazzles not for its own sake but to enhance the story of an age-old Chinese tradition of ghost wedding.
Surprisingly, the film goes beyond horror and succeeds in portraying spiritual redemption at the end of a harrowing trial for Mayen (played by Kim Chiu).
The Buddhist ritual set in Nepal is for real and just looking at the faces of those chanting monks in an exorcism ritual convinces one a lot of research and a lot of arduous writing were involved in the making of the film.
And its cultural component is equally commendable. It portrayed the fast-declining patronage for the Chinese opera (Kao-Ka) and indeed what a telling commentary on the decline of opera appreciation (and not just Chinese) in this country.
You see a family headed by Robert Seña trying to save its modest enterprise and in the same breath moving heaven and earth to save an age-old tradition of the Chinese opera.
But times are hard as they say and as the cost of living (and producing opera) goes high, the viability and patronage decline. How Roño incorporated the little-known art form in the horror film is a tribute to his cinematic imagination.
Beyond production design, good acting is one of the finer attributes of the film.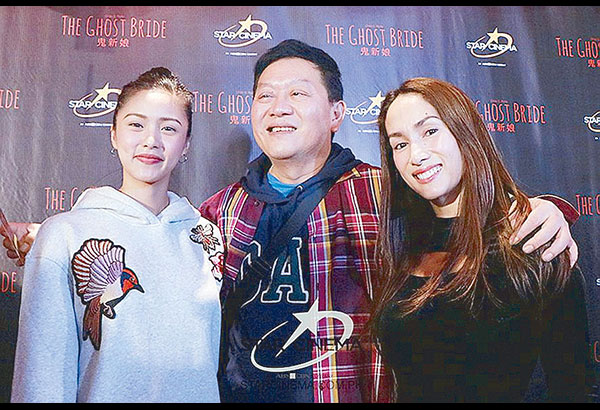 With director Roño and Ina Raymundo. The film showcases superb storytelling plus good collaboration.
The hardworking patriarch is ably portrayed by Seña. Isay Alvarez is so good she is no longer recognizable as a personality as one of the monks.
Whatever they say about Alice Dixon's Chinese accent in the film, she is in fact a standout. Her acting chills because it connotes bad omen in every frame. Her very business-like approach to reviving an age-old Chinese tradition is just as horrifying as it is galling in every way.
While Chiu lives up to the title role with aplomb, one thought that the acting of Beverly Salviejo as Akoh is one of the best moments of the film.
She is a virtual prisoner of a traumatic past and tries to relive them as best she can. She easily transforms herself as a character in a Chinese opera and wonder of wonders, she also has a third eye that can see non-living creatures in any abode. Her shifting moods are a virtual tour de force I won't be surprised if she gets a grand slam for this role.
The supporting cast members — Matteo Guidicelli, Mon Confiado, Christian Bables, Kakai Bautista and Ina Raymundo — do just as well and indeed they help wrap up a good story for today's audiences.
Going back to the story, Mayen's last resort tests Chiu as an actress. She is believable as a dutiful daughter, but she is also convincing as a family member in distress. Her moment of truth when she discovers the other family's wedding arrangement is just as riveting and her portrayal of vulnerability is at best moving and indeed poignant.
As in every Filipino's way of coping with bad times, Mayen resorts to "kapit sa patalim" (literally hanging on to the very best solution to predicament) and here she figures in an exchange deal that literally relives Dr. Faustus' dilemma in Mephistopheles. At best, the Chito Roño film offers a good Asian setting of the parable of good and evil.
As it is, The Ghost Bride reveals Roño as a superb storyteller. He picks up materials from the past and remolds them to show tradition versus business reality.
The finale with a beautiful shot of Nepal is a perfect ending for a weary soul's long spiritual journey into night.
The Ghost Bride is now showing in cinemas.