Winwyn a winner even before she was born
FUNFARE
-
Ricky Lo
(The Philippine Star) - November 6, 2017 - 4:00pm
Yes, you read today's headline right. Even before Winwyn was born…in fact, she was still in her mom's tummy…she was already declared a winner by her parents, Joey Marquez and Alma Moreno.
"At that time, during the 1992 elections," Alma recalled to Funfare, "Joey was running for vice mayor in Parañaque and I was heavy with Winwyn who turned out to be our lucky baby. Joey won so we decided to nickname the baby Winwyn. Joke ni Joey 'yon during the campaign. Could you imagine kung ano ang naging nickname niya kung natalo si Joey." (After serving as vice mayor, Joey ran and won mayor and served three terms.)
Born on May 4, 1992, Winwyn was named Teresita Ssen Lacsamana Marquez — Teresita after Joey's mom, Ssen is Alma's nickname Ness spelled backwards and Lacsamana is Alma's real surname.
That luck must have sustained Winwyn during the Reina Hispano-Americana pageant in Bolivia where she bested the more than two dozen gorgeous Latinas at their turf and ran away with the title, the first ever Filipina (and from Asia) to score that victory…and the only candidate who required an interpreter for her well-thought-out answer (to the question: How would you promote Hispanic Americana culture with language barriers?): Language can be learned, but the will and determination to contribute something to the organization cannot.
It has to come from the heart and it has to be natural. I believe that kindness is a universal language. If you treat people with tolerance, patience and love, you will understand each other. Hispanic culture is not about language only. It's about love for God, love for country, love for history and culture, and love for family. As a Filipina with a unique heritage, I have instilled that.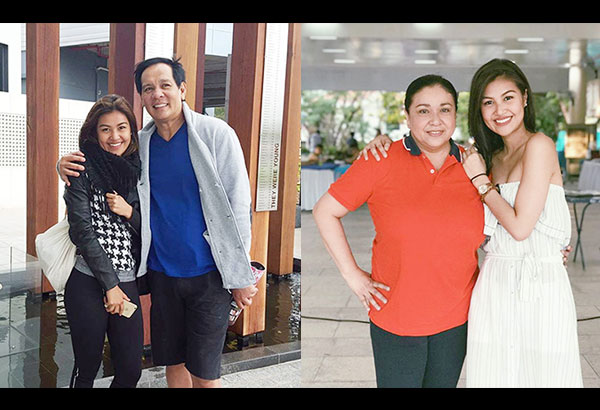 With her parents Joey Marquez (left) and mom Alma Moreno (right).
I am ready to promote the Hispanic culture not just in Asia but in the whole world. It is time to celebrate the Hispanic culture. It is meant to be celebrated.
That intelligent answer helped Winwyn clinch the title.
Told that Winwyn took after her (mana sa Nanay), Alma texted back, "Sa pagsayaw, oo!"
Joey and Alma watched the pageant on YouTube, and Joey became more and more nervous as the names of the 10 semi-finalists were announced and then asked the crucial question in the Q&A segment, until the winners were announced.
"I ran to the Comfort Room," Joey told Ambet Nabus and Gretchen Fullido Sunday night on DZMM. "But I could hear the sound. I ran out only after Winwyn was announced the winner," adding that he allowed Winwyn to join the pageant on the condition that she finished a Ph.D in Education and put up her own pre-school. "I told her that we would save for that school."
Of course, beauty runs in the family. Besides Alma, among Winwyn's aunts are Via Marquez-Hoffman and (1979) Miss International Melanie Marquez who said that she constantly reminded Winwyn to "always feel the crown on her head every time she is seen publicly."
In Culion, Palawan, with Mabuhay Deseret Foundation (and with local surgeons Dr. BG Alcantara, Dr. Lito Alava, Dr. Zaldy Ong and Dr. Fiona) for a free operation on children with cleft palate and cleft lips as their charity advocacy, Melanie texted Funfare: Winwyn is a natural; she's a sweet, friendly, compassionate and smart lady who is humble. I told her to give her best, to know the culture of the country, to pray and represent the Philippines with pride. She deserved to win because she worked hard for the pageant. Her humility and determination paid off. She exuded the aura of a queen. With or without a crown, she is a pride of the Marquez Family.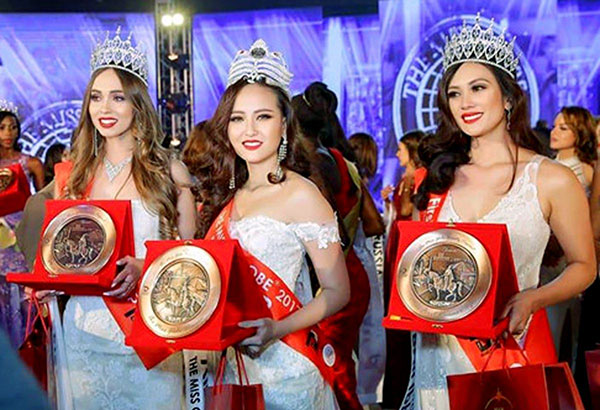 2017 Bb. Pilipinas-Globe Nelda Dorothea Ibe (right) finished first runner-up to Vietnam's Do Tran Khanh Ngan (center), with Siberia's Elena Latypova as second runner-up.
Winning streak for Filipina beauties
The same night Winwyn won in Bolivia as a first-timer in that Latina-dominated pageant, another first-time also won 2017 Miss Earth, none other than Karen Ibasco, an Applied Physics graduate from UST who works at St. Luke's Medical Center. (More on Karen in a future issue.)
The winning steak continued.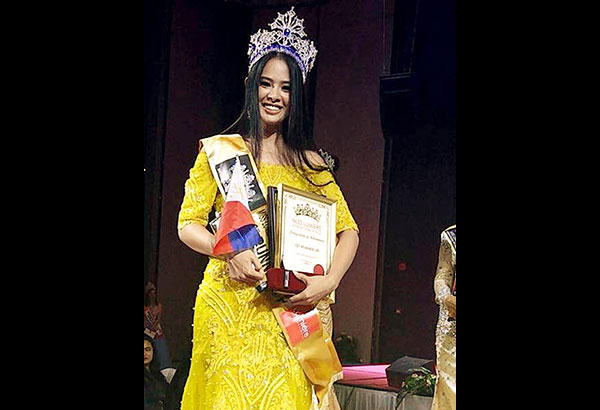 Sammie Anne Legaspi, first runner-up in the 2017 Miss Lumiere International World
Bb. Pilipinas-Grand International Elizabeth Clenci (featured in this corner a few issues ago) won second runner-up (third place) in the 2017 Grand International pageant in Vietnam.
2017 Bb. Pilipinas-Globe Nelda Dorothea Ibe who placed second (first runner-up) in the Miss Globe 2017 pageant held in Albania.
Sammie Anne Levardo Legaspi, 24, finished first runner-up to Siberia's Diana Krasnova in the inaugural Miss Lumieré International World pageant held in Malaysia. She also bagged the Miss Personality award and was adjudged Miss Talent second runner-up.
Four more Binibinis are set to compete overseas, namely, Mariel de Leon in Miss International 2017 in Tokyo on Nov. 14; Rachel Peters in Miss Universe 2017 in Las Vegas, Nevada, USA on Nov. 26; Chanel Olive Thomas in Miss Supranational 2017 in Krynica Zdroj, Poland on Dec. 1; and Katarina Sonja Rodriguez in Miss Intercontinental 2017 in Sri Lanka on Dec. 21. — With a report from Celso de Guzman Caparas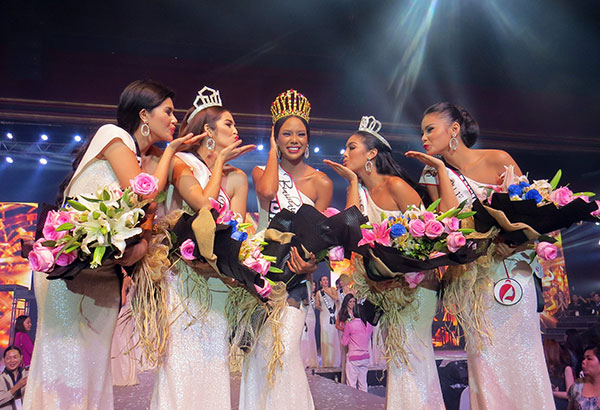 The first ever Bb. Cebu (2017) Apriel Smith (center) with Samantha Lo, Bb. Cebu Tourism; Maria Gigante, Bb. Cebu Charity; and runners-up Ingrid Gerodias and Kathleen Lendio.
The first ever Bb. Cebu crowned
On the local front, Apriel Smith was crowned the first ever Bb. Cebu 2017. Her court was composed of Samantha Lo, Bb. Cebu Tourism; and Maria Gigante, Bb. Cebu Charity. Runners-up were Ingrid Gerodias of Mingladilla (first) and Kathleen Lendio (second).
The pageant was directed by Victor Hao Cuenco, stage was designed by Kenneth Cobonpue, and the evening gowns by Cary Santiago.
Performers were James Reid, Richard Yap, Hey Joe Show, Don Juan, Zsari Vidal, Pintaflores Dance Company, Josh Marquia, Next Stage Band, Dj Gio with Joefre Capangpangan and Marc Mercado.
The panel of judges included ABS-CBN Chief Content Officer (COO) Charo Santos-Concio; Philippine Tatler editor-in-chief Anton San Diego; Angelito Banayo, chairman of the board of Directors of MECO; Rolly Macasaet, consultant in the office of the president of San Miguel Corporation; Miss Earth 2016 Katherine Espin; Jacqueline Tan Sains, president of Miss Asia-Pacific International; and Frederick Go, president and Chief Operating Officer of Robinsons Land, Frederick Go.
The pageant was hosted by Edu Manzano and son Luis, together with Miss Earth 2008 Karla Henry.
(E-mail reactions at entphilstar@yahoo.com. For more updates, photos and videos, visit www.philstar.com/funfare or follow me on Instagram @therealrickylo.)