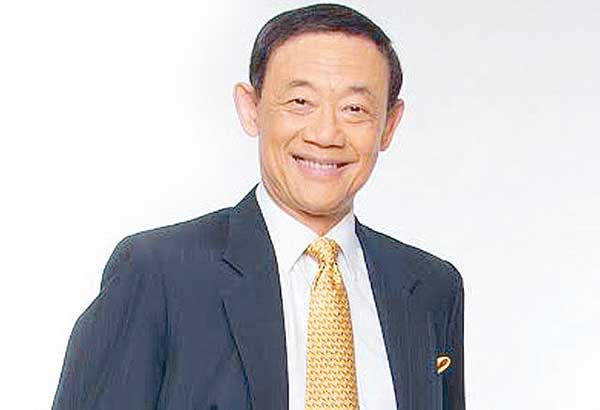 Joe Mari was in fact, the first Filipino Diamond Record awardee for the massive sales of the album Constant Change in 1989. His works have also become contemporary classics.
50 years of the music of Jose Mari Chan
It is time once more to sit down and look back at the stellar career of Jose Mari Chan. This is not only because it is that time of year again. You know how it is when the "ber" months come rolling in every year. That means that the Christmas season is fast approaching.
And what has been the most popular harbinger of the holidays for us Pinoys these past 20 years or so? No other but the song Christmas In Our Hearts, composed by Jose Mari Chan and which he recorded as a duet with his daughter Lisa.
Everybody surely knows the song by now, "Let's sing Merry Christmas and a Happy Holiday/this Season may we never forget the love we have for Jesus/let this be the one to guide us as another New Year starts/and may the spirit of Christmas be always in our hearts."
To stores, malls and those pop-up tiangges, the song has become the most conducive encouragement to Christmas shopping. To carolers of all sorts, it is the best way to be rewarded a buck, two or even more by listeners the song has filled with the Christmas spirit. And filled indeed with good feelings is everybody who hears the heartfelt joyous call for unity in the song.
This piece though is to remind his fans that the music of Joe Mari goes beyond Christmas In Our Hearts. The fact is, he has been making beautiful songs for us for the past 50 years. That is right. It has been 50 years since he made his first recording. That was in 1967 and the song was his own composition, Afterglow.
Born in Iloilo, JMC by birthright was meant to be a sugar baron. But he was born with a talent for writing songs and destiny placed him at the Ateneo as an Economics major during the '60s. I am sure many of you remember Atenistas during that time. They were a special breed. And Jose Mari Chan was very special. Girls found his chinito good looks cute, he was hosting the teen music show Nineteeners on TV and best of all, he could sing like British teen idol Cliff Richard.
It can be said that Richard who had hits like When The Girl In Your Arms and Ocean Deep gave JMC a good start. But that was all it was, a start. Afterglow became a huge hit. Note that it was the time of the worldwide British invasion and what was selling in the Philippines were the foreign covers by Nora Aunor, Tirso Cruz III and other young singer/actors. There were bands like RJ & The Riots and The Electromaniacs but they mostly played guitar-based instrumentals.
Having somebody like Joe Mari who has never joined a singing contest make a hit out of an original pop tune in English, was a remarkable achievement. Afterglow was no fluke. He followed it up with Deep In My Heart and a complete album two years later. By that time fans had forgotten that he sounded so much like Cliff.
Joe Mari had become a singer/composer with his own sound. He would go on to create more hit songs throughout all the ensuing decades. These not only broke sales records. He was in fact, the first Filipino Diamond Record awardee for the massive sales of the album Constant Change in 1989. His works have also become contemporary classics.
Among the most popular of his compositions are: Can We Just Stop And Talk A While, Refrain, Constant Change, Beautiful Girl, A Perfect Christmas, Please Be Careful With My Heart, My Girl My Woman My Friend, Here And Now, Afraid For Love To Fade, Tell Me Your Name, A Love To Last A Lifetime, Mr. Songwriter, Sing Me Your Song Again Daddy, Thank You Love, Can We Start Over Again and Love At 30 Thousand Feet.
But of course, while those are all hits covering a glorious 50-year period, none of them can measure up to the success of Christmas In Our Hearts, which resurrects bigger and brighter year after year after year. And so we go….
"Whenever I see girls and boys selling lanterns on the streets/I remember the child in the manger as he sleeps/ whenever I see people giving gifts, exchanging cards/I believe that Christmas is really in our hearts."