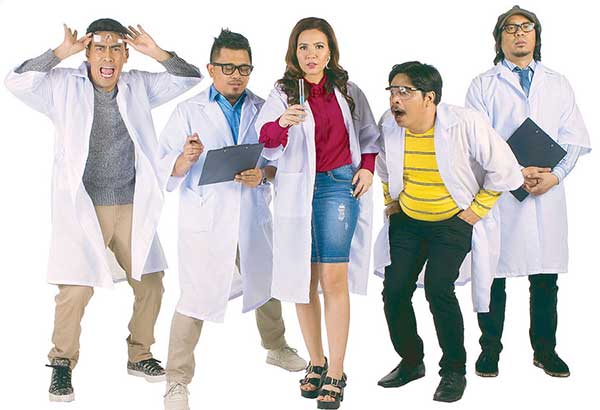 You Have Been Warned Asia hosts (from left) Ramon Bautista, RA Rivera, Angel Rivero, Jun Sabayton and Lourd de Veyra delve into the science behind some crazy Internet clips of stunts and experiments.
YHBWA: Science, like laughter, is imminent
MANILA, Philippines — Ramon Bautista smiles widely and says, "You've heard of being Instagram famous? Well, he's LinkedIn famous. He's the Justin Bieber of LinkedIn." Beside him, Jun Sabayton, RA Rivera, Lourd de Veyra and Angel Rivero erupt in laughter. The multi-talented celebrity/comedian is referring to Rohit Tharani, head of content for Southeast Asia and director of content curation at Discovery Networks Asia-Pacific. Previously working with the producer for the National Geographic show Science of Stupid, Bautista was invited to join Tharani when he moved to the rival science network.
Now, it's five times the fun as they enlist De Veyra, Rivera, Rivero and Sabayton to join their reunion via You Have Been Warned Asia (YHBWA), a compilation of Internet-sourced "clips of people doing crazy, hilarious and downright amazing things."
While television is rife with shows that feature sometimes crude, dangerous and hilarious stunts, the Discovery Channel program hits the sweet spot of equal parts entertainment and popular science. Already a proven strong rater, You Have Been Warned has a number of localized versions around the world — and it is definitely a source of pride that the privilege of manning the Southeast Asian version goes to Filipinos. To be fair, the hosts have a proven draw and reputation for both comedy and smarts — which are the main value propositions of the program.
Bautista is a second-generation professor at the University of the Philippines Diliman and hosts several TV programs. Aside from a host of endorsements, he boasts a solid base of support — "a huge millennial following due to the short films he puts on YouTube, most notably viral hit Tales from The Friend Zone," according to a Discovery Channel release.
Rivera is a "director, writer and performer, who most notably produces all of Ramon's videos, along with directly other videos including music videos for popular bands." Sabayton is "an actor, comedic performer and TV personality who recently ran for President of the Philippines in a mock campaign," while De Veyra is a "renowned author, poet and social commentator as well as TV personality," known for his acerbic wit. Finally, Rivero is a STAR Motoring columnist, actress, TV presenter and resident science geek of the bunch.
Rivero, Rivera and Bautista are longtime friends who first met at the University of the Philippines Integated School. Rivera and Bautista jest that they gravitated towards Rivero as she was the smart one. Later, Bautista and Rivero (along with the late Arvin "Tado" Jimenez) developed a cult following via their riotous Strange Brew show which first aired in 2001.
"The other versions of the You Have Been Warned feature real scientists who try to be funny," says Rivera. "We, on the other hand, are supposedly funny people who try to be scientists."
You Have Been Warned Asia runs a taut 30 minutes — featuring 13 clips curated by the hosts themselves from a sizeable trove of approved materials. The gang comments on the goings-on to hilarious effect, while delivering doses of science.
While they could have opted for the obvious route of copying the "source code" of the North American production, the hosts took it upon themselves to localize the material as the show airs in ASEAN countries. "It would have been simpler if the viewership was solely Filipino," avers Sabayton. Stresses Rivera, "If the show was for Filipinos only, it would be so easy. We could reference EDSA, Metro Manila traffic. Actually, this show is an experiment, too."
Joins Bautista, "That's why concentrated on themes we believe are common to all countries here. Talent searches, the Olympics, budget airlines…"
The number of clips the show features weekly, along with the launch at the supposedly unlucky "ghost month" is intentionally conceived as emipirical science sticking its tongue out at superstition. "We're champions of science," declares Rivero with a laugh. "We shouldn't be believing in stuff like that."
Bautista admitted that the cast of You Have Been Warned is afforded a lot more freedom than he ever was over at the localized Science of Stupid on the National Geographic channel, and Tharani himself appears to be delighting in an opportunity to work with a bigger selection of talent. Tharani picks out who gets to work on what part of the show, seems to have his druthers in the execution.
Among the innovations for the Asian edition of the show is a DIY replication of some of the stunts/experiments. One such stunt resulted in a very loud explosion at the Ateneo de Manila University — the result of heating a can of Campbell's soup. "The sound was incredible," shares Sabayton. "The guard came running to check us out."
Quickly adds Rivero, "That explains the title. We're warning you not to do it!"
Bautista insists that the show is consistent with the Discovery brand and mission to present popular science. "It's education that's entertaining. The primary goal is to deliver learning, and you get entertained in the process. Others, they just entertain with a little learning," he says. Rivera posits that the show mirrors the evolution of entertainment. "We're headed towards infotainment versus voice-of-God documentaries."
The cast members have signed on for 30 episodes, and are optimistic that there will be more fun and learning to be had once they gain regional attraction. And why not? Bautista avers, "There's something for everyone. You can watch us for the jokes, or you can watch us for the science. We'd rather you watch us for both, of course. Believe us; we're in lab gowns."
You Have Been Warned Asia airs 8:10 p.m. Mondays on Discovery Channel.