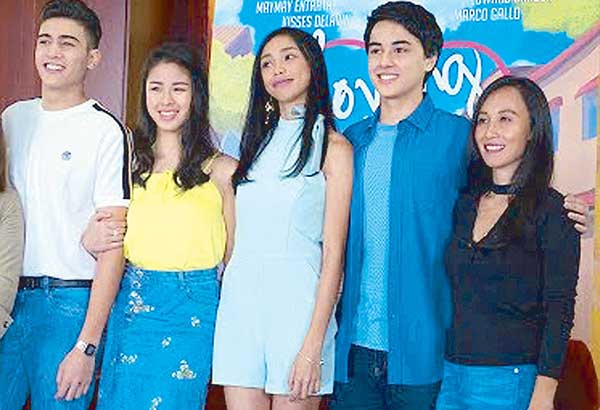 Director Giselle Andres (rightmost) with the cast of Loving In Tandem (from left, Marco Gallo, Kisses Delavin, Maymay Entrata and Edward Barber). She speaks the language of the millennials.
A millennial directing millennials
MANILA, Philippines — From the way she interacts with the cast of Loving In Tandem (LIT), you can see she's one of them. She shares their jokes, they sound like they have a common punchline and she speaks their language.
Direk Giselle Andres is only 34 but she invaded showbiz 10 years earlier in assorted chores: Production design, wardrobe and director's assistant, among others.
Of course, it is a jittery situation when you are directing your first film and face to face with a bunch of virtual beginners.
Said direk Giselle: "LIT is my first film ever so my only goal for this project is to give birth to it the best way I can. I believe I can only do that by making the story's characters lovable and relatable. Given the young stars assigned on this project, it surely wasn't a walk in the park. I was adjusting as a newbie director and at the same time, working with newbie actors. Most of them haven't had the chance to act aside from their stint in PBB. They were taking acting workshops but on set, I still had to coach them since film is such a technical medium. It was a challenge to capture their rawness and take the perfect shot at the same time. But because of their trust and hard work, the Take 17s gradually turned to Take 7s and later Take 1s. I couldn't be prouder."
A millennial directing millennials has its distinct advantage. "It was certainly easier to make them feel comfortable with me because we could relate to a lot of things. But they are still somewhat younger than I so there are experiences that some of them still haven't gone through. Those took more effort to explain. But they were very much open to learning new things so eventually I was able to direct them into doing the scenes."
Needless to say, she worked closely with her writer Kristine Gabriel and she was with her every step of the way. "Since it was her concept, I wanted to keep as much of it as well as make inputs to the story that would make me believe in the characters and be able to direct the actors. My creative and line producers had a lot of inputs as well. Every scene was a collaboration."
Her earlier learning process took her to the film school of Marilou Diaz-Abaya and actual film exposures from directors Rory Quintos and Olivia Lamasan, among others.
From direk Marilou, she learned quite an insight. "I have to say studying under her made me more passionate about filmmaking. My view has changed dramatically. I knew in my heart that I just wanted to tell stories. I'm very lucky to have had the chance to meet and learn from her."
As assistant director, she learned the basic lessons hands-on. "I could never forget being scolded for four hours straight… More importantly, it was really about the sacrifices that one has to make to fulfill a passion. That life lesson just strengthened when I started working with direk Rory (Quintos) and Inang (Olivia Lamasan). I've seen my directors come up with solutions to a lot of technical and creative concerns. More importantly, I've seen how they handle their actors and that's helped me a lot in handling these young stars. In life, I have my share of failures and had my heart broken so many times. But every morning, I still wake up wanting to make films."
What she wants to achieve as a filmmaker she sums up thus: "I want to be able to make films with relatable characters and tell the audience 'You are not alone.' No matter how outrageous, fantastic or dramatic the setting is, I want people to be able to find a bit of themselves in the characters and be inspired by them. I'm hoping that our movie will be able to send a message of how important home and family are. In the same token, I'm hoping that they keep true to their hearts' desires and believe that their voices are worth listening to."
Loving In Tandem, starring Maymay Entrata, Edward Barber, Kisses Delavin and Marco Gallo, opens tomorrow, Sept. 13.