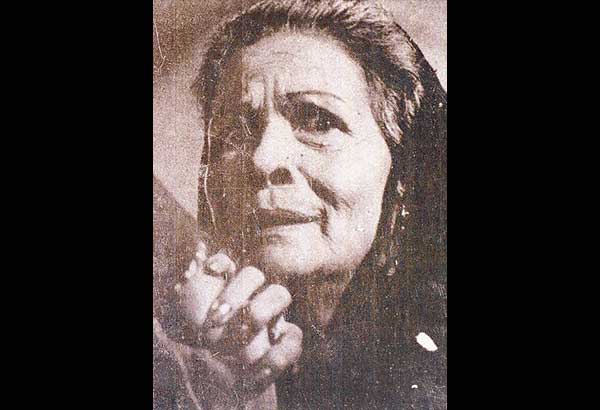 Mary Walter in a dramatic shot
(The Philippine Star) - August 12, 2017 - 4:00pm
Mary Walter was rightly billed 'Timeless Actress,' her career spanning more than seven decades. She excelled on screen (movies and television) and on stage, receiving awards along the way.
She was born in Bacon, Sorsogon on 1912 and died Feb. 25, 1993 in Quezon City.
At 14, then a high school student at Holy Ghost College in Manila, an actress-friend, Naty Fernandez, requested Mary to accompany her to the shooting of Lilies of Benguet, where producer-director Jose Nepomuceno, right then and there, asked the German mestiza to dance the cariñosa. Mary said yes right away as she really wanted to appear in the movies. This was in 1928.
Jose was so impressed with Mary that in her next movie, Sa Lumang Simbahan, she was already the leading lady of Gregorio Fernandez who, in the '50s, became an award-winning director.
From then on, Mary starred in romantic-dramas, among them Maria Luisa, Ang Lihim ni Bathala, Nanay Ko, Moro Pirates (silent films). When talking pictures came to the Philippines, she starred in Hinagpis ng Magulang, Ang Gulong ng Buhay, Ang Buhok ni Ester, Birheng Walang Dambana, Kuwintas ng Himutok, among many others.
After the war, Mary even became busier doing mostly character roles for virtually all movie studios. Colleagues and entertainment writers billed her 'Timeless Actress,' doing movies one after the other in the '40s, '50s, '60s, '70s, '80s and the early '90s, outliving all her contemporaries.
This columnist loves her best in Bukas, Madilim Bukas, one of the episodes of the trilogy Tatlo, Dalawa, Isa (1974), written by Dandy Nadres and directed by Lino Brocka. As the domineering mother of another great actress, Lolita Rodriguez, their 'acting duel' is memorable.
Aside from movies and television, Mary also appeared on stage, notably in PETA's Desaparecido and La Casa de Bernarda Alba.
A few days before Mary died of stroke in 1993, she received the coveted Gawad CCP para sa Sining.
She was married to a Spanish mestizo, Alfonso Grimalt, who died in 1975. They had three children.
The actress told Visitacion de la Torre in the Dec. 20, 1979 issue of Expressweek: 'Acting is not only in my blood. It is in my bones.'
Those words might as well be the epitaph of Mary Walter. — RKC