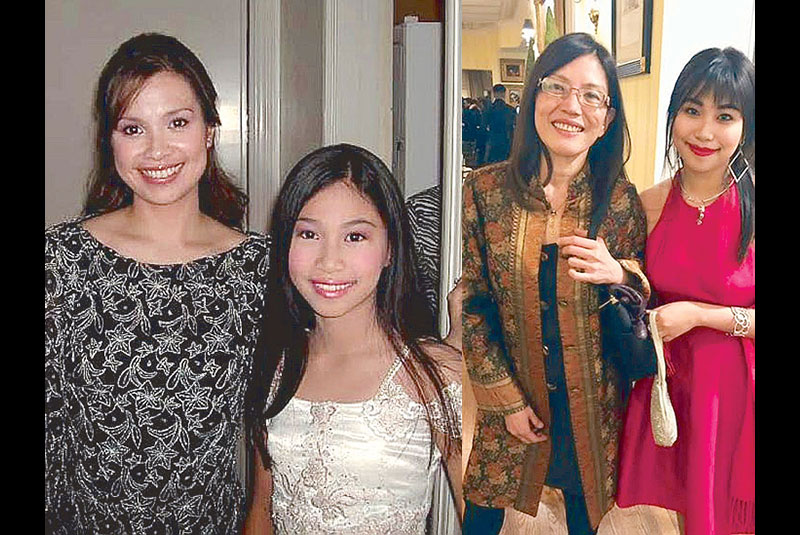 With Lea Salonga. Mauna was inspired by Lea's passion for singing. (right) With Cecile Licad in New York. The three-year contract with a Broadway producer may yet open doors for her.
MANILA, Philippines - Growing up in her native Science City of Muñoz in Nueva Ecija, Mauna Kea Chan remains focused on pursuing a dream as a singer and things are pleasantly looking up.
The younger member of Original Pilipino Music (OPM) at age 13, Chan recalls singing in her native town as member of the Bungkos Palay Performing Arts Foundation and later singing for a former president in Malacañang and gracing several awards nights as guest performer.
The big news is that she was recently offered a three-year contract by Step Forward Entertainment under Robert Blume who is also executive producer of the annual Drama Desk Award.
A recipient of the Aliw Awards as Best Child Performer in the Philippines some years back, Chan looks back to her idols and mentors with pride.
But the initial recognition pushed her to do better. "The Aliw Awards opened doors for me not to mention the new opportunities and a brighter path. Being named Best Child Performer by Aliw inspired me to keep pursuing my dreams. The award also made me realize that nothing worth having comes easy. If you really want something in life, you have to work hard for it and you don't let anything stand in your way."
But her music idols ­— from Lea Salonga to Cecile Licad — changed her mindset. "The first on my list is Lea Salonga. She became my idol since I was a kid. Her amazing voice and her passion for singing inspired me to pursue my dreams. The second one is Betty Buckley. She has the best version of my favorite song Memory. Every time I hear her sing that song, she always puts me in tears. That's how strong she is as a singing actress."
Of course, she has to take special lessons from Manila to Hong Kong and in her native soil, she singles out soprano Camille Lopez Molina. "I would say that she enhanced my vocal skills in so many ways. During my lessons with her, she showed me a whole new way of singing without putting too much effort in it. Ma'am Camille has a very warm personality. She always makes sure I am comfortable with everything that she's teaching me. She inspired me in so many ways. And the most special thing about her is she always believes in me."
She heard pianist Licad during an outreach concert in Nueva Ecija and she met her again in New York. "I am her fan since I first saw her and when I met her in New York, we brought up a possible tie-up in the future."
Among other patrons, she is grateful to Muñoz Mayor Nestor Alvarez for believing in her since she was a kid. "Mayor Alvarez was the one who made everything possible for me. He was the one who inspired me to enter the world of Broadway. He saw the potential in me. I became his scholar in the field of arts. He was the one paying for all my training. He introduced me to a lot of big people in the Philippines."
Back in New York, Chan sticks to her dream. "I love singing and I am fervently hoping I make it to Broadway through the help of people in the industry."