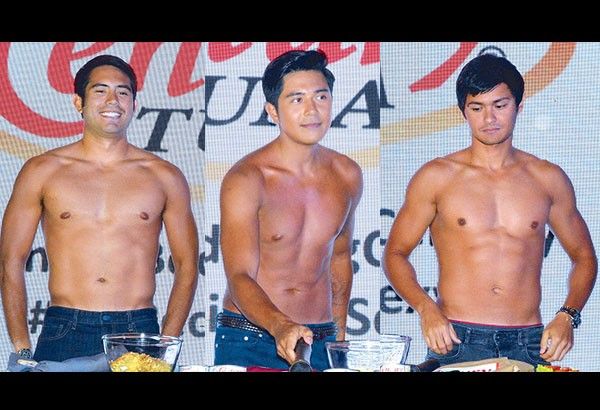 From left:Gerald Anderson, Paulo Avelino and Matteo Guidicelli during My Recipe to Sexy presentation held at Makati Shangri-La.
Ver Paulino
(The Philippine Star) - April 25, 2017 - 12:00am
MANILA, Philippines - Century Tuna recently presented Kapamilya stars Gerald Anderson, Paulo Avelino and Matteo Guidicelli as its latest brand ambassadors for the Century Tuna's summer campaign dubbed as My Recipe to Sexy. The event was held at Makati Shangri-La, Makati City.
"Like Gerald, Matteo and Paulo, Century Tuna is versatile. You can use it in different dishes, allowing you to be creative in whipping up your own recipe to sexy," said Century Pacific Food, Inc. VP and GM Greg Banzon.
So what brings these three fit and sexy gentlemen together this summer? They're the latest faces — and hot bods — in the Century Tuna's newest summer TVC, one that spells fun and fitness by way of its My Recipe to Sexy campaign. For those who've not seen the ad which is now airing on primetime TV, it features the trio as "hot cooks" as they respectively present their favorite recipes to a sexy, healthy bod: Tuna Egg Salad Sandwich ala Matteo; Tuna Pancit Canton ala Paulo; and Tuna Silog ala Gerald. They are all nutritious, delicious and easy to prepare.