Basil Valdez and the soundtrack of his life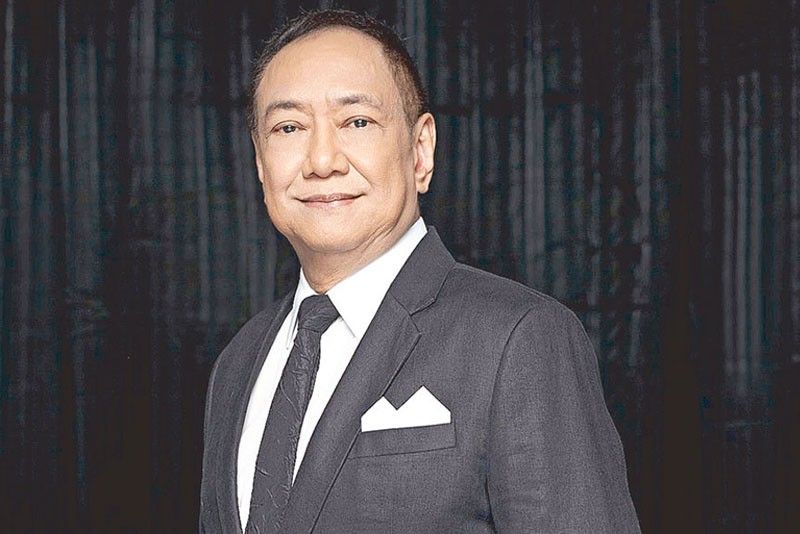 Ask people 50 and above (this one included) and they will tell you that milestones of their lives have been made memorable by songs of, among other singers, Basil Valdez especially Hindi Kita Malilimutan which never fails to make people emotional and teary-eyed when played as send-off for a loved one on his final journey.
The balladeer par excellence has actually been in the business for 45 years starting in 1972 when he joined the Circus Band. But Basil counts 40 as the number of years he has been going solo and he's celebrating it with Basil Valdez @ Solaire, a special one-night show set for Saturday, April 29, starting at 8 p.m. at The Theatre at Solaire.
Expect a night of nostalgia with Basil and his very special guests Sharon Cuneta, the Ateneo Chamber Singers, and the ABS-CBN Philharmonic Orchestra under the musical direction of Maestro Ryan Cayabyab.
Sharon recorded several cover versions of Basil's classics, most notably Ngayon At Kailanman which became the title of her blockbuster movie with Richard Gomez in the 90s. On the other hand, Basil and Ryan go a long way. In 1972, he met Ryan who was then part of another band. When Basil was putting together his first solo album Ngayon At Kailanman, he asked Ryan to write a few tracks for him. Since then, Ryan became Basil's musical director in almost all of his major concerts both locally and internationally.
The 42-piece ABS-CBN Philharmonic Orchestra was created for the purpose of connecting and reinstating symphonic music into the lives of every Filipino. Formed in 2001, the Ateneo Chamber Singers has earned national and international renown for rendering sacred choral music with style and aplomb.
As a nod to his 40th year, Funfare requested Basil to make a list of the 40 songs that mean a lot to him — you know, "the soundtrack of his life." (Trivia: Basil treats people not only with music but also with pranic healing.)
"If you will notice, I had talked mostly about the composers instead of the meaning of the songs," said Basil. "That's because I'd like to pay tribute to their genius, and more importantly, the incomparable and long lasting friendships that I have had with all of them. Aside from these composers, I thank all the people behind the scenes who had helped me release these songs. You know who you are."
1. Ngayon At Kailanman
This was the first song that I recorded for the late, great composer George Canseco in 1977. This song changed the course of my life from wanting to be a professor to being a singer. This was meant to be a wedding song. Very timely then, as I had already started to sing in churches.
2. Hindi Ba't Pagsinta'y Pang-araw At Ulan
This song was composed for me by singer/composer Joel Navarro and the lyrics by professor Rolando Tinio. Two persons I've truly admired.
3. Paraisong Parisukat
This was the first song that I ever recorded for Ryan Cayabyab in 1977. This was the theme song for a movie with the same title. From that time on, I've worked with Ryan as my musical director for four decades now.
4. Kailan
This song was composed for me by my Grade School music teacher at the Ateneo, Fred Areza. This song represented for me the bridging of a kundiman song to a pop song.
5. Kung Ako'y Iiwan Mo
A George Canseco classic. Slowly but surely, George and I were starting to work well together, he as the composer, and I as his interpreter.
6. Hanggang Sa Dulo Ng Walang Hanggan
This song was the flipside to the song Ngayon at Kailanman. It took me three months before I could record this song as I got stricken by Epiglotitis. (the swelling of the lid of the windpipe).
7. Kastilyong Buhangin
This spearheaded my second album. Again, another George Canseco classic. They even produced a movie based on this song.
8. Nais Ko
This time, Ryan and I worked closely to complete my second album. I truly enjoy singing this song up to now, especially with my back up vocalists Babsie Molina, Sylvia Macaraeg, and Elise Cortez. My chorus girls for the longest time.
9. Pangarap Ko'y Ikaw
This was the very first time I was working with the very young composer Louie Ocampo. Very pure and "unadulterated" song.
10. Tuwing Umuulan At Kapiling Ka
One of the hardest songs that I've ever recorded for Ryan. But I'm glad that I did this song for him. Other artists have their own version of this song.
11. Kahit Ika'y Panaginip Lang
One of the more kilig love songs that Ryan had composed. And the voice of Bambi Bonus Encarnacion in the recording is phenomenal.
12. Ngayon
Composed by George Canseco for the CCP International Song Competition, Likha Awit Pambata, this won for him the grand prize. That would be the first and last time I'd interpret a song for a contest.
13. Bakit Ka Nagbago
First time that I'm collaborating with composer Gerry Paraiso, a friend since grade school at the Ateneo.
14. Hawak Mo Ang Panahon
First time, too, that I'm interpreting a song for Cecile Azarcon.
15. Iduyan Mo
This song by Ryan was the theme song for the movie Agila. I also had the rare chance of watching and hearing Ryan score a movie.
16. Siya Na Ba
I had this friend from college by the name of Charles Wong. He was from Xavier High School and had composed beautiful songs for mass. He had given me this melody and George had put the lyrics to this one.
17. You
Composed by Gerry Paraiso, this song won seven awards at the Cecil Music Awards. Can't thank Gerry enough for this memorable love song of the 80s.
18. Let The Pain Remain
This is the only song that I ever recorded for Willy Cruz who had passed away recently. I would have wanted to interpret more of his songs. And how I wished I could have known him better as a person. His music will live on.
19. Lift Up Your Hands
This song by Cecile Azarcon was first rejected because it was a religious song. Its big success paved the way for me to come out with a complete inspirational album, entitled Salmo.
20. Sometime, Somewhere
Composed by Ryan, this was featured in one of my TV specials, which was filmed in San Francisco, Los Angeles, and New York. The difficulties we encountered in shooting this song then, had contributed to its being memorable.
21. Gaano Kadalas Ang Minsan
By this time, I had proven to George Canseco that I could, indeed, interpret his songs fairly well. I became his favorite interpreter of movie themes...especially the movies of Vilma Santos.
22. Sana Ay Ikaw Na Nga
Another Cecile Azarcon classic. Willie Revillame's favorite. He can't stop requesting for this song.
23. Paano Ba'ng Mangarap
Another George Canseco theme song. Although I sang this, I never really had the chance to watch the movie.
24. We're Falling In Love
This song composed by Gerry Paraiso is my duet with International singer Angela Bofill.
25. Hindi Kita Malilimutan
I first heard this song being sung by a former nun while in Baguio. I looked for the composer of this song by the name of Manoling Francisco from Ateneo. This somehow is so significant because this signaled the start of my deepening spiritual journey.
26. Salamin Ng Buhay
A philosophical song that George Canseco had ever produced. Also one with such an intricate melody. Some kind of vocal calisthenics. With Ryan Cayabyab's phenomenal musical arrangement, this is easily one of my all time favorites.
27. Tuldukan Na'ng Hapis
I met this team of Sonny Angeles and Bien Noriega, composer and lyricist. Malalim ang mga kanta nila. Truly enjoyable for a singer to interpret their songs. Pero mahirap. Great challenge.
28. Minsan Pa Nating Hagkan Ang Nakaraan
Another movie theme song by George Canseco.
29. Lead Me, Lord
Most everyone I've met would know this song by composer/singer Arnel de Pano. He had composed several songs for me and had inspired me to release more inspirational songs.
30. Nag-iisang Pangarap
Another Sonny Angeles/Bien Noriega composition. Malalim pa rin. Kailangan malalim kang mag-isip.
31. Kaibigan
I hum this song by Manoling Francisco every now and then, when I feel I need to deepen my friendship with the Lord.
32. Inang Mahal
Written by singer/composer/conductor Ed Nepomuceno who now resides in the United States. Although this song is quite a challenge to interpret, I chose this to reaffirm my closeness to the Blessed Virgin Mary.
33. Di Na Muling Mag-iisa
Written by Gines Tan, I gladly interpreted this wedding song for him. I had asked long time friend singer Pat Castillo to sing this duet with me, which turned out very well.
34. Tunay Na Ligaya
One of the up tempo songs of Ryan Cayabyab. Very simple. Very catchy.
35. Ama
Composed in 1983, this poetic version of The Lord's Prayer was done by George Canseco, a song which he claims had been dictated to him by the Lord in a dream. One of the Lord's mysterious ways.
36. Kristo
Who wouldn't know the songwriter Vehnee Saturno? He had written so many hit songs, and I have been so blessed to interpret this one for him. A song that made the late Cardinal Sin cry.
37. Maria
I had somehow wondered how a song would sound like, if the lyrics were done by George, and the music by Ryan. Here is one. This is the poetic version of the Hail Mary. Ryan's arrangement makes it even more spiritually uplifting.
38. Tanging Yaman
An unforgettable song by Manoling Francisco, now a Jesuit priest.
39. Gabing Kulimlim
Another Manoling Francisco song that I listen to, and sing, when I need to wait, and hear the voice of God.
40. Ikaw
This was the last song that I had recorded for George Canseco with music by Louie Ocampo. I know for a fact that George had composed this song for his wife who had passed away. Perhaps, he didn't realize that he had unconsciously written this one for the Lord God Almighty and his relationship with Him. I would like to believe that this is how he would have wanted me to interpret this masterpiece.
(A production of NY Entourage Productions, Basil Valdez @ Solaire is supported by Philippine Airlines, Richville Hotel, and Petron. For tickets, call Ticketworld 891-9999 or at www.ticketworld.com.ph, or call NY Entourage Productions at 552-7473).
(E-mail reactions at [email protected]. For more updates, photos and videos, visit www.philstar.com/funfare or follow me on Instagram @therealrickylo.)