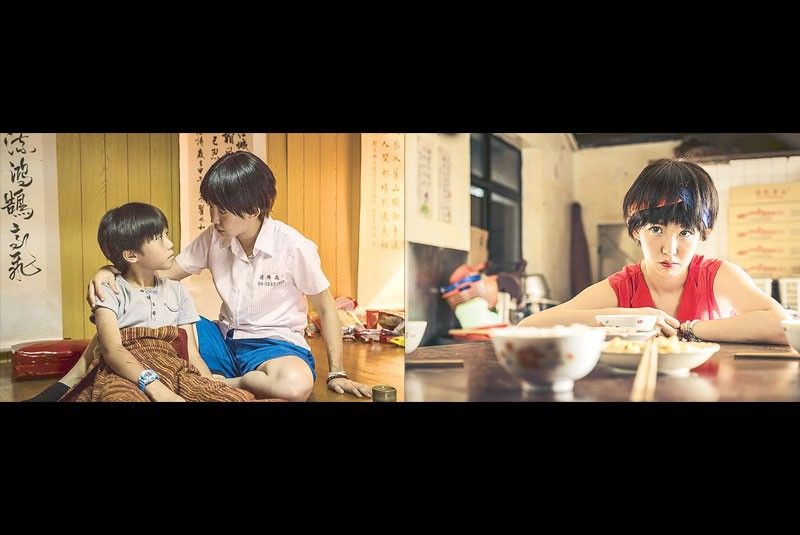 Taiwanese star is a psychic
Jerry Donato
(The Philippine Star) - April 2, 2017 - 12:00am
KUALA LUMPUR — "She has (the) special ability to link the human beings with the spirits. That's why in a lot of instances she has to help people in need. But when she helps them, she misses out on a lot of opportunities of her own because she is only a teenager."
Taiwanese star Kuo Shu Yau put succinctly (in her mother tongue and as told by an interpreter) the inner struggle her character named Xiao Zhen deals head on in the HBO Asia Originals TV series, The Teenage Psychic, during the recent special screening-media call attended by local and regional print media members.
A hybrid of light romance, drama and the supernatural, it premieres tonight at 10 and airs Sunday nights thereafter. "She wants to experience a love life, she wants to have her own life," she added. "At the same time, she wants to help them (people with supernatural needs). When fulfilling the needs of others, (she feels that) her needs are (being) fulfilled."
The first episode has established that conflict and defined that characterization of Xiao Zhen, a 16-year-old temple medium, who is contained and restricted in that special world, sometimes depriving her of the mundane things in life that young people should enjoy.
Although she is past the age of her character, the Taiwanese star looks and sounds real — she has gotten into the physique and psyche of Xiao Zhen.
According to Kuo Shu Yau, she doesn't use a lot of techniques when portraying characters, but she acts with a heart, being able to thresh out true feelings.
"I think acting boils down to the interaction between me and my co-stars," she said. "Whatever my co-stars give me, I will give it wholeheartedly back to them. That's what my acting technique is like."
Part of that process is the use of personal effects like wigs actors wear on set.
"That hairstyle was actually a wig," she related. "I find it quite fun to have that hairstyle. The wig helped me a lot. Every time I put it on, I immediately became Xiao Zhen. I transformed into that character. That actually helped me get into the character… I'm a temple medium and teenage psychic, doing a lot of ceremonies. The action itself was not difficult. What's difficult was that I had to be convincing — to convince (viewers) that I'm that medium who has been doing that for years and been doing that every day. That was the difficult part." The series had a psychic consultant present to guide Kuo Shu Yau in making her actions like talking to the spirit and driving it away authentic.
On the other hand, the sense of isolation, not the total one, is something she can relate to the character as celebrities experience it, you know they can't live a normal life. She also said that like her character, Kuo Shu Yau was already mature at the age of 16.
With The Teenage Psychic, Kuo Shu Yau is widening her acting horizon. It's a work opportunity one must seize and not exchange for anything in the world.
"I felt great," she said. "The whole process was great. And it was indeed an honor for me to be collaborating with HBO Asia. I'm excited that the TV series and my performance will be reaching a wider audience on an international platform. HBO Asia was very professional. They (the people behind the series) always had someone there to supervise the production, the lighting and the different areas (of putting together a TV series)"
A quick background on The Teenage Psychic star: In Taiwan, she is a crossover star, doing movies and TV series. On top of that, like what most Filipino celebrities do, she is also a recording artist. She guest hosts in a variety show. In 2013, she received the Golden Horse Award for Best New Performer for the movie Step Back to Glory.
Aside from the production and creative team, Kuo Shu Yau said she had a good rapport with her co-stars. "I also enjoyed tremendously the cast. All of them had given me a lot of energy." The actress liked the way she and her series best friend (named Huang Qiao Wei, played by Alina Cheng) worked together. They added dialogues, which director Chen Ho Yu didn't mind. "The actors used real feelings to act, which is a precious part of the series," Kuo Shu Yau added.
Also in the cast are Kent Tsai as carefree, optimistic love interest Ah Le; Chen Mu Yi (as Teacher Kim); and Sylvia Hsieh (drama club president Zhang Nian Wen).
Does she believe in the presence of supernatural beings (and that they live among us)?
Kuo Shu Yau's answer was in the affirmative and she added, "From what I have observed from our society nowadays, even we have high-tech technologies, we still can't detect (their) presence. I believe there's a lot of beings in our world and on Earth that are cohabiting with us but we can't detect (them) yet."
Given the narrative plotline, with unpredictable incidents and thematic episodes, one can look forward to touching and romantically thrilling scenes. As the singer-actress said, "Each episode will get better and better."
As an artist, Kuo Shu Yau didn't mind lying in the coffin prop (used in the show's drama club) with a guy, unlike some actors who might be superstitious about it. "The prop guy did a very good job and made me (feel) comfortable lying in it. I didn't mind lying in it because it's only a prop... that's part of the TV series," she said.
Though it's too early to entertain such thought, is Season 2 a possibility in the future? Kuo Shu Yau had this to say: "If I find my performance good, then I will come back... and of course, if the audience loves me, then I will come back."
Playing Xiao Zhen comes with lessons that Kuo Shu Yau and the audience can learn from the six episodes. She shared, "Cherish what you have now, cherish the moment... we don't know what will happen. What you really have now is now, the present, cherish the people around you... we have a lot of regrets in life, but (these) regrets are usually not (about) something we have done but something that we haven't done... Express yourself any moment while you still can. I think communication is very important, even when you quarrel or you fight (with someone), it is also a form of communication. Just do not let your temperament get in the way. As long as you settle it (the dispute), you will have peace in the end, which is important."
Since the Teenage psychic, the character belongs to the younger millennials, are there any millennial stereotypes to be presented in and challenged by the series?
"Every generation usually does not understand the next generation," Kuo Shu Yau said. "There's definitely a generation gap. You can't really (tell) if there's any stereotypes but the thing is, I believe everything that is good and pure will always remain that way. I think that stays true in all generations."
The Teenage Psychic, shot in Taiwan, is another output from the HBO Asia with the tradition of producing original content like Halfworlds (filmed in Thailand and Indonesia); Master of the Drunken Fist: Beggar So and Master of the Shadowless Kick: Wong Kei-Ying (China); Grace (Singapore), Serangoon Road (Indonesia and Singapore); and Dead Mine (Indonesia).