The greatest love duet recordings
February 13, 2017 | 12:00am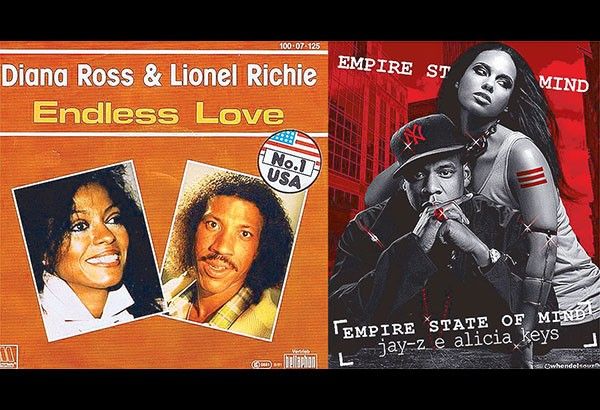 It happens every year. Once the month of February comes around, music lovers suddenly develop a heightened preference for old love songs. And among these are duets. You know, those recordings where two voices, preferably, male and female combine to come up with emotionally stirring songs. I am not surprised. I love duets, too, and when listeners are thinking of romance during the Valentine season, one of the most effective ways to get into the mood, is through love songs and in some cases, with duets.
Here is a list of some of the most popular. Here are well-loved oldies, that, like Christmas carols come into life again every year. This is in no particular order and is based solely on what I have been hearing over the radio these past weeks. I hope I was able to include your favorites or that I was able to find a duet that you have been missing and would love to rediscover along with the memories.
Endless Love, 1981. The movie that starred Brooke Shields was no great shakes but the theme song became a huge hit. It was recorded by the period's reigning diva, Diana Ross and Lionel Richie, who, then at the peak of his songwriting prowess also composed the song.
Reunited, 1979. A reconciliation with an ex-lover is what the broken-hearted dreams of every time. There are a lot of broken-hearted around us. So it is no wonder that this sweet, simmering gem of a song about being reunited has endured over the years. Performed by Peaches and Herb.
I Had The Time Of My Life, 1987. Exultant, euphoric, the duet by Bill Medley and Jennifer Warnes also comes with memories of those days when boys secretly dreamed of dancing like Patrick Swayze and when girls fantasized about doing that big jump and falling into his arms.
Beauty And The Beast, 1991. A theme that is as enchanting as the animated film performed by the great soul balladeer Peabo Bryson and the then still unknown Canadian singer Celine Dion. John Legend and Ariana Grande have done a remake. Let us wait and see if the new one will be as successful as the original.
My Boo, 2004. If you are feeling cute and sexy, then this is the duet for you, a seductive jam by Usher and Alicia Keys. I guarantee that even the most straight-laced girl or guy will not mind being called My Boo after they have heard this song.
Bakit Ngayon Ka Lang (Dumating Sa Buhay Ko), 1991. Aside from reconciliations, the Pinoy's other favorite romantic situation is the love triangle. Composed by Ogie Alcasid and Aaron Paul del Rosario, the song was already a big hit for Ogie when it was performed by Pops Fernandez and the band Freestyle as a duet during a concert in 2001. The live recording exploded in the charts and the song has since then been considered one of the most popular duets ever heard.
Baby Come To Me by Patty Austin and James Ingram, 1982. This is seduction in no uncertain terms and how Filipinos love the song. Austin and Ingram are at their most compelling vocally and the song remains a big radio favorite to this day.
Ikaw, 1993 by Sharon Cuneta and Ariel Rivera. So many beautiful covers of the Louie Ocampo and George Canseco composition have drowned out the original recorded by Sharon and Ariel for the soundtrack of the movie of the same title. But listen to it and you will agree that it was this recording that got Ikaw off to an excellent start as a hit song.
Up Where We Belong, by Joe Cocker and Jennifer Warnes, 1982. This is not just a love duet. It is about the triumph of the human spirit as depicted in the movie An Officer and a Gentleman. The fact that it comes with a touching love story starring Richard Gere and Debra Winger is a great bonus.
Empire State Of Mind by Jay-Z and Alicia Keys, 2009. It is a duet but not about the usual male-female relationship. But I think it should be in the list because it must be the most touching Valentine message sent to the city of New York.
Nothing I Want More, 1982 by Louie Reyes and Eugene Villaluz. The song did not win at the Metropop competition but it took Louie and Eugene to the grand prize at the Seoul Music Festival. It is a powerful message of all-encompassing love that never fails to bring smiles to audiences whenever it is performed.
Other great duets are Baby Boy by Beyoncé and Sean Paul; Islands In The Stream by Kenny Rodgers and Dolly Parton; Separate Lives by Phil Collins and Marilyn Miller; Something Stupid by Frank Sinatra and Nancy Sinatra; Magkasuyo Buong Gabi by Rico J. Puno and Elisa Chan; Unforgettable by Natalie Cole and Nat King Cole; When I Fall In Love by Celine Dion and Clive Griffin; Umagang Kay Ganda by Tillie Moreno and Ray-An Fuentes… and many more. Have a Happy Valentine's Day.