Jong Cuenco: The musician turned actor
There are a number of musicians who go into acting, however, there are a few who have been successful and left us truly impressed while a large number of them could have stayed with the music business entirely.
One of the successful musicians who turned to acting is Jong Cuenco, the junior of the late National Artist in Music Ernani Cuenco. We remember Jong being plucky, introducing himself as the son of Ernani, and asking if we could manage him. We asked what he could do and he said he was a flute player. We decided without even a moment's pause to build up his career as a solo flutist. And now Jong is busy doing teleseryes on ABS-CBN.
I was totally impressed by his performances on television and I decided to ask him some questions regarding his new career.
When did you start thinking that you want to try acting professionally? What made you think of that option?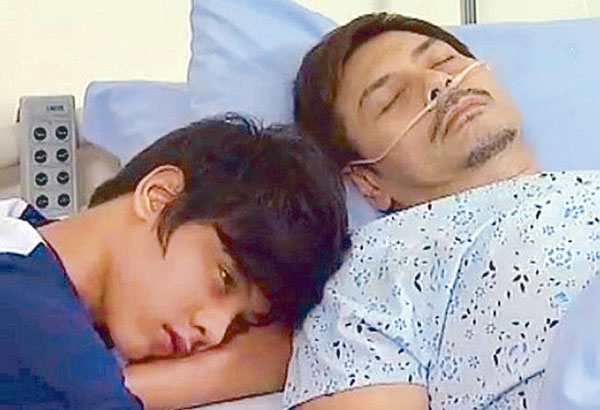 As Edward dela Rosa, father of Daniel Padilla's Gino, in Princess and I
"Actually, I started acting at a very young age. When my dad would have a movie to score, and that movie would need a little boy, I'd be that boy. Then I met Gabby Concepcion and we became friends. We would tag along with him to his movie shoot. He had a movie JR with Rowell Santiago and they needed a company and so my brother and I were chosen from Gabby's friends.
"When Randy hit it big back in the '80s, he got me to join him in his mini-comedy skits in Lunch Date on GMA 7. This went on until that faithful day at the Sampaguita recording studio when I was working as vocal coach, that I met you. The acting bit took a backseat as I flourished as a musician. Gabby left for the States after the controversial MMFF fiasco. After 13 years, Gabby re-established himself as an actor with ABS-CBN. In his second teleserye, Dahil May Isang Ikaw in 2009, and the production needed a character who would be his best friend on the show. I was there on the set visiting Gabby, and so I got the part. Now, I've been doing a lot of projects for ABS-CBN."
Which of these activities did you enjoy the most? Which paid the most? Which was the least stressful?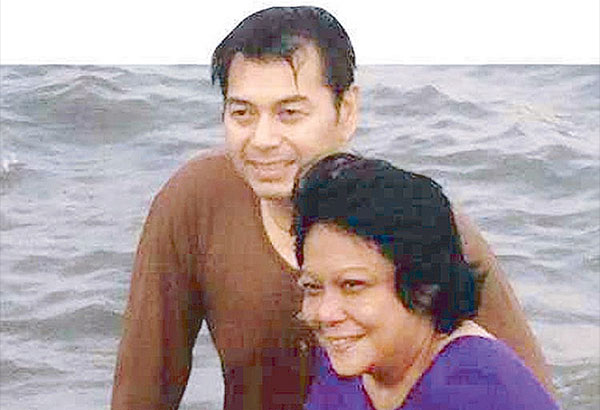 Playing as Nora Aunor's husband in the independent film Sampung Libong Tag-ulan: The Yolanda Survivor
"I enjoy doing all these things and I'm lucky that I was able to adapt to the changing times. When I broke into the music scene, instrumentalists were the in thing at that time. When the music industry was plagued with piracy and started to slow down, I was able to get the bingo-hosting job. The pay was quite good for the workload of hosting the bingo game for four hours daily.
"I guess, I would say that that was the best gig I ever got. I stayed with the bingo for six years until I felt that it was time to explore new possibilities (this was when Gabby returned).
"Of all the activities I've tried, I would say playing music was the least stressful."
What else would you want to enter into?
"I consider myself as Jack of all Trades, Master of None because I keep trying different things that I could possibly do. I got into producing commercials, composing commercial jingles, music scoring for films, directing and producing events (I still do this) among others."
Do you have a contract with any outfit? Are you open to working with others on TV and in the movies?
"No contract for now. Just lucky to be a regular on ABS-CBN. Yes I'm very open to other opportunities, both on TV and in the movies."
Jong appeared on ABS-CBN's teleseryes where he played supporting roles. He starred in Green Rose as lawyer Fidel Santos and Princess and I as Edward dela Rosa, father of Gino played by Daniel Padilla. He was also part of Mundo Man Ay Magunaw, Apoy Sa Dagat, Growing Up, Hiyas, Sana Bukas Pa Ang Kahapon, Maalaala Mo Kaya, Ipaglaban Mo, Flordeliza, You're My Home, And I Love You So, We Will Survive, FPJ's Ang Probinsyano as Gov. de la Paz, and he is doing the new upcoming teleserye Langit Lupa featuring the love team of Jairus Aquino and Sharlene San Pedro, which is headed by director Ruel Bayani on ABS-CBN's Kapamilya Gold afternoon block.
Jong also played Nora Aunor's husband in the indie film Sampung Libong Tag-Ulan: The Yolanda Survivor, directed by GM Aposaga and produced by Vizzions International.
(For comments, call us at 671-1569, e-mail at bibsyfotos@yahoo.com or text 0917-8991835.)