Conde's Genghis Khan, Wayne's The Conqueror
(The Philippine Star) - June 19, 2016 - 12:00am
Genghis Khan, made in 1950 and exhibited in 1952 at the Venice and Edinburgh International Film Festivals, earned very good reviews.
Manuel Conde played Genghis Khan, the leader of the Mongol tribe who conquered and ruled a big part in Asia. He also wrote, produced and directed the film.
In 1955, John Wayne also played Genghis Khan in the Hollywood movie The Conqueror opposite Susan Hayward and produced by Howard Hughes, 'two years in the making…at a cost of $6 million.'
Critics in Europe and the US hailed Conde's Genghis Khan as superior to Wayne's, citing the Filipino film's impressive production design (by Botong Francisco), much later named National Artist and mise en scéne. United Artists distributed the films worldwide.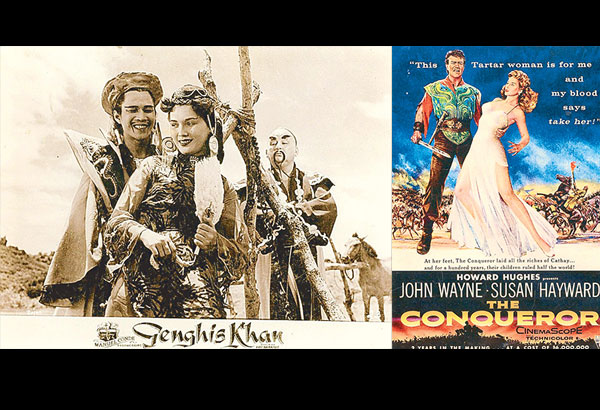 The film credited Lou Salvador as director, actually a concession to the actor for shaving his head for the movie. Needless to say, it was Conde's masterpiece and no one else. Conde was named National Artist this year, a long-delayed and much-deserved honor.
In an interview years back, Conde recalled that when critic James Agee watched Genghis Khan, he wanted to disappear from his chair when the battle scenes were shown. He couldn't afford to hire big horses and had to settle for those used in caretelas by Tondo cocheros. But Agee congratulated him for using authentic small horses used by the Mongol warriors.
Genghis Khan co-starred Elvira Reyes, Inday Jalandoni, Lou, Andres Centenera, Africa de la Rosa, Juan Montero, Darmo Van Fraser, Jose Villafranca, Ric Bustamante. Cinematography by Emmanuel Rojas and music by Juan Silos Jr. —RKC