Jerry Donato
(The Philippine Star) - January 31, 2016 - 9:00am
MANILA, Philippines – Derek Ramsay is Kiray Celis' dreamboat in Love is Blind, Regal Entertainment, Inc.'s Valentine offering which opens on Feb. 10 in theaters nationwide. Derek's character Wade fulfills the fairytale romance of Kiray's Fe — and he seals it with a kiss.
"In fairness, malambot ang labi niya," said Derek of his kissing scene with Kiray during the recent presscon for the movie. "She was nervous. So I offered her wine. Ayaw uminom. (Kapag) palapit na palapit na kami, tawa kami nang tawa," he added. "Iba kasi yung gusto niyang ka-kissing scene." It took 15 takes for the two to make the scene right. This is just one of the many kilig moments between Derek and Kiray that moviegoers can look forward to. It's nice to see Derek away from his usual fare of relationship dramas such as No Other Woman and A Secret Affair, and in the midst of cat fights.
"I really enjoyed it," said Derek on his wacky rom-com project. "There was not a dull second on the set, minsan nanganga ako kay Kiray… kalog talaga siya. She's given this talent to make people laugh and to make people feel good."
The on-set good vibes will definitely rub on everyone who looks for fun entertainment. Although the genre is comedy, Love is Blind challenges the ideas we associate with the title. Is love only about physical attraction or does it go beyond it?
"It depends on how you look at it," said Derek. "Love can be blind in so many different ways. When some person asks you, 'How come you love somebody?' and you can't explain. You can't see love. It is something intangible that brings two people together."
Love is Blind is Derek and Solenn's first project after their break-up nine years ago when entering show business was never part of their long-term plans.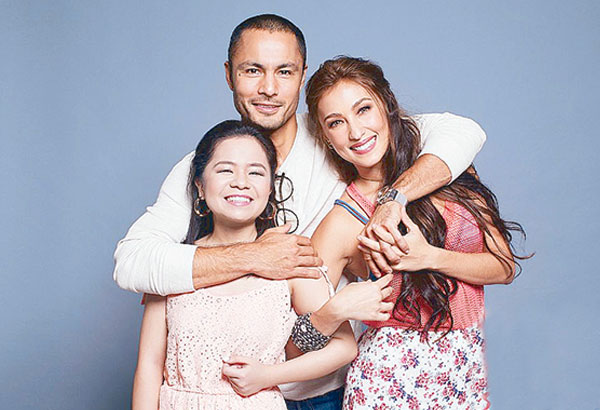 Derek with co-stars Kiray Celis (left) and Solenn Heussaff
"Nine years ata na hindi kami nagkita at nagkasama," Derek recalled. "I was really excited that there was a project offered to me with Solenn. You know Solenn is very special to me and to my family. My niece was named after her… It's nice to see how she has progressed (as an artist). She is a very good actress. She can make people laugh."
He also added that "we went out for four years, four great years and we are good friends now. It's nice that after the relationship, we still maintain a relationship, which is a very good friendship. I hope this won't be the last time we get to work again. I try to be (friends with my exes), sayang naman ang pinagsamahan ninyo."
As for Solenn, working with his then boyfriend "was good experience, enjoyable… Nag-enjoy ako and he helped me in a lot of scenes."
Derek and Solenn are an example of former lovers-turned-friends who had fun while they were at it.
"That's why we lasted for (four) years," he said. "We had so much fun. We traveled the world, kung saan-saan kami napupunta. In one minute, we were in Europe. The next day, we were in Africa. Wala akong pakialam. We were on our own world. We had so much fun, jumping from place to place, enjoying the relationship."
"If you're in a relationship, you should really enjoy it and it should be like that all the time for me," she added.
Aside from Kiray, Derek had a kissing scene with Solenn and many were curious how it went. "I did (drink wine)," he recalled. "The last time I kissed her was like nine years ago. It was nakakakaba. The scene became very emotional."
Asked if the two have experienced that kind of love, you know that love is blind, Derek replied, "With Solenn, parang di pwedeng sabihin yun. She's got everything. She is beautiful, she is talented. She is creative. She is the most creative girl or person I have ever met — whatever she holds turns into something beautiful. Hindi ko pwedeng sabihin na love is blind for us kasi nagmahalan naman talaga kami. She is a complete package." Solenn, on the other hand, remembered that "nung minahal ako ni Derek noon, sobrang taba ako."
(Love is Blind also stars Kean Cipriano and is directed by Jason Paul Laxamana. The entire cast will have a mall tour on Feb. 6 at Starmall Cebu and Feb. 7 at Market Market.)