Erwan explores new flavors and staples
Jerry Donato
(The Philippine Star) - January 7, 2016 - 9:00am
MANILA, Philippines – Erwan Heussaff's cooking tutorials and health tips have become food for thought for online and offline lifestyle enthusiasts. His Twitter and Instagram following is proof of the French-Fil blogger-host's popularity and authority. So far, he has a combined 1.2 million-plus followers in both social media platforms. With that reach, Erwan has definitely created his own lifestyle brand that's close to his core. That's why the news last year that TLC had tapped him as its Southeast Asia brand ambassador never came as a surprise to many. What Erwan has done fits the network's global lifestyle and entertainment image.
"I represent the brand and I make sure people know what the brand is about," said Erwan during the TLC Festival event held at the Bonifacio High Street and graced by the other network's personalities Janet Hsieh of Fun Taiwan All-Stars: Wedding Special and Tom and Henry Herbert (The Fabulous Baker Brothers). "I think Asia has always had huge fans of TLC… it is an international company. They are trying to build their presence in Asia and (I'm trying to) build my presence also in Southeast Asia. People maybe enjoyed what I did already and I think that's probably why they (the management behind TLC) selected me. So it is just being true to the brand and to my brand. I'm just propagating my love for food and travel and anything lifestyle."
His passion for lifestyle, particularly food, had begun 10 years ago, Erwan recalled, and it was only the last five years that he had tried his hand in doing camera work like hosting.
"It is something that I love and to be able to share that passion through the lens is something that's really great," he said. "I meet people like here (in the festival). People will tell you random things like 'Yesterday, I ate your cookies,' 'My Mom loves your show' or 'In Christmas, we're doing your recipe.'" These conversations with fans validate Erwan's work and that he is cooking something good for them. On top of everything, he has continued on putting up restaurants such as Sabao, Sprout, Crisp, Pink Panda, The Hungry Hound and Patch 22. Each has never failed to offer new flavors for the public's discriminating palate.
"I love eating from a very young age," shared Erwan, who was fat as a kid, a part of his past that inspired his website The Fat Kid Inside. With his 5'10" height, he was huge at his biggest weight of 240 lbs. He is now at 150 lbs. "I was super fat… I was fat because I wanted to eat all the best things. You know doing it with no care in the world. I don't regret it at all."
So, when did Erwan decide to change his sedentary lifestyle?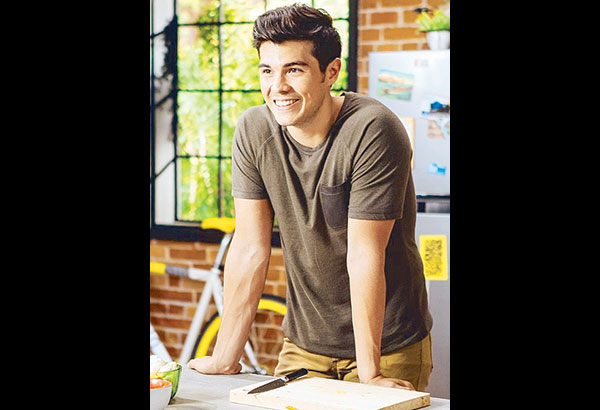 In Food Fix, Erwan presents Southeast Asian staples that we love to eat on the streets or in different restaurants.
"When I was 21," he replied. "Before that, it was yolo (you only live once) every meal, everyday was yolo."
If there were perhaps two things that Erwan realized from that lifestyle, they would be training his palate to different flavors and discovering his love for food.
As the face of TLC, Erwan is seen in a series of four vignettes named Food Fix, which presents Southeast Asian staples "we all love to eat on the streets or in different restaurants. We all think that they are difficult to execute. What I want to show in Food Fix is we can make flavorful food with simple ingredients and simple techniques by just committing to making it at home."
The mainstream yet specialized platform allows Erwan to advocate his interest in Southeast Asian food, which he finds "very colorful, very complex, (it has) lots of flavors. If you look at Thai curry, it has 20 kinds of ingredients. If you look at Filipino food, there's a lot of ingredients and a lot of textures, whereas in France, everything is kinda simplified, like very simple ingredients which I also love. With Southeast Asia, you'll never have something like a little salty or a little sweet. It is always either salty or sweet or hot and spicy. I like that because it is very unapologetic."
With his newfound fame, does Erwan consider himself a celebrity like his sister Solenn Heussaff, who is now Mrs. Nico Bolzico, and his girlfriend Anne Curtis?
"I appreciate that people recognize me now for what I do," he answered. "There was a time when I was recognized only as Solenn's brother or Anne's boyfriend. Now I'm being a bit more experimental with what I do because I made my own niche and that's what I cater to and that's what I'm good at and people kinda recognize that now."
As for his relationship with Anne, Erwan has this to say: "It's very good. We've been together for a long time now. We're happy, we're all busy. She's extremely successful. I'm getting busier and busier with all this. So, it's great and we kinda support each other."
(TLC viewers can also watch the new season of Anthony Bourdain: Parts Unknown premiering on Jan. 12 at 9 p.m. and the new series titled Suddenly Royal, Jan. 27, 11 p.m.)