Body Talk with LA Aguinaldo
FUNFARE
-
Ricky Lo
(The Philippine Star) - October 2, 2015 - 10:00am
One of Cosmo magazine's "69 Hot Bachelors" of 2015, Leopoldo Catalino "LA" Aguinaldo IV is the ambassador for Globe myLifestyle Plan, the epitome of a busy young man who lives the digital lifestyle.
"I rely on my mobile phone to keep up with my busy schedule," said LA who is a top fashion model, host, endorser and travel junkie.
Since he's pretty much all around the country and the world with his numerous commitments, LA needs a postpaid plan that allows him to share his travel experiences on social media, take selfies and Snapchat videos to the delight of his fans.
"That's how I keep abreast with the latest fashion trends, and connect with my family, friends and business contacts anytime, anywhere," added LA.
With Globe's myLifestyle Plan, customers get a base postpaid plan that already comes with built-in unlimited calls and texts to Globe and TM for only P499 monthly. With an additional P99, customers get data access and a free smartphone.
An Aquarian (born Feb. 9, 1993), LA studied at De La Salle University. He stands 6'2"; weighs 175 lbs.; and wears size-L shirt, size-L briefs and size-11 shoes.
How do you maintain your body?
"I do boxing and conditioning training in the morning and lift weights in the evening."
What is your diet?
"No specific diet naman. I just make sure I get the ample amount of protein in a day. Overall, I love food. I love pasta, pizza, chicken wings, sushi, kare-kare... you name it, I love it! I work out to eat, and I eat so I can work out."
What's usually for breakfast, lunch and dinner?
"For breakfast, I have oatmeal, three egg whites, peanut butter sandwich and green tea. For lunch, I have grilled chicken, brown rice and veggies. For dinner, I usually just have salad with a fruit."
What vitamins do you take?
"Multi-vitamins and iron."
Do you smoke?
"Never did."
Do you drink?
"Sometimes. I mean, it's not a habit or anything like that."
What about workout?
"Working out is an escape. I have so much fun with it and find peace. It's like the most relaxing part of my day."
What part of your body is your favorite?
"Shoulders."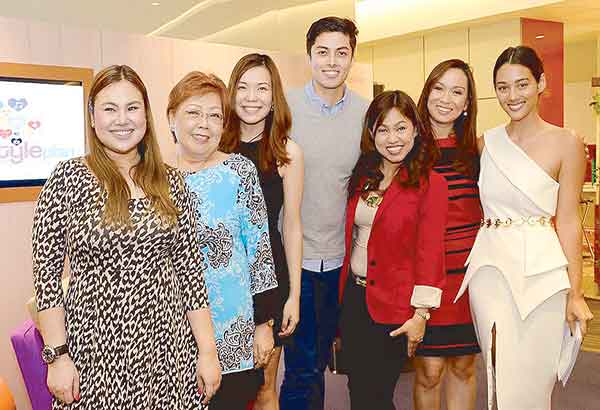 Leopoldo Catalino Aguinaldo IV (LA) during the launch of Globe myLifestyle Plan ambassadors at The Globe Tower with (from left): Tin Gamboa, Mary Chung, Mylene Chung, Globe VP for Postpaid Business Erli Valdez, Globe SVP for Consumer Mobile Marketing Issa Cabreira and Kim Jones
And what part needs improvement?
"Butt. Hehehehe!"
What part of a woman's body do you notice first?
"Her face and legs."
And what type of women turns you off?
"Women who wear too much make-up."
How much sleep do you get per night?
"Six to eight hours."
How many pillows do you sleep with?
"Three."
Favorite sleepwear?
"Shirt and sweatpants."
Do you sleep in the nude?
"Nah."
Last thing that you do before you go to sleep?
"Pray and give thanks. Always. Condition myself for the next day and envision what's gonna happen."
And the first thing that you do as soon as you wake up?
"Pray."
Nightlife?
"I love to go out and enjoy a good house party. I am my happiest when I go to music festivals."
Love life (may girlfriend)?
"None."
Three women that you find sexy?
"Solenn Heussaff, Julia Barretto and Kendall Jenner."
Using only body language, how would you make a woman know that you admire her?
"I look at her while she's not looking and then look away when she looks at me. Hahahaha! I'm a shy guy. But honestly, these days if I like a girl I tell her straight up. I show her I care."
(E-mail reactions at entphilstar@yahoo.com. You may also send your questions to askrickylo@gmail.com.)