What Esposito loves about his Maze Runner role
MANILA, Philippines - On Sept. 9, one of the most eagerly-awaited sequels of the year opens in Philippine theaters more than a week ahead of its US bow. Maze Runner: The Scorch Trials is the second installment in the thrilling trilogy based on the New York Times bestselling apocalyptic YA book series written by James Dashner.
Maze Runner: The Scorch Trials picks up where the first film left off as the heroic Thomas (Dylan O'Brien) and his fellow Gladers are unloaded from the chopper that flew them away from the maze. They are brought into an underground bunker that may or may not be controlled by WCKD, the same nefarious organization that had them virtually imprisoned in the giant mechanical maze called the Glades. This more thrilling and action-packed sequel features several returning characters including the beautiful and mysterious Teresa (Kaya Scodelario), the perceptive Newt (played by Game of Thrones alum Thomas Brodie-Sangster), the protective and lead runner Minho (played by Korean-American breakout star Ki Hong Lee) and Ava Paige, the devious head of WCKD played wickedly by Oscar-nominated actress Patricia Clarkson.
In contrast to the constricting world of the maze in the first film, the second chapter expands the universe of the young heroes as they continue to search for clues about the mysterious and powerful organization WCKD. Their journey takes them to the Scorch, a desolate landscape filled with unimaginable obstacles. They meet creatures called Cranks that are seemingly dead but prowl the darkness waiting for their next prey. They also meet a group of scavengers and resistance fighters biding their time, waiting for an opportunity to strike back at WCKD.
One of the more interesting characters introduced is Jorge, the charismatic leader of a shadowy group of scavengers hidden away in the mountains whose main goal is to find the elusive Right Arm and get to the safe haven where they will be safe from the evil clutches of WCKD.
"I like this character. He is exciting and fun to play," said Giancarlo Esposito, the celebrated television, film and stage actor who plays Jorge in the film. "He is a guy who is very strong. He is someone who can be very cunning and he could be deceiving but he really, in the end — when you learn about him — is about everyone, about bringing people to survival."
Jorge's character in the series survives the Scorch by being resourceful and by creating his own community. His lair is filled with old, salvaged cameras and radio parts and things that can be repurposed and built for something else.
"I love him!" Giancarlo continued. "He is, sort of, maybe in one way a mad scientist and another way he is a rebel, a renegade mercenary."
This writer met with the Hollywood veteran last Saturday for a short one-on-one interview at one of the posh rooms of the Beverly Wilshire Hotel in Beverly Hills. He was wearing a dark gray jacket, a fedora hat and a warm and welcoming smile when he was introduced to me. I immediately grabbed his hand, told him that I had to shake his hand and that I was excited to see him all alive and his face intact.
No, he did not figure in any accident nor was it in reference to his character Jorge. I was actually referring to the cinematic demise of the iconic character he portrayed in the hit television series Breaking Bad where his character, Gus Fring, met his end by being cut in half and burned to death.
"I am still alive, my face is intact," he joked back. "I am okay, I lived through it!"
Giancarlo is one of the most beloved actors in Hollywood. He may not have the easy name recall of a Hollywood superstar but he has appeared in such notable films as Rabbit Hole, The Usual Suspects, Waiting to Exhale and Ali. He earned wide acclaim for his performances in some of Spike Lee's best films including the groundbreaking dramas Do the Right Thing, School Daze and Malcolm X. On television, he has starred in Revolution, Once Upon a Time and Law and Order. He won the 2012 Critics Choice Award and an Emmy nomination for his role in Breaking Bad.
During our interview, he explained to me how he discovered his character Jorge.
"I did some research and read the script and I went back and looked to James Dashner's book to see who he really is," he said. "The thing that I really loved about him is that he has a sense of humor and I like that and it makes him special, it makes him fun."
Jorge is the kind of character that is somewhat difficult to trust. One of the most memorable scenes in the movie is the way Jorge was introduced to the audience. His back to the camera, you don't see his face but Giancarlo's intense performance will make you instantly feel the heart of the character.
"It was always about creating a guy who is a little bit more graceful and intelligent than your average mercenary or your average guy who you first look at and go, 'He's an opportunist, a bad guy.' But then you realize that maybe he's not so bad. When you meet Jorge, he is listening to the radio and he is trying to hear if there are voices from the Right Arm. Is there any communication? Where are they? It's the safe haven he wants to get to."
The Maze Runner series stands out among the other film series in the genre. The story does not revolve around a love story but instead focuses on the struggle of a group of kids trying to understand what's happening to them and slowly realizing that they might have to fight back to survive and save their future.
And the series has one fan in Giancarlo.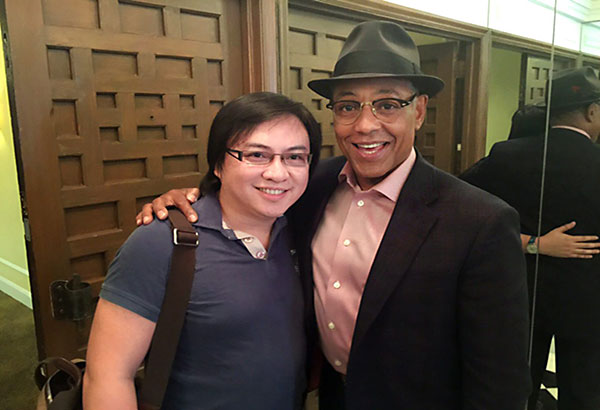 With the author after the interview at the Beverly Wilshire Hotel in Beverly Hills.
"I am a fan because I feel like our young people need something to think about. Not all the movies have such a very deep as Scorch Trials. This movie is questioning of authority, questioning of those who call themselves leaders and say that they lead for all of us."
I followed my question by asking for his thoughts on whether the fascination for this genre represents the fear and hopelessness of today's youth about their future or if it's normal because they're young.
"I think it expands their imagination but I do think it comes from wanting to know about what our world may be," he replied. "They are fearful in certain ways that there is no future for them, that there may not be the world that they grew up in. But the truth is it's always changing. The world will always be in flux — it will always change, it will always evolve."
But is the movie a takedown against the current social order?
"No, it's not. It's a questioning of our current social order — in part. This movie is entertainment, it's fun and within its story is the question: Where are we going? Are we being governed by people who want the best for us or people who are just greedy?"
Now that may sound familiar to many Filipinos these days and the movie, though set in a dystopian future, will hopefully resonate with many of us and will spur us to think… Yes, just to think.