MANILA, Philippines - The Philippine operations of global electronics and technology service provider Oppo had a true red-letter day last Thursday as it unveiled a smartphone and a new endorser who is expected to take the brand further.
Oppo Philippines revealed the arrival of its Mirror 5 smartphone at the Atrium of the SM Mall of Asia in Pasay City. Despite the incessant rain, people packed the venue and patiently waited for the arrival of Oppo's new ambassadress — singer, actress and The Voice Philippines coach Sarah Geronimo.
In a speech, Oppo Philippines operations manager Garrick Hung began: "For weeks, we've been giving hints that we are going to introduce a new smartphone and, more importantly, a new member of the Oppo family."
After thanking Oppo's growing number of customers (dubbed "O-fans"), Hung continued: "We are proud to say (that), in the smartphone market, we are conquering it quite successfully."
The Mirror 5 was then presented in greater detail by Oppo Philippines trainor Nika Villanueva, who cited its social-media friendly features such as powerful 8MP back and 5MP front cameras. She continued that users will benefit from a "fun shooting experience," courtesy of 11 built-in filters.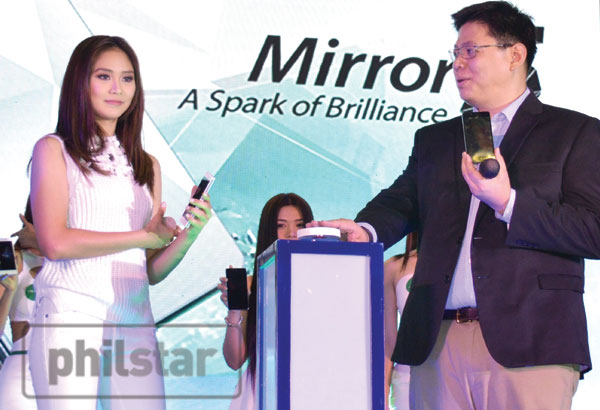 With Oppo Phils. operations manager Garrick Hung— Photos by Ver Paulino
With the slogan "A Spark of Brilliance," the Mirror 5 (priced at P9,990) features a 960x540 pixels-resolution, five-inch display. Armed with a quad-core, 1.2GHz processor, the smartphone also boasts 2G of RAM and a storage capacity of 16G (expandable up to 128GB). An additional nicety: The Mirror 5 can function as a remote control for a variety of compatible appliances or gadgets. Beyond the traditional screenshot, the new Oppo can capture up to eight pages of content in one click.
Sarah's arrival onstage was met with shrieks and cheers from the crowd. The celebrity rendered a couple of songs, and further helped Hung extol the virtues of the Mirror 5. She said that the phone is ideal for "people who do a lot of work on their phones," owing to its "impressive Internet capability, and big five-inch screen." Among her favorite features of the phone are the "beauty mode" and time-lapse capabilities of the camera. Sarah also specifically mentioned the diamond-cut design of the back cover as an attractive selling point. "It looks expensive even if it isn't!"
As for her new partnership with Oppo, Sarah said: "I feel lucky and blessed.. and excited." Meanwhile, replying to a question from The Philippine STAR, Hung revealed that the Oppo deal with Sarah is good for 15 months, and effectively makes her the brand's face for its subsequent product releases in the time period.
In a statement, Oppo Philippines CEO said: "We chose Sarah as our first ambassador because we think she's an ideal fit for Oppo. She brings an unmatched combination of freshness and elegance to the table, and that's what we want in an endorser."
Concluded Hung: "Oppo is committed in placing key innovations in all our creations (that) combine great aesthetics, quality performance, and intuitive user experience."