A different kind of love story
When invited to cover a story on unfaithfulness, we were prepared to ask if this would be another of those cases of a man with two wives, where the man straddles two houses, then ultimately chooses the one he would live with and ultimately marry. We wanted to say, "Not again!" Isn't there another way of tackling the man-woman relationship?
But when told that it is the woman who is unfaithful and the man who is willing to wait until she regains her senses — that made a big difference. This is a different kind of love story. The leads in the GMA series are Jennylyn Mercado as Melanie "Mel" Fernandez dela Paz and Dennis Trillo as Emman dela Paz. Direction is by Bb. Joyce Bernal.
My Faithful Husband is the story of Emman, devoted husband to Mel and father to their children, who will do anything for his family. He will accept the fact that he is left in the house while his wife is out at work, but is terribly hurt that Mel betrays him. On the other hand, Mel is the ambitious, beautiful woman who starts out as the good wife until Dean, the love of her life, returns. In a moment of weakness, she gives in to the call of the flesh.
My Faithful Husband tells the story of how a man and a woman accept the biases of double standard even when they know that the relationship no longer works. Also in the cast are Mikael Daez (Dean), greatest love of Mel and Louise delos Reyes (Mylene) who sides with her Ate Mel when it comes to relationships.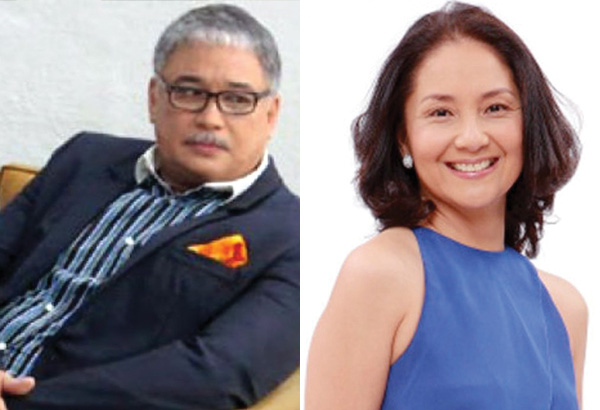 Ricky Davao (left) plays the good guy Arnaldo. Timmy Cruz (right) as wife of Nonie Buencamino in an atmosphere of constant fights
Nonie Buencamino (Lorenz) has a nephew Emman to care for him; Snooky Serna (Mercedes) is the mother of Emman; Lloyd Samartino (Artemio) feels sorry for Carmen; while Rio Locsin (Carmen) is fooled by husband Artemio.
Married man Kevin Santos (Dodong) still goes out with many women; Jade Lopez (Doyee) has no work just like husband Dante; Gerald Napoles (Mars) is a make-up artist at a funeral parlor; Julie Lee (Adelle) is a friend of Mel; Jazz Ocampo (Carla), the sister of Emman, has a boyfriend who gives her a baby too soon; and Rexcy Evert (Soling) pretends to be friends with Emman and Mel.
We managed some updates from Ricky Davao and Timmy Cruz before everyone called it a day. In Ricky's role as Arnaldo, he lives a new life, after a past he would rather forget. He now plays a good guy with a son named Emman, and a brother of Nonie's character. Ricky did Second Chances with Laurice Guillen. Apparently, Ricky is so busy, mostly as director of indies, including one with Nora Aunor and a rom-com with Cherie Gil. He also did a Cinema One original called Dayang Asu (We Eat Dogs) as actor.
Timmy is Elvie, the wife of Nonie. It is constant fighting between her and her husband although they love one another. At the presscon, Timmy distributed her new album titled Circles of Love Smile Shine! It has been a long time since we last saw her, and in a teleserye at that which she admits not to have done in a while.
Aaron Yanga is doing his first teleserye in My Faithful Husband, which is his biggest role to date. He started in the entertainment business through a workshop, then guesting in small roles, appearing in the episode Preggi Prosti of Magpakailanman, then a guesting on GMA News TV in an episode of being torn between two sisters. He has appeared in Bayang Magiliw directed by Gil Portes. In My Faithful Husband, Aaron plays younger brother of Emman.
(For your comments, e-mail me at [email protected].)