Maine Mendoza a.k.a. Bukbukova, a.k.a. Yaya Dub
FUNFARE
-
Ricky Lo
(The Philippine Star) - July 23, 2015 - 10:00am
What you see is what you get.
"Off television, I am still the same," admits Nicomaine Dei Capili Mendoza, Maine for short, 20 (born on March 3, 1995 in Sta. Maria, Bulacan), meaning she's not role-playing on Eat, Bulaga! but just being herself. "I make faces even in public, mahilig talaga ako sa ganoon, that's why hindi pilit ang ginagawa ko kaya natural na natural."
As Yaya Dub, the factotum (alalay) to Wally Bayola's fashionista Lola ni Dora (formerly a doctor) on the Problem-Solving portion of Bulaga's Juan For All/All For Juan segment, Maine has become an overnight sensation in the barely two weeks she has been on the show, with her "dubsmash" antics complete with rubbery facial expressions an instant hit with the viewers.
"I am happy with what I'm doing because that's what I have been doing for a long time now," adds Maine who is also known as (a.k.a.) Mae, Divina Ursula and Bukbukova. She's among five siblings of a family that supports her all the way, except that her parents would rather maintain their privacy. Asked what kind of family she comes from, Maine gives this much information, "Ok naman, medyo may kaya. Sakto lang, middle-class." Asked what her parents' professions are, she begs off, "Secret po!"
A Culinary Arts graduate from La Salle St. Benilde, Maine did her OJT (On the Job Training) at a resort in Upstate New York. She took advantage of hiring opportunities offered for new graduates by US-restaurant/resort owners and stayed in New York for six months.
She was in college when she started uploading videos and pictures online.
"I love editing videos and pictures and then I started uploading my compilation on my Facebook." The compilation included her Dubsmash impersonation of Kris Aquino and that catapulted Maine as a YouTube star. Now she's known as "the Queen of Dubsmash."
It didn't take long for her to catch the attention of those behind Bulaga. Maine joined dozens of aspirants and handily won the plum by, well, just being herself.
"Initially, dapat lawyer ang papel ko and I ended up a yaya," a role that has proven to be the perfect match for Wally's Lola ni Dora who foils the yaya's "dubsmashing" with her own distinct pabebe manner of talking (like a baby). Yaya Dub seldom smiles or laughs (although she's sometimes caught off-guard doing so), hiding behind an ubiquitous red fan so wide that it can cover Broadcast City from where Bulaga is telecast. She's forever shielding Lola ni Dora from the sun with that fan, gently swaying it to keep Lola ni Dora cool.
Does Maine see her own lola in Lola ni Dora?
"No," says Maine. "Mas strikto siya sa lola ko."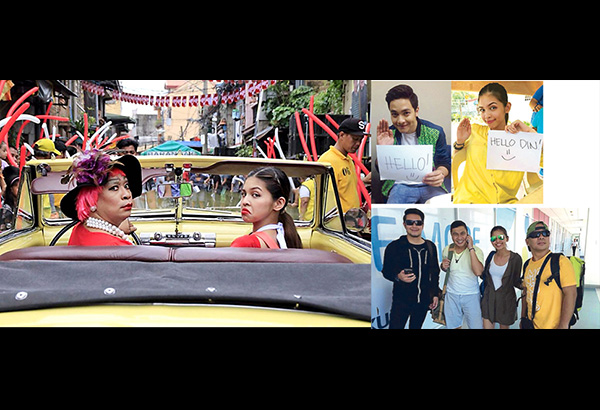 Far left: Yaya Dub and Lola ni Dora are a perfect match, reminiscent of Dely Atayatayan and Matutina in the hit Dolphy/Nida Blanca sitcom John en Marsha years ago. Left: Flirting with Bulaga on-studio co-host Alden Richards with a pabebe-style wave of the hand. Below: On the set with Wally, Paolo Ballesteros and Jose Manalo.
She's being matched with Bulaga's on-studio co-host Alden Richards. They are shown on split-screen waving pabebe-style at each other, and that's one of the rare times that Yaya Dub flashes a smile.
Is Alden, ehem, her type?
Maine hesitates. "Hmmmm, secret! Sa akin na lang 'yon." She and Alden haven't met.
She confesses that she has no boyfriend at the moment and the only time she did was back at the St. Paul's Bulacan where she finished high school.
"Five years din naging kami," says Maine who is a deadringer for Pops Fernandez, a comparison that she finds flattering. "O, talaga ba, talaga lang? Gusto naman po kaya 'yan ni Ma'am Pops?"
By the way, where does Maine get her Yaya Dub dialogues (lipsynched on Bulaga)?
"It's the show's writer who does it. Binibigay sa akin the night before and I study them."
The next day, Yaya Dub delivers those lines with amazing precision.
Meanwhile, let's excuse Maine while she leaps into the sandals of Yaya Dub.
'Other show' ends Sunday, July 26
Remember "the other show" in a blind item in Funfare the other day, said to be folding up end of next month upon the expiration of its blocktime contract with a network?
First, the bad news: It will close sooner than reported…yes, on Sunday, July 26. Two weeks later, Sunday All Stars will bid goodbye, to be replaced by Sunday PINASaya before end of the month.
Now, the good news: That show (oh well, you will know what it is on Sunday) might spring a (surprise?) comeback weeks later and that should make the show's legions of followers (made up of the poor and the elderly) very, very happy especially if the re-negotiation will result in the show's (due to popular demand) airing 30 minutes daily (Monday thru Friday) as pre-programming for the early-evening newscast.
Hope springs eternal, as they say. Prayers can move mountains and that's what the show's followers/supporters are doing…praying very hard for the show's continuation so that it can make more and more people happy.
If that happens, they will al shout, "Wow!!!"
Search on for Outstanding UP Dental Alumni of the Century
The search is on for the Outstanding UP Dental Alumni of the Century as conducted by the UP Dental Alumni Association (UPDAA) in time for the centennial celebration of the UP College of Dentistry. Following are the categories an alumnus may be cited for: Education, Government Service, professional Excellence, Public Service, Leadership, and Culture & Arts. Recognition will also be given to multi-generation UP Dental Alumni.
Nominations may be submitted to the UP College of Dentistry, Pedro Gil St., Manila (c/o Dr. Angie Atienza) or e-mail at: updaa100@gmail.com. Deadline for submission is Aug. 31. Also, calling former UPCD faculty members to e-mail the date of their teaching post to Dr. Liza Centeno or Chico Achacoso-Damatac at updaa100@gmail.com. All inquiries and communications may be coursed through the updaa100@gmail.com.
(E-mail reactions at entphilstar@yahoo.com. You may also send your questions to askrickylo@gmail.com. For more updates, photos and videos visit www.philstar.com/funfare or follow me on www.twitter/therealrickylo.)