Here Comes the Bride
December 7, 2014 | 12:00am
Twenty-three more days and Marian Rivera will become legally Mrs. Dingdong Dantes at what appears to be the biggest and most star-studded wedding ever, set for the afternoon of Dec. 30, a Tuesday, at the Immaculate Conception Cathedral in Cubao, Quezon City, where the Danteses, who live nearby, usually hear Mass on Sundays.
Last Friday afternoon, the sixth of a series of bridal showers (for the movie press this time) was held, hosted by The Belo Medical Group which is, any day now, putting up huge billboards around the metropolis showing Marian as a "Belo Bride." In one of the showers, Marian had fun eating an edible pair of panties.
The groom-to-be can't be left behind. Stag parties are being hosted in his honor, one of them in Germany (exclusive for close friends) where Dingdong got a bit sick because of the weather. No worry. Asked by Conversations how he felt as the Big Day nears, whether he's nervous or what, Dingdong simply smiled, "Wala lang." Very cool.
"Marian embodies the charm and beauty of a Belo Bride," said Dr. Vicki Belo. "We are proud that Belo Medical Group is her partner to ensure that she will have a beautiful ever-after."
Cristalle, Vicki's daughter, added, "Weddings are always a heart-warming celebration that revolves around the bride. Any bride can be as strikingly beautiful as Marian on her big day. In Belo, we have created bridal packages that can help her glow and radiate, from her face all the way down to her waist."
By now, every little detail of the Marian-Dingdong nuptials is known to the world, thanks to the media which monitors the couple's movements 24/7.
Invitations have been sent out by the batches (of 200 each). Conversations got hold of a copy and we are gladly sharing it with you. Marian's parents are Francisco Javier A. Gracia and Amalia R. delos Santos; and those of Dingdong are Sixto Z. Dantes Jr. and Ma. Angelita G. Dantes.
The first page of the invitation is some kind of a synopsis:
This is the story of "A Girl Born in Madrid." She grew up praying to meet the man of her dreams. He grew up dreaming to meet the woman in his prayers. One day the universe conspired to make them meet and together they decided to make the story complete. Soon our pages will turn as the day marries the night. Please write with us the new chapter on the day…We unite.
= Pres. Benigno S. Aquino III (billed as Witness of Honor) heads the Principal Sponsors, also including:
• Ogie L. Alcasid and Regine V. Alcasid
• Mac C. Alejandre and Joyce A. Bernal
• Ben L. Chan and Lolita A. Solis
• Marlon Z. Dantes and Sharon C. Pangilinan
• Monchito Z. Dantes and Wilma V. Galvante
• Gilberto R. Duavit Jr. and Dr. Victoria G. Belo
• RADM. Herby F. Escutin, PCG (retired) and Myrna R. Dominguez
• Jose Eduardo E. Gonzalez and Floresfida C. Gonzalez
• Jose Francisco E. Gonzalez and Helen G. Sotto
• Atty. Felipe L. Gozon and Lily Y. Monteverde
• Perry P. Lansigan and Lilybeth G. Rasonable
• Dr. Gary A. Lopez and Dr. Ma. Theresa T. Lopez
• German M. Moreno and Leila M. Rivera
• Randy E. Ortiz and Ma. Margarita E. Gonzalez
• Marciano A. Reyes V and Ma. Luisa G. Henson
• Zaldy M. Rivera and Gov. Vilma S. Recto
• Joel V. Rustia and Maria Joycelyn W. Rustia
• Marvic C. Sotto and Juliet R. Lanuza
• Wilson Y. Tieng and Celia O. Rodriguez and
• Antonio P. Tuviera and Kristina Bernadette C. Aquino
Best Men: Jose Angelo G. Dantes, Paul Harvey L. Camposano and Marco Vincent O. Lanuza
Maids of Honor: Ann Roxanne J. Barcelo, Ana G. Feleo and Joy S. Gonzales
Groomsmen: Jonathan S. Aurelio, Joseph B . Aguilar, Ricky O. Chua, Paolo Enrico T. Contis, Rep. Dakila Carlo E. Cua, Edgar A. Dantes Jr., Loujude V. Gonzalez, Jose Carlo C. Gonzalez, Jose Emmanuel C. Gonzalez, Jose Dino C. Gonzalez, Jose Marco B. Gonzalez, Jose Paulo B. Gonzalez, Andre Rafael M. Gonzalez, Casey W. Miller, Jean Phillip O. Quema, Arthur G. Solinap, Rep. Irwin C. Tieng, Jay M. Wambangco
Bridesmaids: Ma. Angela D. Aurelio, Luzia Jannie E. Dy, Ana Marie E. Reyes, Joan Q. Banaag, Maria Eliza G. Uson, Catherine A. Magno, Arishella R. Quilatan, Lizelle Venelli M. Uy, Pamela Jane C. Quiñones, Ma. Margarita F. Isidro, Carolyn B. Galve, Celeste B. Tuviera, Rochelle S. Pangilinan, Anna Bettinna Christina P. Carlos, Ma. Cristina D. Quema, Mary Jill S. Roxas, Bianca Monica G. Intal, Ma. Victoria G. Dantes and Norma A. Balbuena
Secondary Sponsors
CANDLE: Richard L. Gomez and Rep. Lucy Marie T. Gomez
VEIL: Gabriel John C. Eigenmann and Martina Eileen H. delas Alas
CORD: Sen. Paolo Benigno A. Aquino IV and Maria Kristina C. Concepcion
= Flower Girls: Ehlla T. Antonio, Katrence Lawrence H. Cadevida, Amanda Lucia Carlos, Dominique Marie N. Cua, Ryzza Mae Dizon, Julia Catherine D. Quema, Susana May M. Quilatan and Amilia Janis E. Visaya
= Bearers: Jean Taylor D. Quema (Ring); Arvin John P. Dominguez (Bible); Edwin Arash DG Dantes (Coin); Jed Matthew Q. Banaag and Dean Riley D. Paras (Rosary); and Nathaniel James V. Alcasid, John Dexter P. Dantes, Jose Eduardo E. Goduco, Nathan Dominic D. Mamon, Vince David D. Manalo and Rafael Andres L. Rivera.
Excerpts from a brief exclusive interview with Marian:
How do you feel as the wedding approaches?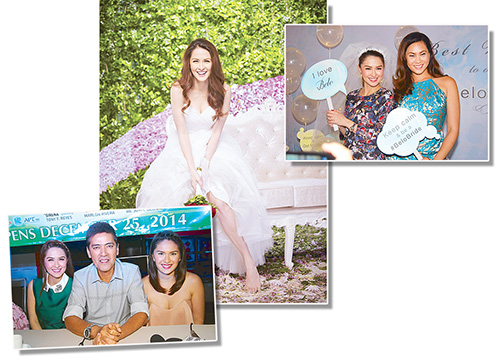 Radiant as the Belo Billboard Bride, Marian has wrapped her scenes for My Big Bossing (left, with Vic Sotto and his girlfriend Pauleen Luna), which is an official entry at the 2014 Metro Filmfest. Right inset: With Dr. Vicki Belo's daughter Cristalle during the Belo Clinic-hosted bridal shower for Marian with the movie press last Friday.
"Sobrang excited. Siempre looking forward ako sa araw na 'yon dahil isa 'yan sa mga pangarap kong alam ko matutupad na."
What kind of negligee are you preparing for the wedding night?
"Uhm, no such plan. What's important to me that night is that my mom and my dad will be with me, and my Lola, too. Siguro, during the first night usap-usap at bonding-bonding because I know I won't be able to sleep sa sobrang excitement."
You and Dingdong have known each other for years…
"...so much!"
…what more do you think will you discover about each other?
"A lot more. I will discover more about him as we live together at ganoon din siya. In fact, I have discovered a lot about him during the wedding preparation, what more kung mag-asawa na kami. So sobrang excited kong malaman pa kung ano 'yung mga qualities niya na alam kong magugustutuhan ko pa."
Who between you snores? Lights on or lights off? Before sleeping, who prefers watching TV or reading in bed and what side ka at what side si Dingdong?
"What side? Aba, malay ko! Hahahahaha! Uhm, I can answer those questions after our wedding."
How are you preparing for married life?
"Matindi! Hindi biro ang buhay may-asawa, so I'm ready to make adjustments to be a good wife."
How soon do you and Dingdong plan to have your first child?
"After exchanging 'I do's,' kelangan magka-baby na kami. Hahahahaha!"
How many kids do you want to have?
"As many as The Lord would allow us. The more, the merrier."
Want to have twins?
"Why not, why not! Whatever The Lord will give us, we will be happy."
What kind of wife do you think you will be?
"A loving and responsible wife."
How do you think marriage will change your life?
"Wow, malaki! From now on, I will be minding several things because married life involves not just myself but my husband and our children. Isang buong pamilya."
(Postscript: As a wedding gift, Ninang Dr. Vicki Belo is giving Marian and Dingdong a honeymoon package in South Africa. Oops! But due to the Ebola scare, the couple will have to choose some other place which is, so far, kept confidential.)
(E-mail reactions at [email protected]. You may also send your questions to [email protected]. For more updates, photos and videos visit www.philstar.com/funfare or follow me on www.twitter/therealrickylo.)