KidZania Manila: In the service of Pinoy kids
KAPAMILYA DAY
-
Kane Errol Choa
(The Philippine Star) - October 20, 2014 - 12:00am
"It's the perfect place for kids!"
This is how mom-blogger Danie Sedilla-Cruz describes KidZania, an educational play city solely designed for kids to do "role playing of real-world careers," after her two beautiful daughters experienced its magic during their recent family trip to Korea.
"As a parent, I am very happy with our experience because I saw my kids enjoy. I watched them do adult jobs, spend and earn money, and make decisions on their own which is very gratifying for me. It is a very creative and experiential way of teaching children," Danie shared. "Of all the places we've been to, it's probably KidZania that my kids enjoyed the most."
Fortunately, Danie and other parents can look forward to the opening of KidZania Manila in the first quarter of 2015. It is locally franchised by Play Innovations Inc., a subsidiary of ABS-CBN Corporation.
KidZania was founded by Mexican entrepreneur Xavier López in 1999. It is a kid-sized city where children can learn and have fun through realistic role-playing of grown-up jobs. It currently has 16 locations in 13 countries and nine other upcoming developments which include the Manila branch in Bonifacio Global City in Taguig.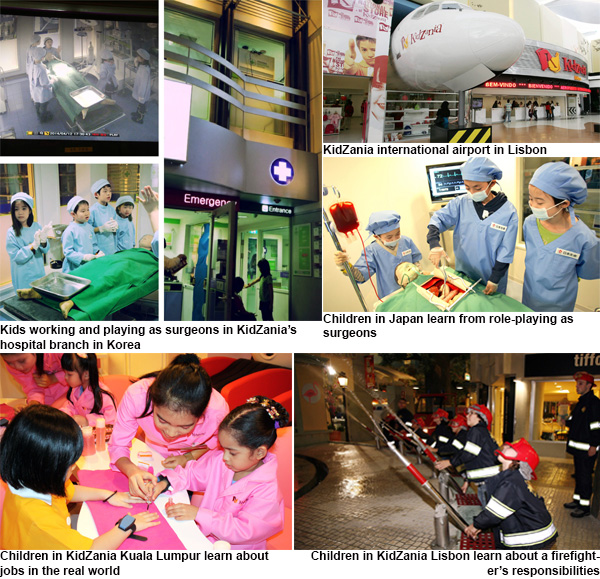 Play Innovations, Inc. president and CEO and KidZania Manila state governor Maricel Pangilinan-Arenas shared that the "inception back story" of Mexico's fastest-growing children's theme park began in a country envisioned by a group of children who were so disappointed with the world adults created that they decided to come up with a nation of their own.
"KidZania will be fun, engaging and educational in ways the country has never seen before," she explained. "Here in Manila, our children will play, grow and learn to prepare for the future even as they have fun pretending now."
The first-ever KidZania in the Philippines will offer more than 76 establishments sponsored by real-world brands with over 100 role-playing activities that are designed by child psychologists and highly-qualified educators.
"If ABS-CBN is in the service of Filipino people worldwide, then KidZania is in the service of Filipino children. It is a revolutionary concept of fun education and entertainment," said KidZania Manila minister of tourism Rudy Villar.
"Our activities in KidZania are anchored on role-play activities of children," he said. "We want to empower, inspire and give them the platform to have fun and be who they want to be when they grow up."
Likewise, Maricel passionately believes that the different establishments of KidZania, including a mini-replica of the TV Patrol studio, will help spark the dreams and confidence of kids.
"In KidZania, they will act our roles. They will discover, exercise and express their talents in the most amazing ways. They will learn about what makes a community work and grow," she said.
As KidZania gives kids a glimpse of grown-up careers, Rudy notes that it is important for children to be exposed to such kinds of experiences by saying that "once you pass the heart of a child, they will remember you forever."
"We are targeting these kids who are digital natives — those who are born with laptops, iPads and gadgets on their hands. These are kids growing older because they are exposed to a lot of things, and very ahead of information," he added.
Aside from kids aged three to 14 years old, KidZania also wants to cater to families who are looking for new learning avenues for children and schools that are looking for relevant and educational fieldtrip destinations for their students.
In support of the new K-12 curriculum of the Department of Education, ABS-CBN and Play Innovations believe that the experience kids will get from KidZania will really complement what they learn in school.
"It enhances and extends the learning objectives and methodologies by providing powerful learning experiences that are not always possible in the format of a school environment. We have the facility for the children to test the theories and concepts that they learn from school," Rudy explained.
Child education expert Dr. Maricar Gustilo-de Ocampo also agrees that playing is an essential part of how a child learns and understands what is happening around him.
"Play is more than meets the eye. If you sit down and watch children play, you'll know that they're really thinking, processing and understanding things on their own level," she said.
Play Innovations has been visiting different schools in Manila via its KidZania Go! tour to give students a sneak peek of what they can expect from the theme park and collaborate with educators to ensure the compatibility of KidZania's experience with what students learn in school.
With the opening of KidZania Manila only a few months away, Danie said that her children are already excited to spend their remaining kidZos — KidZania currency — here in the country.
"Thank you, KidZania. We'll wait for you in Manila," she said.