The 5 Morons are coming back
MANILA, Philippines - Just when you think you've seen the last of this crazy, wacky bunch of screen morons and the gay "career woman" who would stop at nothing to pin them down, Viva Films brings them back together once again for a fresh round of zanier, wackier adventure sequel to 2012's blockbuster, Moron 5 and a Crying Lady.
Luis Manzano, Billy Crawford, Marvin Agustin, DJ Durano and John "Sweet" Lapus reprise their roles as Albert, Isaac, Aris, Mozart (or "Mo") and Becky Pamintuan, respectively, in Moron 5 and a Crying Lady Part 2, which opens on Nov. 5 in cinemas nationwide under blockbuster director Wenn Deramas.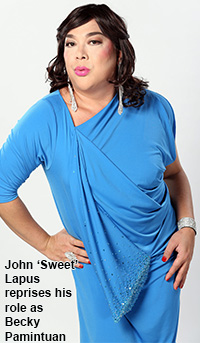 The new addition to the moron pack is Matteo Guidicelli who takes over the part of Michael Angelo (or "Mike") previously played in the original Moron 5 movie by Matt Escudero.
Set at least five years after the events from the first movie where Becky sends the Moron 5 to jail for allegedly killing her father, Moron 5.2 The Transformation follows the lives of the five half-witted long-time friends now family men and whose talented and intelligent children are not exactly proud of them.
Together on a lonely night, the five moron friends get unexpectedly struck by lightning. This leads them to think that they have gained extraordinary superpowers. With this in mind, Albert, Isaac, Aris, Mo and Mike set off to prove their worth to their children unaware that old-time enemy Becky has escaped from the mental asylum and is mapping out revenge on them.
What ensues is a series of adventures and misadventures only a director of Wenn's caliber can deliver. Direk Wenn is one of today's most bankable megmen. He is the multi-awarded genius behind such comic masterpieces as Praybeyt Benjamin, Sisterakas and Girl Boy Bakla Tomboy.
Lending support to John and the Moron 5 are Joy Viado, Mylene Dizon, Yam Concepcion, Nikki Valdez and Danita Paner.