Derek tries to remain positive
Jerry Donato
(The Philippine Star) - September 25, 2014 - 12:00am
MANILA, Philippines - Derek Ramsay is at it again — as the host of TV5's The Amazing Race Philippines (TARP) Season 2. The hunk actor will see the racers search for the clues from the pit start, encounter obstacles along the way and meet the lucky ones at the pit stop.
The road to the first and last legs of TARP is definitely not a walk in the park. Racers have to remain focused as they go through different challenges. The same goes for Derek — with what he's going through in his career and personal life.
"You know you just always have to remain positive with your life," shares the Kapatid host with the members of the press. "I'm very blessed to have a successful career. People try to bring you down. I love my craft. I love my job. I love the people that are always there to support me and care for me through these problems I have with my life. In your life, you make a lot of mistakes. The important thing is you learn from them. With my craft, with my career, every project that's given to me, every project that's entrusted to me, I cherish and I learn to better myself. In (TARP) Season One, kinakapa ko (I was learning my way). In Season Two, I was more comfortable with what I was doing." Derek says he stands by his decision of transferring to TV5 and considers "it's the best decision I have ever made and TV5 has been wonderful in giving me this opportunity to be the host of the show."
On his personal life, Derek is fighting for his rights as father to his son. "He's still my boy. I promise you (his son) to spend more time with each other. You'll understand everything that's going on." With the legal battle between him and his estranged wife, Mary Christine Jolly, Derek is very concerned about his son because "there's definitely an effect on him."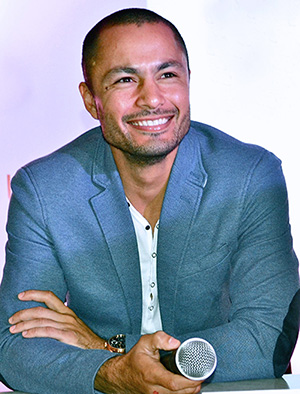 According to Derek, he receives phone calls every day from people "who want to speak out, who know her and who know me. My ex-girlfriend Colette Centeno flew all the way back. She was at the hearing the last year." Colette, who had given her affidavit, "swore in. She was giving my character background like how I was as a boyfriend," he said. As a father, Derek wants the best for his son like getting good education.
"I know I'll get through it," he says. "Lahat ng problema ay may solusyon. You'll just have to be patient, you'll have to find the solution and work hard whether it is with your personal life or with your career."
Meantime, Derek will be busy in ushering the second season of TARP, which never fails to give racers the opportunity to witness first-hand the beauty of the Philippines and create their own life-changing experiences. The latest season boasts of 11 teams of two. They are RR Enriquez and Jeck Maierhofer, Tina and Avy Wells, Eji Estillore and Roch Hernandez, Matt Edwards and Phoebe Walker, Daniel Marsh and Charlie Sutcliffe of Juan Direction, AJ and Jody Capili, Vince Aguilar and Ed Chong, Zarah Evangelista and Osang dela Rosa, JP Duray and Kelvin Engles, Yna and Jet Cruz and Gretchen Albaniel and Luz McClitton. The winning team will bring home P2M, plus two cars and house and lot.
Although the racers will work as a team, Derek thinks, "a lot of luck is involved when it comes to the race, a lot of strategy, a lot of hard work and a lot of physical endurance."
He is also quick to clarify that "this isn't my show. It's theirs." Televiewers will just see him eliminate teams but the ones they will root for are the racers, who will figure out what the best decisions are and sometimes fight with each other. "You'll see them cry. You'll see them laugh. I'm just here to be part of it."
"This is an amazing race," says Michael McKay of Active TV and the franchise executive producer and director. "This is one of the best races I've been involved in for many years. It's world-class race. It is one of the most exciting. The cast is fantastic. I think from the Filipino point of view, this is a major production."
TARP has 39 cameras strategically placed to capture important moments of the race. There are cameras in the air, drones flying around and special cameras. As Michael assures everyone, "This is an international standard production."
With that, we can't wait Derek say, "Let the race begin!" on Oct. 6 at 9 p.m.
(TARP2 airs weekdays before Wattpad Presents, Saturdays before Trenderas and Sundays after Quiet Please.)