What will entice Ellen to visit Phl?
FUNFARE
-
Ricky Lo
(The Philippine Star) - August 7, 2014 - 12:00am
Curtain-raisers:
Did you know that a Foreign Actor-Model is the brand-new (unwed) father of a three-month-old child? The mother is the pretty daughter of a talented character actress. The daughter was once linked to an athlete who had a brief romance with a top actress. The unwed first-time father has been linked to a few Filipinas, one of them a beauty-title-holder with whom he lived in. Funfare sources said that the FAM doesn't confirm that he's the father even if he's acknowledged in the baby's birth certificate and those in his and the girl's circle know about it. The cute baby is the carbon-copy of the father.
An indie actor keeps on denying that he has ever been gone to bed with another man. But indie fans have been wondering why he's so realistic in his love scenes with his male co-star. In one such nude love scene, the actor is briefly shown putting on a condom while his "visibly-aroused" (the words of the Funfare DPA) partner seems to be, well, "manually manipulating" (again, from the Funfare DPA) himself. Oh well, maybe they're just doing it, uhm, "for art's sake?"
The second alumni homecoming of the Las Navas Central School (LNCS) of Las Navas, Northern Samar, will be held on Sept. 9, the day after the Feast Day of Virgin Mary, starting at 7 p.m. at the municipal auditorium in Las Navas. Organizing the reunion are members of Batch 1992, with Rainier Lo as chairman of the organizing committee. LNCS graduates from 1950 to 2014 are invited. Numbers to call are 0917-7264312 (look for Larry Bandal) and 0935-1524748 (look for Gloricar G. Guinson).
***
Don't look now but Ellen DeGeneres might spring a surprise on us and come for a visit, not to hold a show nor to tape an episode for her eponymous show (on which have guested some Filipino talents like Charice, and Aldrich Talonding and his cousin James Walter Bucong who rendered an emotional version of Dance With My Father, all of whom were discovered via the YouTube).
"In fact," confirmed former Manila Rep. Miles Roces, one of those behind Limitless Ventures (more on it by and by), "there have been exploratory negotiations with some people close to Ellen but nothing concrete as yet."
It turned out that Ellen's chef is a Filipino whose recipes Ellen enjoys so much that all she wants as pasalubong are ingredients for Filipino cuisine such as (for adobo) paminta, laurel, bawang, sibuyas, etc.
If ever Limitless is able to entice Ellen to come, I think Ellen might be interested in giving a talk for the LGBT community. What precious pointers Ellen would be dishing out!
Describing itself as "a seasoned multi-production organizer, Limitless Ventures was founded to specialize in premium lifestyle events, state-of-the-art exhibitions and ground-breaking promotions in the Philippines, covering music and entertainment, sports and wellness, food and dining, TV and digital age, and lifestyle and leisure.
Besides Miles, the two other moving forces behind Limitless are Ivan Zalameda (an A-List restaurateur and connoisseur) and Icel Argana (advertising guru and brand-activation specialist).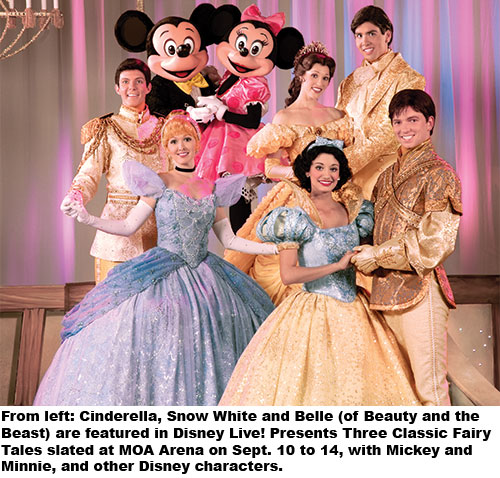 But before finalizing Ellen's visit (which may be too far-fetched), Limitless is focused on the promotion for Disney Live! Presents Three Classic Fairy Tales (Snow White and the Seven Dwarfs, Beauty and the Beast and Cinderella) on Sept. 10 to 14 at the Mall Of Asia (MOA) Arena. The show features an all-American cast playing 25 Disney characters. Snow White, Cinderella and Belle will be joined by Mickey, Minnie, Donald and Goofy.
TESDA head Joel Villanueva was present at the Limitless media launch the other day, to announce that OFWs will get discounts on the tickets to Disney Live!
Other Limitless plans also include the TV show Phil It Up which will be hosted by MiG Ayesa and Sophie Sumner, the former pure Filipino born in the Philippines but raised in Australia and the latter a British model who loves the Philippines like a native.
"MiG and Sophie often visit the Philippines and when they go back, people ask them how the Philippines is," said Miles who is related to MiG. "They don't really know the Philippines that well, so they have few stories to tell. But with the show, MiG and Sophie will have a chance to know the country and share their knowledge and insights with the televiewers."
Richard: No to politics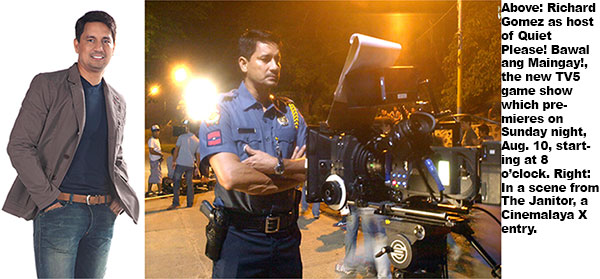 Happily working with his wife, Ormoc Rep. Lucy Torres, Richard Gomez said that politics is not in his radar at the moment. But in 2019, when Lucy's term expires, who knows, Richard might be lured back to the political arena even after he twice lost his bid (for senator and then for Ormoc mayor).
In my book, Richard is highly qualified for any position but if ever he runs again, he said he'd rather do so for a local position.
In the meantime, Richard is helping Lucy in rehabilitating Ormoc which was devastated by Yolanda's killer winds and, luckily, not by the storm surge that it caused.
"So far," revealed Richard, "almost 70 percent of Ormoc has been rehabilitated. Lucy and I have been knocking on the doors of embassies for help and they happily responded."
So busy is the couple that they don't seem to have time to give their daughter Juliana (turning 14 on Sept. 8, birthday of Mama Mary; Lucy is a Marian devotee) a brother or sister.
"One is enough na muna," said Richard.
Reminded that Juliana is growing up fast and she might soon have a boyfriend, Richard said, "Kakalbuhin ko siya." Of course, he was joking.
Besides The Janitor, a Cinemalaya X entry, Richard is occupied with his new game show on TV5, Quiet Please! Bawal ang Maingay! with K-Brosas as co-host and premiering at 8 p.m. on Sunday, Aug. 10. (More on Richard and his show tomorrow in an interview with STAR contributor Chuck Smith.)
Two queens crowned in 2014 Miss Philippines USA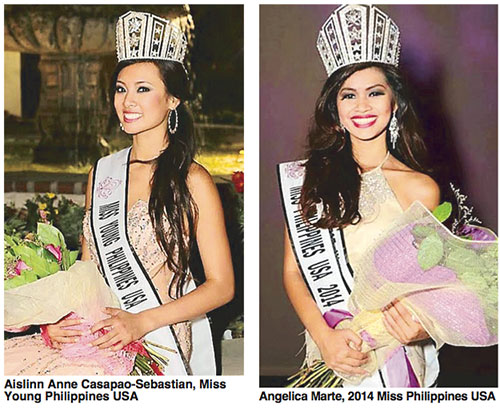 For the first time in its history, two queens were crowned in this year's Miss Philippines USA pageant, Hannah Angelica Marte as 2014 Miss Philippines USA and Aislinn Anne Casapao-Sebastian as 2014 Miss Young Philippines USA (the newest title). Marte also romped away with the Best in Swimsuit and Best in Long Gown awards.
They bested 24 other contestants during the glittering finals last July 27 at the San Gabriel Mission Playhouse in San Gabriel, California, directed by John De La Vega.
Completing their court are Monica Morales, Miss Philippines USA-Tourism; Samantha Antonio, Miss Philippines USA-Ambassador; Marte's runners-up: Kayla Cabral and Rochelle Fajardo; and Sebastian's runners-up: Jessica Duhay and Suzanne Perez.
Recently graduated from West Ranch High School in Valencia, California, Aislinn, 17, was born in the Year of the Dragon in Panorama City, California, to Filipino parents. Her father is from Manila and her mother, Alicia Macalalag Casapao, has roots in Calamba, Laguna, and Cebu City.
Aislinn was raised with the help of her Lolo Perry and Lola Fe Casapao, with her Aunt Marisol. Even as a pre-school, Aislinn showed her social skills; she's a natural talker.
The pageant was hosted by Emmy award-winning Cher Calvin of KTLA-TV with Tony Cabrera of Fox News TV. Fil-Am Nickelodeon actress Ashley Spencer Argota sat in the panel of judges. Jett Pangan of The Dawn entertained the audience. — Celso de Guzman Caparas
(E-mail reactions at entphilstar@yahoo.com. You may also send your questions to askrickylo@gmail.com. For more updates, photos and videos visit www.philstar.com/funfare or follow me on www.twitter/therealrickylo.)